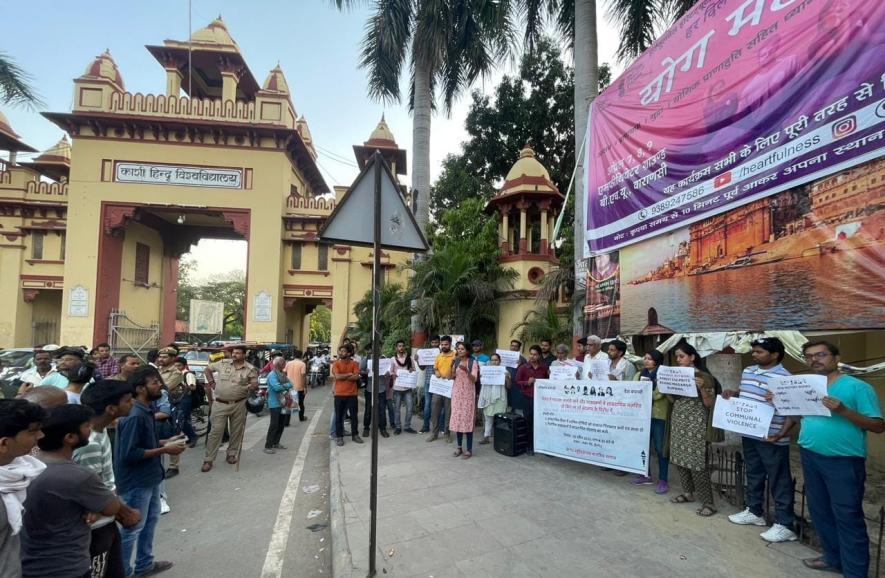 New Delhi: The students of Banaras Hindu University (BHU) held a demonstration against communalism and rising religious fundamentalism. On Wednesday, students and civil society members gathered at the university's Lanka Gate to protest against the burning of a historic madrasa in Bihar and changes in the academic curriculum, shouting slogans like 'Sadbhavana Zindabad,' Hindu-Muslim-Sikh-Christian Aapas mein hai bhai bhai', 'Long Live Secularism'.
Students, academics, intellectuals and civil society people in BHU have raised their voices from time to time against burning issues and 'anti-people' government policies. The students there have also been vocal about the anti-student policies of the university administration and some have even gone to jail while protesting against the Citizenship Amendment Act (CAA).
At present, the protesting students angry about the proposed changes in NCERT textbooks. Officially, the reason for the changes is to reduce the burden of school bags from the shoulders of school children. Yet, many educationists and critics believe the recent changes are more of an attempt to push a certain ideology and politics.
Many people, including several writers, have spoken against changes in the syllabus of Hindi literature because the poems of Suryakant Tripathi 'Nirala' and Firaq Gorakhpuri.
Dhananjay Suggu, a former BHU student, who participated in the protest, told NewsClick that the burning of an ancient madrasa in Bihar resulted from "radical, subversive thinking that wanted to disturb religious harmony and mutual brotherhood in the country."
"At present, the heinous conspiracy to snatch employment from the youth and make them rioters is a concern for the whole country. Such incidents are a blot on a civilised and democratic society and bring shame to humanity," he added.
BJP ACCUSED OF SAFFRONISING COUNTRY
The protesters alleged that the ruling Bharatiya Janata Party (BJP) was trying to saffronise the entire country. They noted how the youth was being embroiled in communalism so that it stays away from raising issues that concern them. Attacks against a particular community have increased, and new religious and caste tensions have arisen among people, the said.
The protesters demanded strict action against miscreants and an end to 'tampering' academic courses.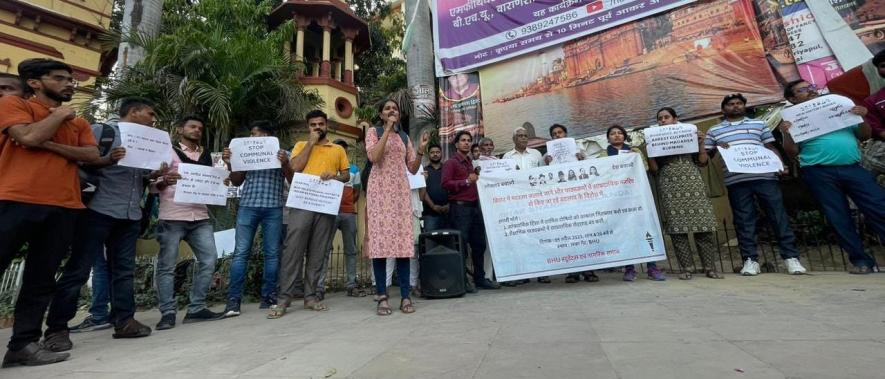 Aparajita, a BHU student, spoke about how the syllabus they all grew up reading had suddenly become controversial today.
"All of them know which agenda is being promoted through this and why. But we should not forget that despite millions of efforts, we cannot change our history; we can only change the present and future," she said.
According to Aparajita, if the Mughal period disappears from the history of Medieval India, how will we know about Bahadur Shah Zafar, who was the leader of the 1857 revolution?
"If you don't teach that era, how will you know great personalities like Surdas, Tulsidas, Kabir, and Ravidas? Similarly, if the texts by Nirala, Sumitranandan Pant and Firaq Gorakhpuri are removed, there will be a huge void in Hindi literature, which will not only be anti-education but also anti-knowledge and anti-national," she added.
MUST PROTECT THE CONSTITUTION
Roshni, a PhD scholar at BHU, quoted a line by Heinrich Heine: "Wherever they burn books, in the end, they will also burn human beings."
Recalling this line, she said, "On May 10, 1933, books were burnt in Germany. Hitler's fans danced a lot by burning all the things related to logic, knowledge and intelligence. The great scientist Albert Einstein left Germany after this incident. Years later, today, when we see the burning of madrasas and libraries in Bihar, we should remember that terrible night in Germany."
Roshni said further: "Along with our culture and heritage, we are also determined to protect our Constitution and its spirit."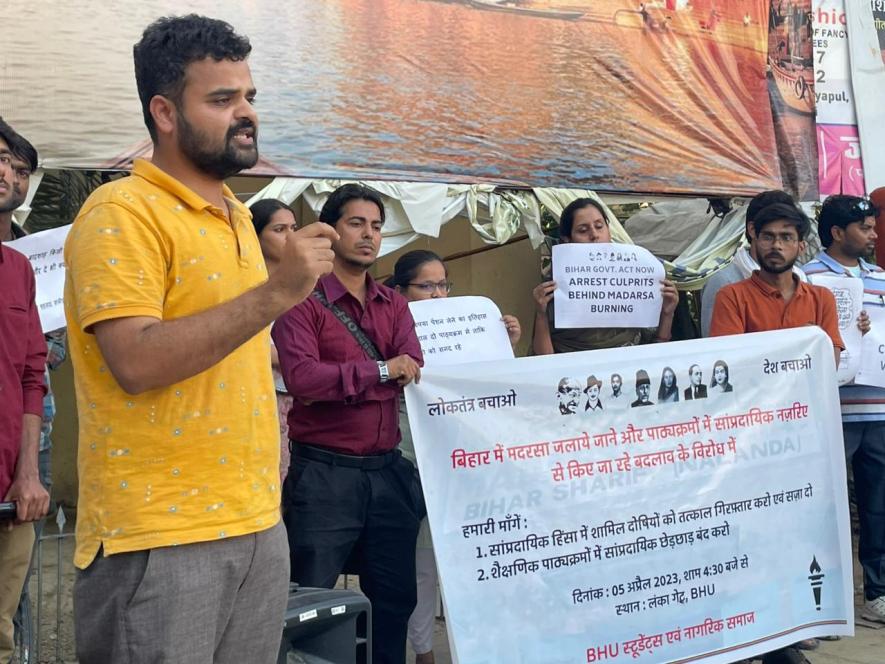 According to Dhananjay Tripathi, who was part of the protest, a Right-wing ideology prevails in the country today.
"Those people are burning libraries, killing people of other religions, thoughts and understanding. Like an ostrich, they deny the progress of civilisation recorded in history by burying their heads in the sand. They are reducing the lessons in the syllabus communally and irrationally. The Sangh Parivar is against scientific thinking and progressiveness, whereas the idea of India comprises all kinds of colours. We intend to protect the space for expression of disagreement. We will cherish it at any cost."
Courtesy: Newsclick