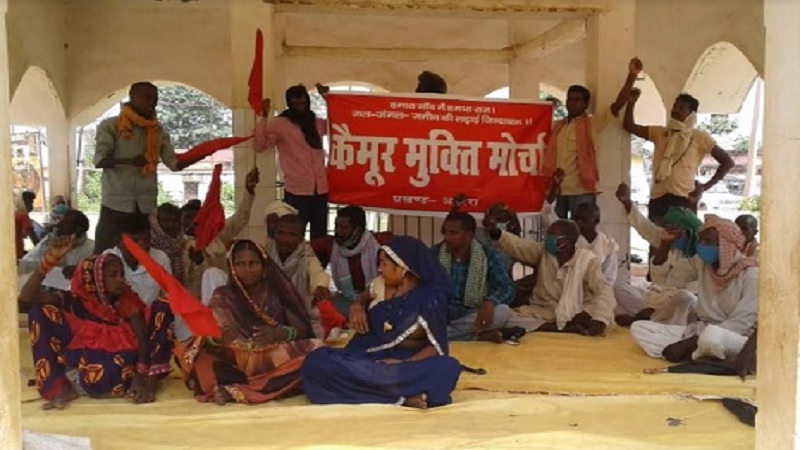 The Adivasis of Adhoura block of Kaimur district in Bihar, on July 15, gathered around the BDO office to raise their voice against the oppression of forest officials who are employing various tactics to harass the Adivasis in these forest lands. This gathering saw thousands of villagers from various villages in Adhaora block expressing their anguish over the persistent nuisance caused by forest officials obstructing their daily lives and means of livelihood making life difficult for them during the lockdown. While it was the mandate of the government to its officials to ensure that people remain indoors to prevent spread of COVID19, the forest officials instead took undue advantage of the situation and resorted to such undue means.
This struggle has been going on since decades when the "Kaimur Mukti Morcha" (Translated as: "Kaimur Freedom Movement") was started with the help of Dr. Vinayan who was the founder member of the All India Union of Forest Working People (formerly known as National Forum of Forest People and Forest Workers).
The forest department officials, since March, have been employing means like encroaching upon agricultural lands of these Adivasis with the intention to evict them in villages of Adhaora block such as Gullu, Guiya, Dighar, Bahabar, Pipra, Sainagar, Sodha, Bahera, Dumrava, Sarainar. In Sarainar they went and destroyed all 50 houses of the villagers in a bid to evict them. In Gullu, the government officials including forest officials have been pressurizing the villagers in a bid to displace them and have been digging pits on their farm lands under the grab of carrying out afforestation, thus building pressure from both ends.
They have been citing afforestation as a reason to displace these forest dwelling Adivasis from these lands since months. Kaimur Mukti Morcha is fighting against these unwarranted acts of the public officials making earning a livelihood a struggle for these Adivasis. They even resorted to threatening members of Kaimur Mukti Morcha such as the Secretary Raja Lal Kharwar and Rajinder Oraon and few other members by issuing notices to them that they would be arrested by the CRPF. Some CRPF personnel even landed at a village meeting in Bahida village to create an atmosphere of terror in the villagers' minds.
The 'Jal-Jungle -Zameen' movement has gained traction now and they have put forth their demands in a document where they raised the slogan "Adhaora Chalo" and stated that they will fight for their rights till their last breath. They have demanded that the Kaimur range be included under Schedule V of the Indian Constitution as a Scheduled Area. They have also demanded that the Acts such as the Chota Nagpur Tenancy Act, the Panchayats (Extension to the Scheduled Areas) Act (PESA) and the Forest rights Act, 2006 be implemented forthwith. They have also asked that the threatening tactics the public officials have been resorting to by issuing notices to members of Kaimur Mukti Morcha be also stopped.
The "Adhaora Chalo" demand document may be read here.
Kaimur Mukti Morcha
Kaimur with its large forest cover has people residing in areas which are largely inaccessible by roads with even no mobile network due to the dense forest cover. Due to the constant struggle of the members of Kaimur Mukti Morcha, in 2010 Bihar government declared Kaimur as free from Maoists.
The Kaimur Mukti Morcha has been a result of Dr. Vinayan, in the 1980s marching on foot through 150 villages and organised the Kaimur Mukti Morcha which has been fighting for its rights ever since. The political apathy towards Kaimur, which is majorly a forest area with many Adivasis living within and hence the people have had to organize themselves into this non-violent democratic movement to assert their rights.
Lockdown and Attacks on Tribals
The historical injustices that have been inflicted upon forest dwelling communities since the British raj continue to this day, in a democratic country that upholds equality of law. These tribal communities are still treated by forest officials as they would be treated under an imperialist government and act in complete and utter disregard towards the laws and even court orders.
These unwarranted acts of forceful evictions of such vulnerable sections of society are condemnable and also amount to infringement of the basic fundamental right of right to life under Article 21 of the Indian Constitution as well as violative of provisions of The Scheduled Tribes and Other Traditional Forest Dwellers (Recognition of Forest Rights) Act, 2006. Further they also go against the Supreme Court order of February 2019 staying evictions of all forest dwellers from their lands in Wildlife First vs. Union of India in IA No. 35782/2019.
Despite legal provisions and court decisions being in favour of the Adivasis or forest dwellers, public officials have been defying them and are acting in complete disregard of even humanitarian concerns when the country is reeling under the Covid-19 pandemic.
The growing incidents of harassment of Adivasis have become a matter of concern. Several instances have come to light where members of forest dwelling communities have been allegedly threatened, attacked, assaulted and abused by forest officials, often in alleged complicity with the police.
An incident of land grabbing took place in late June in Lilasi village Muirpur of Sonbhadra district, UP where a businessman allegedly illegally usurped forest land and started construction of a house and a shop on that land. When Adivasi villagers reached the spot to talk to him, his hired goons allegedly issued death threats to Adivasis and chased them away.
Some of these incidents that go beyond humanitarian standards have been brought to the notice of the National human Rights Commission (NHRC) by CJP and AIUFWP.
In one incident, forest officials in Uttar Pradesh allegedly attacked and even molested Adivasi women belonging to the Tharu tribe, in the Dudhwa Tiger Reserve in broad daylight, while in another incident Van Gujjars of Rajaji National Park, Dehradun were beaten up, their shelters were destroyed. They were arrested on trumped up charges and were allegedly even tortured in custody. A woman member of the community was also allegedly subjected to gendered violence in custody. Such escalated incidents of injustice against India's indigenous people are on the rise and need urgent attention of concerned authorities.
Related:
Tharu Adivasis emerge resilient, return to farmlands
Forest officials allegedly harass, intimidate Adivasis in Chitrakoot
UP Adivasis oppose land grab attempt, get death threats
AIUFWP seeks place in committee investigating attack on Van Gujjars
Van Gujjars assaulted by police and forest officials, CJP moves NHRC demanding justice