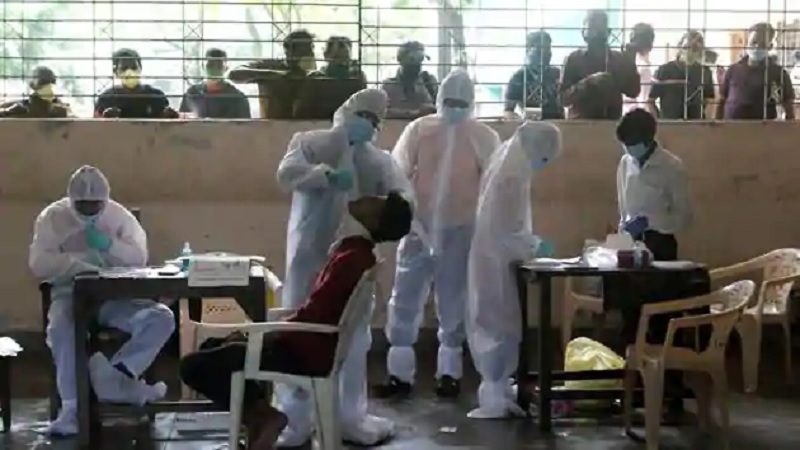 Image Courtesy:hindustantimes.com
An investigation by the Indian Express of Primary Healthcare Centres (PHC) in three districts of Bihar has revealed that authorities there were resorting to fudging records of Covid testing. IE visited six PHCs in Jamui, Sheikhpura and Patna, and accessed testing records for January 16, 18 and 25, 2021.
The publication discovered that basic data protocol was bypassed, perhaps in a bid to meet the daily target. In many cases, fake names and mobile numbers were entered for people who were tested, and there may have been an attempt to siphon off profits from unused testing kits.
Key findings:
Fake and invalid mobile phone numbers were entered into records making tracking and tracing of infected people virtually impossible.

Many people were listed as having the same mobile number.

In some cases, the phone number listed belonged to an unrelated third party who hadn't even heard of the people whose names were listed under their mobile number.

Many number owners turned out to be marginal farmers and daily wage earners in far flung districts.

26 people in Barhat (Jamui) were listed as having a mobile number of a man who lived 100 kms away! 21 people were listed as having a number belonging to a complete stranger from Munger! There were many more such cases.

The number 0000000000 was entered as the mobile number for many people. In some cases mobile numbers used were of PHC staffers themselves.

Vast difference in listed vs. confirmed tested: IE found that out of 230 entries in Barhat PHC in Jamui district, only 12 were confirmed tested. In Sikandra PHC in the same district only 48 out of 208 people were confirmed tested.

In Sheikhpura, 205 out of a total of 245 people tested had blank spaces in the raw data compiled by the PHC.
The healthcare apparatus:
PHC personnel responsible for Covid testing are: PHC medical officers-in-charge, PHC accountants, block account managers, and district programme officers. The Civil Surgeon is in charge of all health schemes run in the state.
Official figures:
According to a press release by the State Health Society, Government of Bihar, as of February 11, 2021, 17,970 people had received one dose of the anti-Covid vaccine.
#Covid19Vaccination #Bihar Updates#LargestVaccineDrive pic.twitter.com/xqChqYgmsy

— PIB In Bihar ?? Mask yourself ? (@PIB_Patna) February 11, 2021
Bihar has so far had a total of over 2,60,000 cases of Covid, out of which 699 were active as on February 11.
#CoronaUpdates #Bihar
राज्य सरकार द्वारा जारी #कोरोना अपडेट्स
▶️699 कुल सक्रिय मामले
▶️99.15% रिकवरी रेट
▶️00 सक्रिय मामले #सुपौल ज़िला में pic.twitter.com/dWOexOwi1f

— PIB In Bihar ?? Mask yourself ? (@PIB_Patna) February 11, 2021
Opposition slams government:
Reacting to this shocking expose, Rashtriya Janata Dal (RJD) leader Tejashwi Yaday asked, "The Bihar Chief Minister claims thousands of crores have been spent on Covid relief. Whose pocket is this money going into?"
Quoting from the IE expose on the floor of the assembly, Yadav said, "The report says, 'The whole system has broken down'. What could be more shameful?"
In a tweet, Yadav called CM Nitish Kumar "soul-less" and "corrupt" and alleged that "If it were upto Kumar, he would sell the corpses of the poor" and that "testing figures were fudged for a scam running into thousands of crores".
बिहार की आत्माविहीन भ्रष्ट @NitishKumar सरकार के बस में होता तो कोरोना काल में गरीबों की लाशें बेच बेचकर भी कमाई कर लेती! इंडियन एक्सप्रेस की जाँच में यह साफ हो गया है कि सरकारी दावों के उलट कोरोना टेस्ट हुए ही नहीं और मनगढ़ंत टेस्टिंग दिखा अरबों का हेर-फेर कर दिया! pic.twitter.com/GYyv67YlrG

— Tejashwi Yadav (@yadavtejashwi) February 11, 2021
RJD MP Manoj Jha has demanded a high-level inquiry in the fudging of Covid testing figures. He told the Rajya Sabha, "I appeal for high level inquiry. I also demand that valid documents like Aadhaar Card or PAN card be shown at the time of testing so that no one can abuse the system like they have."
Related:
No data on number of prisoners testing Covid positive: MHA
Covid vaccine trials in Bhopal without participants' informed consent?