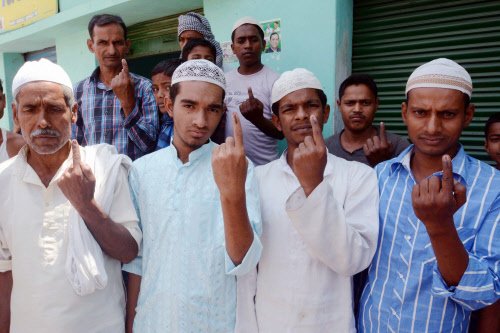 Election season brings terms like 'vote bank politics', 'minority appeasement' and many other words associated with the caste, class and communal divides, back into every day conversations. The so-called Muslim 'vote bank' is analysed with many political pundits attributing to it the ability to swing votes. Here in lies a fundamental flaw… the belief that the 'Muslim vote' is a monolith, sans any diversity of socio-political aspirations and leadership preferences. This election season, let us take a closer look at ground realities of Muslims in Bihar.
Demography
There are 243 seats in the Bihar state assembly. Of these, 203 are in the open category while 38 seats have been reserved for Scheduled Castes (SC) and 2 for Scheduled Tribes (ST) candidates. As per 2011 Census data, Muslims constitute 16.87 percent of the population.
Districts in the Seemanchal regioni.eKishanganj, Katihar, Araria and Purnia, have a sizable Muslim population of anywhere between 35 to 75 percent. This comes to 24 assembly seats. Other areas like Darbhanga, Sitamarhi and West Champaran also have a Muslim population ranging between 21 and 23 percent. These areas account for 27 assembly seats. Additionally, East Champaran, Bhagalpur, Madhubaniand Siwanalso have a huge population of Muslims ranging between 18 to 19 percent. These account for 37 seats.
Thus, in 88 assembly seats out of 243, aspirations of the Muslim community vis-à-vis their leadership will play a decisive role in the outcome of the election.
(Source: Ummid.com, MyNeta.com)
Now let us take a quick look at the quality of life enjoyed by Muslims in Bihar with respect to social indicators such as access to education and healthcare, as well as employment and trade opportunities.
Education
According to a 2017 report titled Status of Muslim Youth in Bihar Quantitative and Qualitative Assessment by the Asian Development Research Institute (ADRI) and sponsored by the United Nations Population Fund, Bihar Office, "Although Muslims in Bihar are not a homogeneous population, the majority of them are afflicted by low income, widespread educational deficiency and many other socio- economic disadvantages."
The report further says, "In the districts with high concentration of Muslim population, the average Per Capita Income stands at Rs. 10,075. In contrast, the per capita income stands at a much higher level (Rs. 16,534), for those 12 districts where the concentration of Muslim population is low."
On the subject of education, the report finds, "In 2011, the literacy rate for Muslims in Bihar was 56.3 percent, compared to 61.8 percent for all religions, implying a difference of 5.5 percentage points." However, the report notes that a lower disparity in accessing education between males and females in the Muslim community in Bihar. The report says, "When one compares the gender-specific literacy rates, it is observed that the literacy rates are lower for both male and female Muslims, but this educational disadvantage is larger for male Muslims, compared to their female counterparts. The gender difference with respect to literacy rates is 20.1 percentage points for all religions, but noticeably lower at 15.4 percentage points for the Muslim population. This is because the gender disparity in education is comparatively less among the Muslims at least with respect to educations, a positive characteristic of the Muslim society."
The report also notes, "Among the 38 districts, the literacy rate (of Muslims) ranges from 42.9 percent in Madhepura to 75.5 percent in Aurangabad. In some of the districts of south Bihar, the Muslim population is concentrated in urban areas and the literacy rates of Muslims are higher in these districts, compared to the general population. For example, the literacy rate for general population is 70.7 percent in Patna, whereas the rate for Muslims is 74.3 percent."
On the subject of Madrasas vs modern education, the report notes, "It is extremely important to note here that nearly one-fourth of the Muslim students in rural areas are receiving their education in 'Madarsas' where the curriculum is far from what modern education demands. The syllabus for madarsa education was revised as far back as 1970. Even in the urban areas, where availability of modern educational institution is relatively more, 9.0 percent of the Muslim students opt for Madarsa-based education."
But on a positive note, the report says, "It is, however, heartening to note that many Muslims have already realized the substantial benefits of modern education and they are prepared to pay for this service. Even in rural areas, 17.7 percent of the Muslim students attend private institutions, some of them (2.0 percent) opting for expensive ones. In the urban areas, quite expectedly, this practice is wider and 32.2 percent of the students there opt for private educational institutions, 7.6 percent opting for expensive private institutions. Since the income positions of majority of the Muslim households is rather low, nearly half of the Muslim students, both in rural and urban areas, have to opt for government educational institutions."
Healthcare
When it comes to access to healthcare, the community doesn't appear to be doing well either. The ARDI Report, quoting National Family Health Survey – 3 Data says, "From a comparison of the three mortality rates (Neo-natal, Infant and Under-5), it is expectedly observed that all these rates are higher for the Muslims, indicating their overall inferior health status. However, it is more important to note here that, while the difference between Neo-natal Mortality Rates for Hindus and Muslims is 3.8 (41.4 for Hindus and 45.2 for Muslims), this difference becomes wider in case of Infant Mortality Rates (63.2 for Hindus and 72.1 for Muslims, yielding a difference of 8.9). This trend is continued even in the next stage and, for Under-5 Mortality Rates, the difference between the two religious groups is ever larger at 17.4 (91.5 for Hindus and108.9 for Muslims)."
Based on the above the report says, "This clearly indicates that, with increase in age, the health-related disadvantages for Muslims children are increasingly intensified, compared to the Hindu children. This low health status of Muslims children obviously is a consequence of combined negative impact of lower income of Muslim households and their lower awareness about good health practices; however, these negative impacts also seem to accumulate over the years to cause even poorer health standards for elder Muslim children."
Thus, Muslims have a high neo-natal and infant mortality rate, and many children die before reaching the age of 5. Malnutrition is common, immunisationrates are also low. This coupled with lack of clean for water for both, drinking and sanitation as well as poor maternal health, queers the pitch for Muslims right from childhood. Given how Bihar as a state has consistently been at the bottom of the pile when it comes to various social indicators, the plight of Muslims gets compounded.
A stark reminder of this came last year when a large number of children died of encephalitis in Bihar's Muzaffarpur in June 2019. Muzaffarpur has a large population of Muslims, many of whom live below poverty line. While the spread of the epidemic was blamed on eating Litchis, something children from impoverished neighbourhoods were known to do after sneaking into Litchi orchards that are spread across the region, other aspects of the epidemic cannot be ignored.
According to Outlook Poshan, "Given that Indians interact closely with livestock and wildlife, they map various other ways of transmission of AES. For instance, children gorging on litchis, can easily pick up fruits contaminated by the saliva, urine, or guano of bats. Bats host more than 60 human-infecting viruses—including the Ebola and Nipah viruses, which cause deadly brain fevers in people."
It adds, "Several enteroviruses, that are primarily spread by faecal-hand-oral contamination, are known to cause fatal encephalitis in children. In Bihar, the groundwater in such villages has been found to be 35.7 times more at risk of faecal contamination, according to a UNICEF 2019 study. Shallow wells and hand pumps contaminate drinking water with faecal matter, a major problem in Bihar."
Income and Employment
According to a recent study by Centre for Monitoring the Indian Economy (CMIE), increased 31.2 percentage points, rising to 46.6% in Apr 2020. Unemployment in Bihar was greater thanthe national rate of 23.5%. This may be due to the national lockdown that was declared in wake of the Covid-19 pandemic. But not only did local employment opportunities dry up, there was also an influx of labour returning to Bihar from states where they had gone to in search of employment. Multiple reports indicate how Muslims in Bihar have lived amidst deprivation and poverty for decades.
A 2001 report titled Socio-Economic Status of Muslims in Bihar by the Bihar State Minorities Commission, says, "The picture of the Muslims in Bihar that emerges from the survey is of a community steeped in poverty, with very low income levels to eke out a living and, as compared to ii the general population, endowed with lesser amount of land, land-related and non-land resources, and mostly engaged in low paid jobs in the unorganized sector or in selfemployment activities where the returns are very poor on account of the very limited access to resources."
It further says, "The rural population of the Muslims in Bihar derive their income mainly from low-wage occupation of agricultural labourer (39.6 percent), remittances from outmigrant members of the households (24.5 percent) and 'other self-employment' category (19.1 percent)." The report adds, "Only 35.9 percent of the rural Muslim households in Bihar possess any cultivable land. For the general population in rural Bihar, the corresponding figure is 58.0 percent. For about one-fifth of the land-owning Muslim households, the amount of land is so marginal that they have no option but to lease it out to cultivators with larger land holdings. Thus, nearly three-fourths of the rural Muslim households are dependent largely on wage employment in agriculture and, to some extent, on whatever limited self-employment is available outside the farm sector."
The report says, "In the rural areas, about half of the Muslim workers (49.8 percent) are engaged in cultivation, either as cultivators or agricultural labour. A sizeable 28.8 percent are engaged in various production-related activities which are generally low paying. Traderelated occupations come next, employing 17.0 percent of the rural Muslim workers. These three occupation categories together account for 94.9 percent of the rural Muslim workers. In the urban areas, the pattern is somewhat different dominated by productionrelated, trade- related and other activities, in that order of importance."
According to the report, "The average Muslim worker employed in the organised private sector earns about Rs. 1770 and Rs. 3520 per month in rural and urban areas respectively. This is probably because most of the Muslim workers are in lower order jobs in the organised private sector, specially in the rural areas. The earning levels in the unorganised private sector where the large majority of the Muslim workers are employed, are even lower – the average monthly income being just over Rs. 1000 and Rs. 1200 in the rural and urban areas respectively."
On the subject of migration, the report says, "For every 100 Muslim households in rural Bihar, there are about 63 outmigrants. In other words, two out of every three Muslim households in the rural areas send at least one each of their working members away to earn income. Though no comparative data is available, this is probably much higher than among the general population. Most of the migrants are males with an average age of 28.5 years. Since employment opportunities are limited within the State, most of them go outside the State (83.8 percent) and not too small a number (7.9 percent) migrate abroad. Among the Muslim population in urban Bihar, outmigration rates are much lower, but even among them, there are about 24 out-migrants per 100 Muslim households." This further explains the economic distress brought about by the lockdown.
Even the Sachar Committee report published in 2006 had noted, "Overall, unemployment rates are slightly higher for all Muslims (taken together), than for all Hindus but there are differences within each group. In general, within the Hindus, unemployment rates are lower for high caste Hindus than others especially the SC/ST population. Unemployment rates among Muslims (male, female, rural and urban) are lower than SCs/STs but higher than Hindu-UCs. They are also higher than Hindu-OBCs except in urban areas."
Given how Bihar Muslims live at the intersection of two identities; a religious minority and citizens of a socio-economically backward state, their plight is compounded by both these factors.
Communal violence and Hate crimes
Communal conflict is nothing new when it comes to Bihar. The state has seen communal violence in 1989 in Bhagalpur. According to NRCB data, Bihar recorded 146 victims in 79 cases in 2015. There were 139 cases of communal violence and 165 victims in 2016 alone. In 2017, 214 people were affected in 163 cases. In March 2018, communal violence broke out during Ram Navami. It began in Bhagalpur and spread to Siwan, Gaya, Kaimur, Saamstipur, Munger, Aurangabad,Nalanda and Rosera before being brough under control.
There has also been an undeniable surge in hate crimes this year. In late May, in Begusarai, an inebriated Rajiv Yadav asked street vendor Mohammed Qasim his name and then upon learning he was Muslim first asked him to go back to Pakistan and then shot at him! A video of 30-year-old Qasim sharing his ordeal went viral on social media. National Herald quoted him saying, "I was on my daily round when the attacker stopped me and asked me my name. When I replied, he exclaimed – you are a Muslim. What are you doing here? You should go to Pakistan.
He, thereafter, whipped out a pistol and opened fire. The bullet hit me in my back. His firearm had just one bullet. As he proceeded to load more ammunition, I shoved him away and ran for my life."
Clarion India reported that in June, 2020, "25-year-old Abdul Wahid, a daily wage-earner, was brutalised in a village in Sitamarhi district after the attackers confirmed his religion. A few days later, a Muslim youth in Motihari was thrashed and forced to chant 'Jai Shri Ram' by alleged right-wing activists."
Impact of CAA-NRC-NPR
It is noteworthy that the Janata Dal (U) of which Nitish Kumar is the national president, had voted for the Citizenship Amendment Bill (CAB) in both, the Lok Sabha and the Rajya Sabha. Thereafter, Nitish Kumar famously flip-flopped on the issue of the Citizenship Amendment Act (CAA), and on January 13 while addressing a rally in Kaimur, took a stand against not only the CAA, but also the National Population Register(NPR) and the proposed all India National Register of Citizens (NRC). Political pundits had speculated that this stand was carefully calibrated to suit his political agenda in an election year as Nitish Kumar couldn't afford to lose political capital among minorities, Dalits and OBCs.
As Bihar has a large population of Muslims and Dalits who hail from socio-economically weak backgrounds, CAA is a key concern for people in Nitish Kumar's traditional voter base. When people live hand-to-mouth, struggling to feed their families, often displaced due to floods or communal violence, it is difficult to maintain documentary evidence of citizenship. Additionally, another problem faced by married rural housewives in Assam i.e lack of documents linking them to their maternal families, could be another stumbling block of unlettered Muslim women in Bihar.
Anti-CAA protest and demonstrations took place across Bihar in places such as Nalanda, Gaya, Kishanganj, Araria and Purnea. On February 25, 2020, Bihar became the first NDA state to pass a resolution against the CAA in the state assembly.
The caste factor
People often assume that since Islam doesn't have a caste factor, it does not affect Muslims. However, The Pasmanda movement, an Indian Muslim social reform initiative for Backward castes and the Dalits among the Indian Muslims, has been trying to draw attention to the fact that Indian Muslims aren't a homogeneous community. "This is what gave birth to the debate among Muslims on the distinction between Ashraf (upper-caste Muslims) and Pasmandas (combination of Backward and Dalit Muslims)," says ForwardPress in a report titled Pasmanda movement questions the myth of a monolithic Indian Muslim identity.
The reportsays, "Like the Hindus, Indian Muslims have castes, too: Ashraf, Ajlaf (Backward Muslims) and Arzal (Dalit Muslims)." It adds, "The Pasmanda movement has been highlighting the heterogeneous character of the Indian Muslim community. It draws a distinction between the tenets of Islam and the practices of the Indian Muslims. It maintains that Islam, in general, may be free from casteism and untouchability but the Indian Muslim community is not."
The report adds, "Ashraf Muslims believe the Pasmanda discourse harms the cause of unity in the Muslim community at a time when it is under-represented in politics and in the matters of the State. They say the discourse undermines the bargaining power of Muslims with political parties looking for Muslim votes. Their first priority is adequate political representation of Muslims in general. They say the Pasmanda discourse is further dividing Muslims, who are already divided on the basis of maslaki identities such as Deobandi, Barelawi and Ahle-hadith."
The Print in a report titled India's Muslim community under a churn: 85% backward Pasmandas up against 15% Ashrafs explores this further. The report says, "The 1990s saw the rise of several social movements that gave voice and a new direction to abolish casteism in the Muslim society with several organisations leading from the front — the All India Backward Muslim Morcha of Dr Ejaz Ali, and the All India Pasmanda Muslims Mahaj of Ali Anwar from Bihar, and the All India Muslim OBC Organisation of Shabbir Ansari from Maharashtra." It also gives examples of two books; Ali Anwar's Masawat Ki Jung (2001) and Masood AlamFalahi'sHindustan Mein Jaat Pat aurMusalman (2007), which it says "were especially instrumental in exposing the caste-based discrimination prevalent in the Muslim society."
Some Dalit and tribal Muslim communities include groups such as: Vangujjars (nomadic forest-dwelling shepherd community), Idrisis (tailors), Qureishi (butchers), Ansari (weavers) and Ghosi (dairy farmers).
Previous voting history
Muslims were seen as a traditional vote bank of the Congress at one point, but since the communal riots of 1989 in Bhagalpur, the tide began to turn. The Congress government's alleged inaction was seen by the community as the reason why the violence escalated. Over 1,000 people were killed and 50,000 displaced. Muslims started looking up to Lalu Prasad Yadav as a leader and a Muslim Yadav alliance was forged that defined Bihar politics for decades. But the anti-incumbency factor helped propel Nitish Kumar into a leadership role in 2015. Though he first aligned with the RJD, he switched sides and joined hands with the BJP in 2017.
Now with the All India Majlis-e-Ittehad-ul-Muslimeen (AIMIM) contesting from 50 seats, and a new Dalit-Bahujan-Muslim alliance emerging in Progressive Democratic Alliance (PDA) with the coming together of Pappu Yadav, Chandrashekhar Azad and the Social Democratic Party of India (SDPI), the community has many electoral options in addition to the Mahagathbandhan (grand alliance) comprising Lalu Prasad Yadav'sRashtriya Janata Dal (RJD), Congress, Rashtriya Lok Samta Party (RLSP), Hindustani Awam Morcha (HAM) and the Vikassheel Insaan Party (VIP).
Muslims and Yadavs are viewed as Kingmakers in any election. At present there are 24 Muslim MLAs in Bihar. 11 belong to the RJD, six to Congress, five to JD-U, one each to BJP and CPI (ML).
The AIMIM factor
AIMIM is fielding candidates from 50 seats including those in key constituencies in districts where there is a high population of Muslims such as Kishanganj, Araria, Bhagalpur and Purnia. It is also noteworthy that most seats from where AIMIM is fielding candidates, have a sitting MLA from the Mahagathbandhan. This suggests that the AIMIM is more interested in targeting the RJD led alliance rather than the National Democratic Alliance (NDA) comprising the Bharatiya Janata Party (BJP) and Nitish Kumar's Janata Dal (United) JD-U.
In fact, this coupled with the fact that AIMIM's announcement to contest seats came close on the heels of Amit Shah's virtual rally, has created suspicion in the minds of Muslims in Bihar about the AIMIM's intentions.
"We are aware of BJP's old strategy of fielding AIMIM candidates to divide voters and polarise society. But it will not work this time,"Akhtarul Islam Sahin, the RJD MLA from Samastipur, had told NewsClick shortly after AIMIM's announcement in June.
AIMIM state President, Akhtarul Iman is leading the party's campaign on the ground.
The reports on the state of Muslims may be read here:
Related:
Bihar elections: JP Nadda filling in for Amit Shah?
Dalit Bahujan alliance takes shape ahead of Bihar elections
Muslim society in India: Dynamics of Sects and Castes
Politics over Muslim Personal Law and UCC: The Pasmanda Position