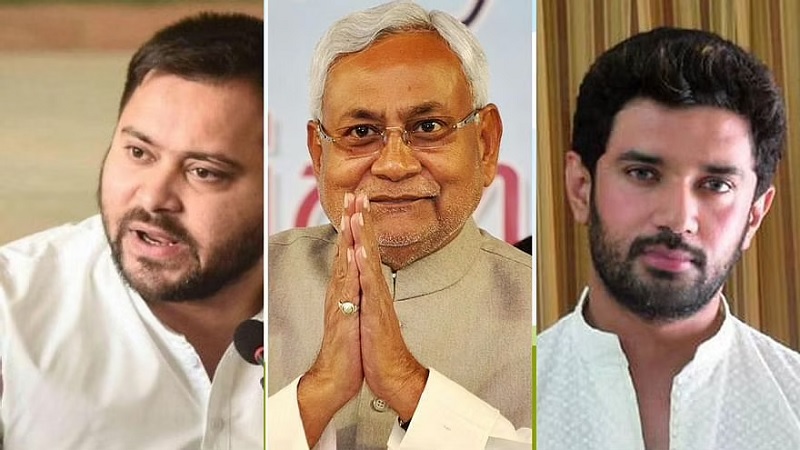 Image Courtesy:thequint.com
The third phase of the Bihar elections ended on Saturday with polling in 78 constituencies including Sikta, Benipatti, Balrampur, Saharsa and Darbhanga. According to the Election Commission, voter turnout stood at just over 55 percent. Here are the latest figures of poll percentages (constituency and gender-wise).
— PIB In Bihar ?? Mask yourself ? (@PIB_Patna) November 9, 2020
It is clear that the turnout of women voters has been higher than men with turnouts over 68 percent in many constituencies in districts such as Madhubani, Araria, Kishanganj, purnia, Katihar, Muzaffarpur, East and West Champarran. Now, traditionally, women voters were seen as the reason Nitish Kumar came to power when he became Bihar Chief Minister for the first time in 2015. Will the queens of Bihar crown a new king this time?
Meanwhile, as soon as polling closed for the day on Saturday, exit poll results started coming out. Most polls predict a close contest between the National Democratic Alliance (NDA) and the Mahagahathbandhan (MGB) or Grand Alliance led by the Rashtriya Janata Dal (RJD). The NDA comprises the Bharatiya Janata Party (BJP), the Janata Dal-United (JD-U), Vikassheel Insan Pary (VIP) and the Hindustan Awam Morcha (HAM). The Grand Alliance comprises RJD, the Congress, Communist Party of India (CPI), Communist Party of India – Marxist (CMPM) and Communist Party of India (Marxist–Leninist) (CPI-ML). Chirag Paswan led Lok Janshakti Party (LJP) broke away from the NDA just before the elections and is expected to carve away votes from the JD-U.
While the C Voter exit poll predicts that the NDA will get 116 seats as opposed to MGB's 120, ABP's exit poll gives the NDA between 104 to 128, while it gives MGB between 108 to 131 seats. But it is the India Today-My Axis Poll that gives Tejashwi Yadav a clean sweep with 139-161 seats as opposed to just 69-91 for the NDA. All polls give LJP at least one and as many as 5 seats, with others and independents vying for the rest.
India Today -Axis My India Exit polls give a clear majority of 139-162 seats to MGB in Bihar. NDA as per this poll gets 69-91. Other exit polls, except Today's Chanakya which gives MGB 180 seats, predict a close contest between NDA & MGB. Let's wait now for the exact poll results pic.twitter.com/A2e6fuMrYP

— Soumyajit Pattnaik (@soumyajitt) November 7, 2020
When it comes to the others, Upendra Kushwaha led Grand Secular Democratic Front that includes Kushwaha's own Rashtriya Lok Samata Party (RLSP), Asauddin Owaisi's All India All India Majlis-e-Ittehadul Muslimeen (AIMIM), Bahujan Samaj Party (BSP), Samajwadi Party (Democratic), and Democratic Party (Socialist). The other major alliance of Dalit-Bahujans-Muslims if the Progressive Democratic Alliance (PDA) between Pappu Yadav's Jan Adhikar Party (JAP) and Chandrashekhar Azad Ravan's AzadSamaj Party (ASP).
Related:
Second Phase of Assembly Elections in Bihar
Bihar Elections: First phase of voting concludes