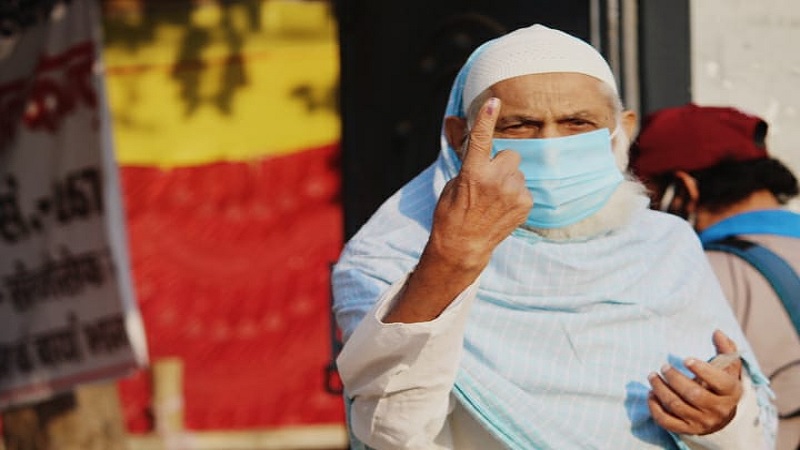 Image Courtesy:tribuneindia.com
On October 28, the first phase of elections was held in Bihar where ballots were cast for 71 out of the total 243 seats in the state assembly. The first phase had over 2 crore 14 lakh electors. Some of the key constituencies that went to polls include: Munger, Sasaram, Bodhgaya (reserved), Jamui, Paliganj, Arrah, Buxar, Aurangabad, Jehanabad and Sultanganj.
According to official figures, polling percentage remained well under 60 per cent in most constituencies at 5 PM.
Poll Percentage 5 pm pic.twitter.com/kpnLUSNFdq

— CEO Bihar #ElectionDepartmentBihar (@CEOBihar) October 28, 2020
Addressing a press conference at 6:30 PM, Chief Election Commissioner Sunil Arora said, "At 5 PM, Bihar election polling turnout was 52.4 percent." Arora said polling was challenging amidst the Covid-19 pandemic. Arora appreciated the discipline of Bihar voters in complying with all Covid-related protocols. He also said that out of the 16 districts where polling took place today, 12 were "left-wing" with 4 out of them "extreme left-wing".
Secretary General Umesh Sinha said elections were conducted "peacefully and successfully".
But polling day wasn't entirely devoid of drama. First a tweet by Congress leader Rahul Gandhi endorsing the Mahagathbandhan (Congress-RJD alliance) sparked controversy as it was seen as a violation of the Election Model Code of Conduct.
इस बार न्याय, रोज़गार, किसान-मज़दूर के लिए
आपका वोट हो सिर्फ़ महागठबंधन के लिए।

बिहार के पहले चरण के मतदान की आप सभी को शुभकामनाएँ।#आज_बदलेगा_बिहार

— Rahul Gandhi (@RahulGandhi) October 28, 2020
The BJP has filed a complaint with the Election Commission regarding the tweet that roughly translates into, "This time vote for justice, employment, peasants and workers, vote for Mahagathbandhan. Wishing you all the best for the first phase of polling."
Meanwhile, while campaigning in Darbhanga, Prime Minister Narendra Modi launched a two-pronged attack. The first a direct salvo against Rashtriya Janata Dal (RJD) leader Tejashwi Yadav, and the second a no-so-subtle snub to Lok Janshakti Party (LJP) leader Chirag Paswan.
Modi called Yadav, who is the son of two former Bihar Chief Ministers Laloo Prasad Yadav and Rabri Devi, the "Yuvraj of jugleraj" and further claimed that the RJD had the "copyright over kidnappings".
आप कल्पना कर सकते हैं, एक तरफ महामारी हो और साथ ही जंगलराज वाले राज करने आ जाएं तो ये बिहार के लोगों पर दोहरी मार की तरह हो जाएगा।
जंगलराज के युवराज से बिहार की जनता पुराने ट्रैक रिकॉर्ड के आधार पर और क्या अपेक्षा कर सकती है: पीएम @narendramodi #BiharWithNDA pic.twitter.com/y6Z20ehuQN

— BJP (@BJP4India) October 28, 2020
Distancing himself from the LJP, Modi said, "NDA in Bihar includes BJP, Janata Dal (United), Vikassheel Insaan Party (VIP) and Hindustani Awam Morcha (HAM)." This rather public dissociation from the LJP was lost on no one, though not entirely unexpected given how Chirag Paswan, son of the recently deceased Ram Vilas Paswan, had pulled out of the alliance just before the elections.
Meanwhile, further drama ensued in Jamui, where RJD candidate Vijay Prakash demanded polling be cancelled at 55 booths alleging malfunctioning of Electronic Voting Machines (EVM). Prakash, who is the sitting MLA, is pitted against BJP's Shreyasi Singh, daughter of former Union Minister Digvijay Singh. It is a very diverse constituency with a large population of Dalits and Muslims. It has traditionally been a stronghold of the LJP.
However, Secretary General Umesh Sinha said, "In some places where EVM-VVPATs were malfunctioning, they were replaced in minimum possible time." He added, "EVM-VVPAT failures have been minimum this time."
Related:
Bihar elections: Is Nitish Kumar's popularity dropping?
Bihar Elections: Deconstructing the Muslim monolith
Bihar Elections: If Chirag Paswan is Hanuman, PM Modi is Ram, who is Nitish Kumar?