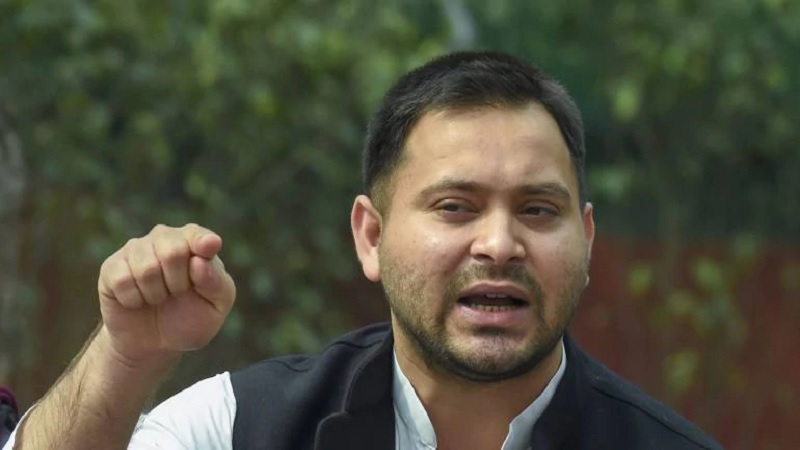 Image Courtesy:moneycontrol.com
A day after Rashtriya Janata Dal (RJD) national spokesperson Manoj Jha accused officials of the Chief Minister's office of pressuring Election Commission officials to declare results in favour of the National Democratic Alliance (NDA) in Bihar, RJD leader Tejashwi Yadav has come out to openly challenge election results.
Speaking to media-persons in Patna, Yadav said, "We've won 130 seats and the mandate was in our favour, but the Election Commission's results were declared in favour of NDA." He alleged counting irregularities took place in connection with 20 seats. Earlier the party had approached the Election Commission (EC) but their claims were dismissed.
"We lost about 20 seats where irregularities took place in counting postal ballots and our candidates' queries were not heard by the Election Commission," claimed Yadav, further asking, "Why were the postal ballots counted at night and were the guidelines followed?"
The party has now demanded video footage of counting.
कई और क्षेत्रों में सांसदों की अनाधिकृत मौजूदगी की शिकायत आ रही है।पूरी मतगणना के वीडियो फुटेज जारी होने चाहिए। @CEOBihar @ECISVEEP https://t.co/4In8EMf8H0

— Manoj Kumar Jha (@manojkjhadu) November 13, 2020
High drama had ensued on counting day with result declaration taking what many felt an inordinate amount of time, thus forcing EC officials to address a press conference where they clarified that the number of polling booths had gone up in order to ensure social distancing in wake of the Covid-19 pandemic, leading to a larger number of Electronic Voting Machines (EVM) being used. Additionally, postal ballots were used by voters above the age of 80 and those needed to be counted.
Moreover, counting was taking place in 55 locations, up from the previous 38. At each location, counting was taking place in more than one hall and there were 14 tables in each location. There were anywhere between 19 to 55 rounds of counting in different locations at the time of EC's press conference at about 1:30 PM on counting day.
But Manoj Jha alleged in an interview to BBC, "From 1:30 PM to 5 PM the victory numbers remained frozen. This is not possible in dynamic counting. This was done to suppress our numbers and manipulate the polls." Jha further alleged, "My Hilsa candidate was told he had won by 566 votes and asked to take the certificate. But even as he was waiting for the certificate, he was told that he had lost by 8 votes!" He also claimed recounting requests by RJD were denied, but when BJP-JD(U) asked for recounts in places where RJD had won, their request was granted. But the EC has dismissed Jha's allegations.
Related:
What does the Bihar election result mean?
Bihar Elections: Exit polls predict neck-and-neck fight
Second Phase of Assembly Elections in Bihar
Bihar Elections: First phase of voting concludes
Bihar elections: Is Nitish Kumar's popularity dropping?
Bihar Elections: Deconstructing the Muslim monolith