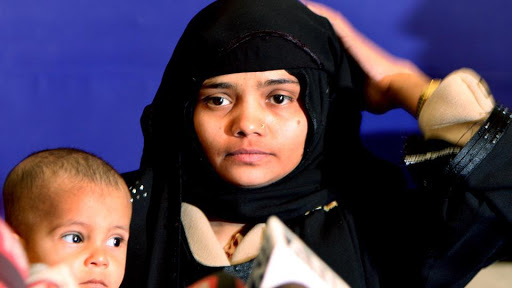 In a shocking incident in Gujarat, two men who are both accused in the Bilkis Bano case, have now assaulted and attempted to intimidate a witness in the case. This after the witness tried to prevent them from assaulting two women in a separate matter.
According to Gujarati newspaper Loksatta-Jansatta, the incident took place in Singvad in the middle of June when Radheshyam Shah, one of the accused in the Bilkis Bano case who is out on parole, started videographing one Aarefaben without her consent.
Aarefaben's father Aiyyub Ganchi had been injured in a motorcycle accident in 1998. Ganchi was later reportedly killed during the Gujarat genocide of 2002, albeit not during the attack on Bilkis Bano. Before 2002, Shah was reportedly a lawyer looking into Ganchi's motorcycle accident case.
This June, he reportedly contacted Ganchi's widow Sayeraben to discuss the case, but the elderly lady sent her daughter Aarefaben instead. That's when Shah allegedly started videographing her without her consent. Aarefaben protested and called Sayeraben to join her. That's when another accused in the Bilkis Bano case named Mitesh Bhatt joined Shah and allegedly tried to drag Aarefaben by grabbing her hand. The mother and daughter tried to flee, but three men; Shah, Bhatt and Shah's brother Ashish allegedly chased them. The trio allegedly chased the women for nearly 25 meters before catching up with them.
This is when Firoze Ganchi, one of the witnesses in the Bilkis Bano case intervened in a bid to help the hapless women. That's when the accused allegedly physically assaulted him and also allegedly asked him to compromise in the case.
Sayeraben reportedly filed a complaint with the Radikpur police station on June 19, while Firoze Ganchi filed a written complaint with the Godhra Range DIG on June 23. Loksatta-Jansatta reports that Firoze Ganchi has also made allegations against a police sub inspector of the Randikpur police station and also a deputy superintendent of police claiming that they were present when Shah and Bhatt intimidated him and tried to pressurize him to compromise in the case.
A copy of the complaint may be viewed here:
The Bilkis Bano case is one of the most high-profile cases from the Gujarat Genocide of 2002. The gender violence survivor had been awarded Rs 50 lakh as compensation by the Supreme Court in April last year after a prolonged legal battle. But despite that the state government delayed payment of compensation for five months and only did so after the SC once again directed them to do so in September 2019. For accused in the case to not only move around freely, but to physically assault and intimidate witnesses is shocking. The allegations of police complicity also need thorough investigation.
Related:
Bilkis Bano case: SC directs Guj gov't to pay compensation in 2 weeks
Will Use the Compensation for Battles of Other Sisters: Bilkis Bano
Exclusive: Interview with Bilkis Bano's lawyer, Ms Shobha
Reparation for Violence: 50 lakhs awarded to 2002 Rape Survivor Bilkis Bano by SC