There is one highly successful scheme of the BJP government under PM Narendra Modi that has not received any media attention — 'Pradhan Mantri Billionaire Badhao – Billionaire Bachao – Billionaire Banao Yojana'.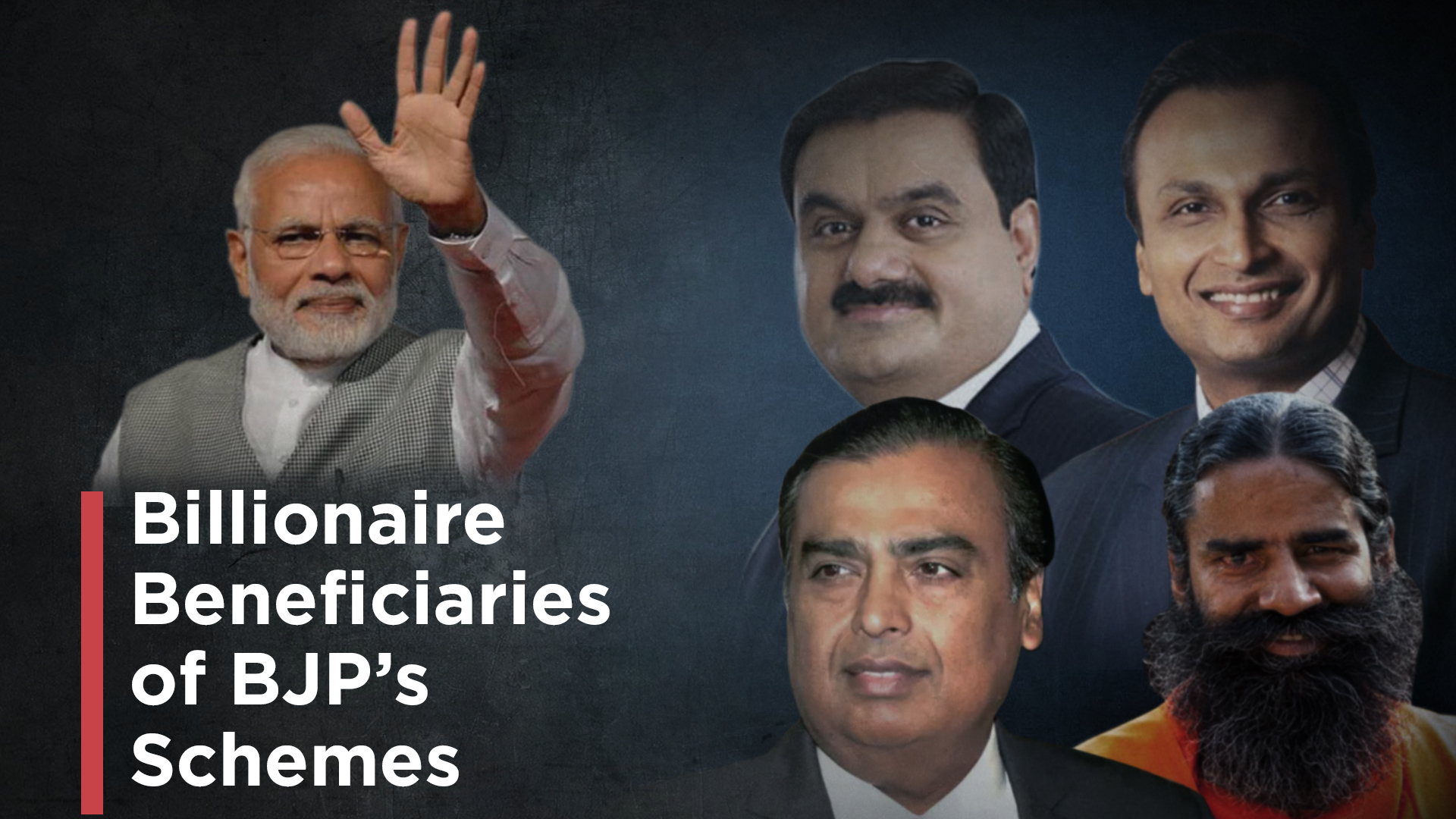 The Bharatiya Janata Party (BJP) government's numerous schemes meant for ordinary Indians – farmers, youth, women and others – have received a great deal of publicity from the government and a fair amount of criticism from the public for their failure.Yet, there is one highly successful scheme of the BJP government under PM Narendra Modi, that has not received any media attention. This is the 'Pradhan Mantri Billionaire Badhao – Billionaire Bachao – Billionaire Banao Yojana'.
It is true that the Pradhan Mantri's employment programme has not created any new jobs. If anything, there is a net loss of employment under the BJP government. The Fasal Bhima Yojana benefitted the corporates more than the kisans (farmers) and Skill India brought no jobs to those who have got skills.
But, the success of 'Billionaire Badhao – Billionaire Bachao – Billionaire Banao Yojana' eclipses the failure of the rest of the schemes.
The success of this scheme is even more remarkable for the fact that it has never been publicly announced by the government. We have come to perceive the existence of the scheme only through the results it has achieved. As such, there is a need to understand and appreciate this scheme.
Under this scheme, already thriving billionaires added more billions to their net worth. Those who were not doing so well were given a helping hand to retain their wealth. Those who were not billionaires to begin with, were lifted to be included in the billionaire wealth bracket by the Modi government.
So, let us take a look at some of the important beneficiaries of this scheme.
Mukesh Ambani ´ 2
India's richest man Mukesh Ambani has become doubly richer within the first four years under the Modi government. Between 2014 and 2019, his wealth more than doubled –from about $23 billion to $55 billion. This means that Mukesh Ambani accumulated more wealth in the five years of BJP rule than all the wealth he made and inherited in the entire 58 years of his life before Modi became Prime Minister.
No doubt, Ambani worked really hard to earn Rs. 122 crore per day in the last five years. Yet, credit should be given where it is really due.
He has to concede that without the BJP government's policies, his billions would have been fewer.
This all began with Ambani's launch of Reliance JIO in September 2016. All of us remember when JIO was launched with full-page newspaper advertisements. The person endorsing the JIO brand was none other than Prime Minister Modi, who appeared on the advertisements wearing a dress that was colour coordinated to match with the JIO logo. There were the usual denials that the pictures were used without the Prime Minister's permission. But most of us know that Reliance would not have dared to use Modi's image without some tacit prior understanding.
From its commercial launch in September 2016, JIO's subscriber base skyrocketed within two years – like never before in India's telecom history—thanks to Telecom Regulator Authority of India (TRAI) tweaking its policy for the undue benefit of Reliance JIO. One month after JIO was launched, TRAI announced a steep cut in interconnection charge, resulting in a fall of these charges by less than 50%. This meant that JIO had to pay very little to connect the calls of its subscribers to a much larger subscriber base of its competitors. This was a blow to existing telecom operator,s like Airtel and Vodafone, and a boon to Reliance JIO.
In 2016, when Reliance JIO was in the testing phase, TRAI arbitrarily imposed a penalty of more than Rs 3,000 crore on the other operators for not providing enough interconnecting points to JIO. Even though, according to their license agreements, the incumbent operators had 90 days to provide the points of interconnect (PoI) to JIO, TRAI imposed a penalty before the 90-day period was over. This resulted in an undue advantage to JIO.
When JIO's competitors started complaining of its predatory pricing behaviour, TRAI tweaked the rules once again in 2018 for the benefit JIO. Because the rules on predatory pricing behaviour apply to only a company with significant market power, TRAI changed the rules of determining market power, in favour of JIO again. Till then, market power was calculated on the basis of four metrics – revenue market share, subscriber market share, volume of traffic and capacity. But, to benefit JIO and to show its market power lower than it actually is, TRAI simply removed the volume of traffic and capacity as metrics of market power. As a result, JIO, with its deep pockets, could continue its predatory behaviour by undercutting its competitors.
Thanks to his efforts with regard to JIO, Modi government reappointed R S Sharma as TRAI chairman for two more years. This is the first time in the history of TRAI that somebody has been reappointed as the chairman.
There is no doubt, Mukesh Ambani's doubled billions are the result of the government's and TRAI's 'fatherly' interest in Reliance JIO. A look at the chronology of Mukesh Ambani's net worth makes this clear. From 2014 to 2016, there was hardly any change in his net worth – it remained at about $23 billion. After Reliance JIO's commercial launch, his net worth skyrocketed and reached $55 billion in 2019. One can imagine the miracles Ambani may have in store if Modi is given another five years in office.
Adani Kalyan Yojana
The scores of schemes announced by the BJP government seem to have brought little actual benefit to Indian people, as actual beneficiaries are just a handful of billionaires. Let us take a look at another such beneficiary. For all the BJP government has done for him, he actually deserves a scheme named after him.
When talking of Modi's beneficiaries, one must certainly not forget Gautam Adani, his BFF or best friend forever. The rise of Adani in the business world seemed to have gone hand in hand with Modi's ascent to power in Gujarat in 2001. As a 'true friend', Modi has been relentless in improving the lot of his 'good' friends. During his tenure in Gujarat, Adani Enterprises' assets grew by 5,000%. We are not sure if an ordinary Gujarati has seen such growth in his income under Modi.
By the time Modi ended his tenure in Gujarat, Adani was a billionaire with a net worth of $2.6 billion. And, the fruits of this friendship continued to bear after Modi's shift to Delhi. Adani's net worth more than quadrupled to $11.9 billion – in just the first four years of Modi rule.
How did this happen?
Do you remember all the foreign countries the PM visited over the last five years in a bid to shore up India's standing in the international arena? While he was at it, our PM also managed to drum up some business for his friend. Thanks to this, Adani was able to ink 15 deals related to defence, logistics and power with many of the countries that Modi visited.
The infamous Carmichael mine project, which has been witnessing protests in Australia since its inception for financial irregularities and tax evasion, was pocketed by Adani during Modi's visit to that country, just a few months after he became PM. In the same visit, it was announced that State Bank of India, India's largest public sector bank, would provide a loan of $1 billion to Adani for this Australian Ppoject.
A $15.5 billion project as well as an easy to loan to execute it! What more can a friend ask for. Yet, there were more goodies waiting for Adani.
The rapid expansion of the Adani group over the last decade was built on large loans Gautam Adani took from the banking system. In 2015, the Adani group had Rs. 92,000 crore debt on its books, earning a place in a list called 'House of Debt' – compiled by Credit Suisse. According to the report, Adani is in the august company of Anil Ambani as one among the top four Indian corporate groups with the highest levels of unsustainable debt. Credit Suisse categorised 1/3rd of Adani group's debt as 'highly stressed', which means that the group was not in a position to make repayments.
In 2017, Adani power alone had total borrowings of Rs 53,000 crore, with an interest cover as low as 0.7%. For every Rs 70 that Adani Power was making, it had to make interest payments of Rs 100 – implying that it was defaulting on loan payments.
Despite this desperate situation, the Adani group did not seem to have any NPAs (non-performing assets or bad loans) with the banking system. What is the secret behind such an extraordinary feat?
Here is the secret. Within two months of Modi coming power, public sector banks under the Reserve Bank of India's 5/25 refinance scheme, have restructured and refinanced loans of many corporates – extending the loan repayment periods from 10 years to 25 years. The Adani group has been one of the main beneficiaries of this scheme. From the financial press, we know that at least Rs.15,000 crore of Adani power's loans have been restructured, extending the loan repayment period from 10 years to 25 years with a 15-month moratorium on interest payments. No doubt, more such loans of the group have been restructured on similarly benevolent terms. This is also the reason why, despite its mountain of highly stressed debt, the Adani group's market valuation has been growing.
The list of favours given to Adani under the BJP government may seems endless. Yet, there is one that stands above others, for it involves subversion of government institutions.
In 2014 and 2015, the Directorate of Revenue Intelligence (DRI) issued notices to three of Adani's power sector firms regarding diversion of Rs 5,000 crore to tax havens through over-invoicing of power equipment.
DRI's evidence showed that Adani power companies purchased power equipment from abroad, which was shipped by their Chinese and South Korean sellers directly from their ports to Indian ports, with no diversion in the middle. But, on paper, it was shown that the equipment was first purchased by a Dubai-based firm called Electrogen Infra, a company owned by Adani's brother, Vinod Adani. Again on paper, Electrogen Infra sold the same equipment to Adani power companies, at price as high as 800% of the original price. DRI said that through this scam, Adani illegally diverted more than Rs 5000 crore to overseas tax havens.
To those following the scam, it seemed like an open and shut case. Yet, explicably, DRI's adjudicating authority summarily dropped all the proceedings against Adani on August 21, 2017. Four days later, Gautam Adani reportedly met Modi's revenue secretary Hasmukh Adhia. Was it to thank him?
Rafale on Anil Ambani's Platter
This billionaire, sadly, has not done so well under PM Narendra Modi's regime. It is a universal knowledge that the younger Ambani brother has been seeing rough times these last few years. His net worth dropped from $6.3 billion to $1.8 billion in the last five years.
Yet, one can completely absolve the BJP government of any blame in the younger Ambani's loss of billions and slide into billionaire poverty. In fact, PM Modi put in a commendable effort to restore the Junior Ambani's lost billions.
It is no secret that Anil Ambani's group owed a great deal of money to the Indian banking system, and that his group is one of the main contributors to the NPAs woes of the banking sector. One of his group companies, Reliance Communications, has at least Rs. 14,000 crore of NPAs with banks. The figures may actually be higher, but are not made public yet. Another group company, Reliance Naval and Engineering, defaulted on Rs 9,000 crore to the banks, most of which is to public sector banks.
This is only the information in the public domain. Much of the information regarding the bad loans is shrouded in secrecy. Only the government knows the actual amount of NPAs of the entire Anil Ambani group.
A less compassionate government would have initiated action against Anil Ambani, the promoter of these companies. It may have taken steps to confiscate his assets. After all, government is the owner of public sector banks, as well as the representative of Indian citizens, whose deposits have been lent by these banks to Ambani.
But, not Modi, who has instead chosen to help junior Ambani recover his lost fortunes. The result being the Rafale deal or shall we say, scheme. Though, most readers are familiar with this scheme, there is no harm in recounting its salient features.
In 2012, the United Progressive Alliance (UPA) government negotiated with the French company Dassault for 126 Rafale fighter jets, to add to the fleet of Indian Air Force (IAF). According to this agreement, which was almost finalised, out of the 126 aircraft, India would buy 18 in finished form directly from Dassault. While, the rest 108 Rafale jets will be manufactured by Hindustan Aeronautics Limited (HAL), with technology transfer from Dassault.
HAL is one of India's Navratna public sector companies. It has more than half a decade experience of manufacturing and supplying fighter aircraft to IAF.
In 2015, Modi decided to scrap this deal and make a new one. Why? So that the experienced HAL can be replaced by an Ambani company, which has 'zero' experience in any kind of defence manufacturing. Moreover, the Ambani company was set up just 12 days before Modi's visit to France to discuss the deal.
The special consideration given to Anil Ambani's company at the expense of HAL is obviously part of Modi's 'Billionaire Bachao' scheme. As any other government scheme, this too had its costs. The Modi government agreed to buy a smaller number of aircraft (36) at a much higher cost, just so that Reliance could be brought into the deal. Different estimates have put the loss to government due to the Rafale deal at Rs.12,000-42,000 crore.
Unlike the one negotiated in 2012, the new Rafale deal, does not include any technology transfer to India. This is looked at by many defence analysts as a big setback for India's efforts to become self-reliant in defence manufacturing.
One Rafale deal, no matter how much it costs the government and the people, is clearly not enough to restore the Ambani fortunes. So, apart from the Rafale deal, Modi found time to fix up at least five more deals for Anil Ambani in Sweden, Russia, Israel, the US and other countries, during his globe-trotting. Some may say that these are a less number of deals than what Modi got for Adani. But the naysayers have to accept that Modi has shown a good deal of magnanimity towards Anil Ambani who once hobnobbed with BJP's arch enemy in Uttar Pradesh – the Samajwadi Party. By helping this billionaire rescue his fortunes, Modi proved that he is everyone's prime minister – as long as they are rich and capable of keeping BJP flush with campaign funds.
The 'Baba' Billionaire
Last, but not the least, comes a most unique accomplishment of the Modi government, a combination of saffron agenda and crony capitalism, that of turning a baba into a billionaire.
If we are counting the beneficiaries of five years of BJP rule, one must not forget Baba Ramdev. Unlike others who have been billionaires before Modi came to power, the PM can claim credit for singlehandedly turning this baba in to a billionaire.
During the 2014 parliamentary elections, Ramdev was one of the most vocal non-political party campaigners for Modi. The elastic-limbed yoga guru, who had become a TV celebrity through his shows, openly exhorted and herded lakhs of his followers into voting for Modi. The fact that Ramdev's role in BJP' win has been crucial is accepted by no less a weighty persona than party president Amit Shah, who humbly thanked the baba after the elections, for 'contributing significantly to the formation of the Narendra Modi government at the centre'.
This alliance of Ramdev's spiritual Hindu nationalism with BJP's political Hindu nationalism has been fruitful for both the parties. Modi swept to power at the Centre, while Ramdev expanded his spiritual empire into the economic realm.
The PM has shown his gratitude by employing the might of government machinery in turning the yogi baba into the frontman for a multi-billion dollar FMCG (fast moving consumer goods) empire called 'Patanjali'.
From what one can glean from news reports, 'Patanjali' which was founded by Ramdev, is at the moment officially owned by his second in command and disciple 'Acharya Balakrishna'. The actual ownership may seem a bit murky, with 'Patanjali' brand being controlled by some 34 companies and three trusts with large dividend payments (up to 60% of the profits) going to Ramdev's brother and his close aide Balakrishna. Whatever may be the finer details, there is no doubt that Ramdev is the 'super boss' at Patanjali.
Between 2014 and 2018, Patanjali went from a relatively fringe enterprise to a billion-dollar company, placing its owner among the 20 richest people in India with a net worth of more than $6 billion. From making obscure herbal powders and jellies, the company leapfrogged into manufacturing household products like – soaps, detergents, toothpastes, kitchen supplies, baby powders, wet wipes, digestive biscuits, cookies, corn flakes, vermicelli and what not. You name it, Patanjali makes it. The Ramdev brand jeans, apparently designed with bharatiya sanskar (Indian values) in mind, are already here.
The consequence is that within a span of four years, 'Patanjali' ate into the market share of established FMCG giants such Hindustan Unilever, Dabur and others, which have been around for decades.
This skyrocketing growth of Patanjali happened under the benevolent gaze of PM Modi and Shah. They have leaned in with their government's machinery and have fully supported Ramdev's commercial endeavour.
In what can only be called a poetic gesture of gratitude, the BJP government served Patanjali products on Parliament's dining tables. It pushed Patanjali products in government-owned Kendriya Bhandars, army canteens and fair price shops in various states ruled by BJP.
Since 2014, Patanjali has received about 2,000 acres for setting up factories and other facilities at throwaway prices. Its factories even got security at expenses of public exchequer. CISF (Central Industrial Security Force) protection, which is not usually provided to private sector, was given to the Patanjali foodpPark in Haridwar. It. was given lucrative government contracts. The list of favours goes on and on.
The government's excuse for such disproportionate affection shown to Patanjali has been that it is trying to promote 'swadeshi' products in India. Yet, it is perplexing why these favours were not done to other swadeshi-owned companies like Dabur, Emami and others.
Modi gets votes of his beneficiaries
The benevolence to billionaires has not gone unrewarded. The billionaires have already voted in with their money. More than 70% of corporate donations given to national parties during Modi's term went to BJP, not to forget the copious and completely uncritical air time Modi has been getting in the corporate-owned media.
If only ordinary Indians can stop hankering after paltry benefits like employment, minimum support prices, farm loan waiver, affordable healthcare and education, cheap electricity, cooking gas, etc. etc., under the Modi regime they have the opportunity to become billionaires one after another, if they survive long enough.
Courtesy: News Click