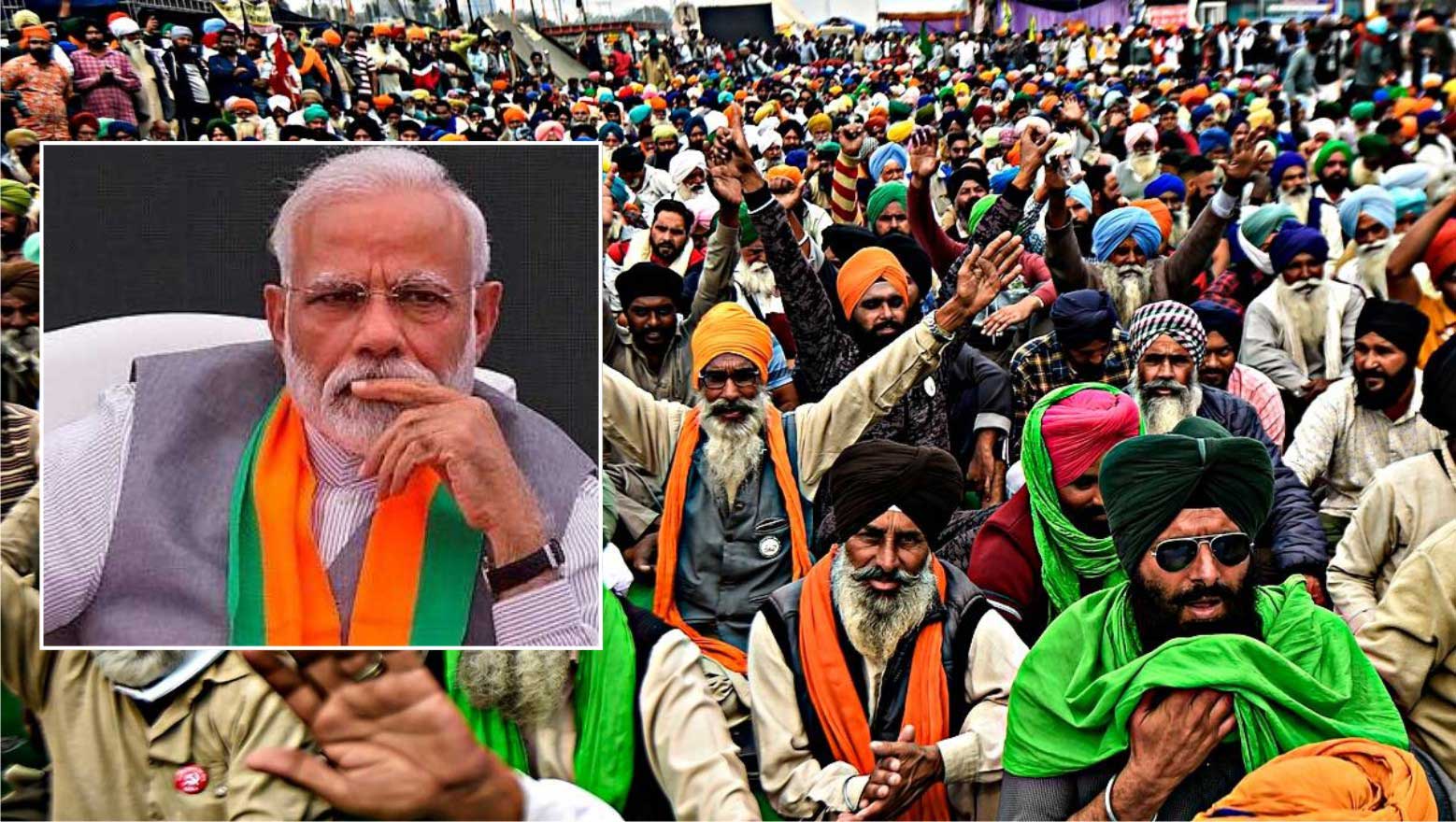 Stinging slaps to BJP in Punjab, UP & Haryana
On February 17, the results of the elections to eight municipal corporations and 109 municipal councils and nagar panchayats (city councils) in Punjab were declared. The BJP was handed down a stinging defeat even by urban voters. Of the total 1815 seats in the 109 municipal bodies, the BJP won in only 38 seats. Of the total 350 seats in the 8 municipal corporations, it won just 20. But that was not all. The BJP even found it difficult to get candidates to contest. And many of the BJP candidates who did contest refused to take the BJP symbol. Such was their fear of the people.
The Shiromani Akali Dal, which had been with the BJP for the last several decades, but had recently broken with the NDA over the three Farm Laws, also paid a price. It won 289 seats in the municipal bodies and 33 seats in the municipal corporations. AAP got 57 and 9 seats respectively. The biggest gainer was the ruling Congress in the state, which won 1199 and 281 seats respectively, sweeping 7 of the 8 municipal corporations and most of the other municipal bodies. In fact, independents emerged as the second largest group after the Congress.
Uttar Pradesh is slated to hold its three-tier panchayat elections within two months, in April 2021. For the last one month after January 26, the political situation in Western Uttar Pradesh has dramatically turned against the BJP. Leaders of the Samyukta Kisan Morcha (SKM), BKU (Tikait), AIKS and other farmers' organisations, along with leaders of the Rashtriya Lok Dal (RLD), Congress, CPI (M) and other political parties have been addressing massive Kisan Mahapanchayats in several areas of Western Uttar Pradesh against the Farm Laws and for an MSP Law. They are naturally targeting the Modi-Shah-led BJP regime at the Centre.
The result of all this is that large boards are being put up outside several villages in Western Uttar Pradesh, as they have been in the last three months in Punjab and Haryana, denying entry to BJP men in those villages. Calls have been given for a social boycott of BJP leaders. BJP's Union Minister of State and Muzaffarnagar MP Sanjeev Baliyan and several BJP MLAs were driven out by farmers when they tried to strike a dialogue with them. In Soram village, Baliyan's goons accompanying him clashed with farmers after which the police of the BJP's Yogi regime promptly slapped cases against the farmers. This has further incensed the peasant community.
The same picture is to be seen in Haryana for the last three months. Huge Kisan Mahapanchayats are castigating the BJP-led Khattar government and also the JJP led by deputy chief minister Dushyant Singh Chautala, who had earlier announced that he would quit the government if the farmers' issues were not solved by January 26. It is now a month since his own deadline. Yet he continues to stick to his post like a leech, to the derision of the peasantry.
Massive nationwide rail rook
It may be recalled that the SKM Chakka Jaam (Road Blockade) call on February 6 had mobilised hundreds of thousands farmers at over 3000 centres in over 600 districts in almost all states across the country. In response to the next SKM call, a massive nationwide Rail Roko agitation was conducted by farmers on February 18 in nearly 600 centres in almost all states. It was one of the most extensive Rail Roko stirs in India in recent years. Hundreds of thousands of farmers took part, including thousands of women farmers, and thousands of farmers were arrested or detained. Among AIKS leaders arrested were National Joint Secretary Badal Saroj, Bihar State President Lalan Choudhary, Telangana State General Secretary T Sagar, Madhya Pradesh State Joint Secretary Akhilesh Yadav and many others.
Preliminary reports collected at the SKM meeting and information collected by the AIKS, show that these Rail Rokos took place in various centres as follows: Bihar – 100, West Bengal – 77, Punjab – 70, Jharkhand – 65, Haryana – 57, Telangana – 55, Odisha – 30, Uttar Pradesh – 27, Rajasthan – 25, Andhra Pradesh – 23, Maharashtra – 12, Madhya Pradesh – 11, Karnataka – 11, Tripura – 5, Chhattisgarh – 5, Himachal Pradesh – 3, Uttarakhand – 1, Jammu & Kashmir – 1. The election-going state of Kerala held large demonstrations at all the 14 district centres. In the other election-going states of Tamil Nadu and Assam, the Rail Roko action could not be held.
Meanwhile, massive Kisan Mahapanchayats continue to be held in North India. One of the largest was held last week at Barnala in Punjab by the BKU (Ekta Ugrahan) and the Punjab Khet Mazdoor Union. It mobilized over one lakh farmers and agricultural workers and was addressed by Joginder Singh Ugrahan and others. Other largerallies of tens of thousands of peasants were held at Sikar and Churu in Rajasthan. They were addressed by several SKM leaders, including Balbir Singh Rajewal, Rakesh Tikait, Yogendra Yadav, AIKS Vice President Amra Ram and others.
Future stir by SKM
The SKM meeting held on February 21 at the Singhu border was chaired by AIKS Haryana State Vice President Inderjit Singh and, along with leaders of other organizations, was attended by AIKS President Ashok Dhawale, Finance Secretary P Krishna Prasad and Punjab State Vice President Baljit Singh Grewal. After review and discussion, the meeting took the following decisions to extend the nationwide struggle.
February 23 was observed as Pagdi Sambhal Divas to mark the birth anniversaries of legendary freedom fighters and peasant leaders Swami Sahajanand Saraswati (Founder National President of the AIKS) and Ajit Singh (uncle of Shaheed Bhagat Singh).

February 24 was observed as Anti-Repression Day to condemn the growing repression of the BJP central government after January 26 on farmers (122 of whom were arrested), eminent journalists, the vindictive ED raid on NewsClick, the arrest of young climate Disha Ravi and others, the arrest of young Dalit activist Nodeep Kaur and others.

February 26, the day when the Delhi struggle completes three months, was observed as Yuva Kisan Divas to felicitate the admirable role of peasant youth in this struggle.

February 27, the martyrdom anniversary of Chandrashekhar Azad and the birth anniversary of Sant Ravidas, was observed as Worker-Peasant Unity Day to underline the unity of the two basic classes that produce the wealth of our country.
The SKM also met on February 28 to review and chalk out the future course of the struggle.
AIKS press conference on MSP
On February 19, the AIKS held a press conference at the Press Club of India in New Delhi where it reiterated its demand for the repeal of the three black Farm Laws and for a law guaranteeing MSP. In its press release it also attacked the utterly false campaign on the MSP issue that was being led by PM Modi himself and, while putting the onus for enacting such a law on the central government, also suggested some important ways to make it possible. The press conference was addressed by AIKS General Secretary Hannan Mollah, President Ashok Dhawale, Joint Secretaries N K Shukla and Vijoo Krishnan and Finance Secretary P Krishna Prasad.
Significant bail judgement in Disha Ravi case
On February 23, Additional Sessions Judge Dharmender Rana of a Delhi Court, in a significant and courageous judgement considering the times that we live in, granted bail to the young climate activist from Bengaluru, Disha Ravi, who had been arrested 10 days ago by the notorious Delhi Police which is under the direct control of Union Home Minister Amit Shah. Disha Ravi had bravely asserted in the Court, "If highlighting farmers' protest globally is sedition, I am better (off) in jail."
Some of the memorable passages from Judge Dharmender Rana's 18-page judgement are as follows:
"Citizens are conscience keepers of government in any democratic nation. They cannot be put behind bars simply because they choose to disagree with state policies…The offence of sedition cannot be invoked to minister to the wounded vanity of government. Difference of opinion, disagreement, divergence, dissent, or for that matter, even disapprobation, are recognized legitimate tools to infuse objectivity in state policies. An aware and assertive citizenry is indisputably a sign of a healthy and vibrant democracy.
"This 5000-year old civilization of ours has never been averse to ideas from various quarters…The right to dissent is firmly enshrined under Article 19 of the Constitution of India…The freedom of speech and expression includes the right to seek a global audience…
"Creation of a WhatsApp group or being editor of an innocuous toolkit is not an offence…There is not even an iota of evidence brought to my notice connecting the perpetrators of the violence on January 26, 2021 with the said PJF (Poetic Justice Foundation) or the applicant/accused…Considering the scanty and sketchy evidence available on record, I do not find any palpable reasons to breach the general rule of 'Bail' against a 22 year old young lady, with absolutely blemish-free criminal antecedents and having firm roots in the society, and send her to jail."
India certainly needs many, many more Disha Ravis and Dharmender Ranas, and millions more citizens to openly laud their courage, to halt our march towards a fascist society.
(The author is President, All India Kisan Sabha (AIKS)
Related:
Mainstream media overlooked farmers' protests in South India: Farmers' leaders
India's youth stand in solidarity with annadaatas on Yuva Kisan Diwas