Ahead of the upcoming Lok Sabha elections in 2019, the BJP is planning to hold three rath yatras in West Bengal in December 2018. West Bengal BJP president Dilip Ghosh said that while the campaign for the rath yatras will start right after Durga Puja.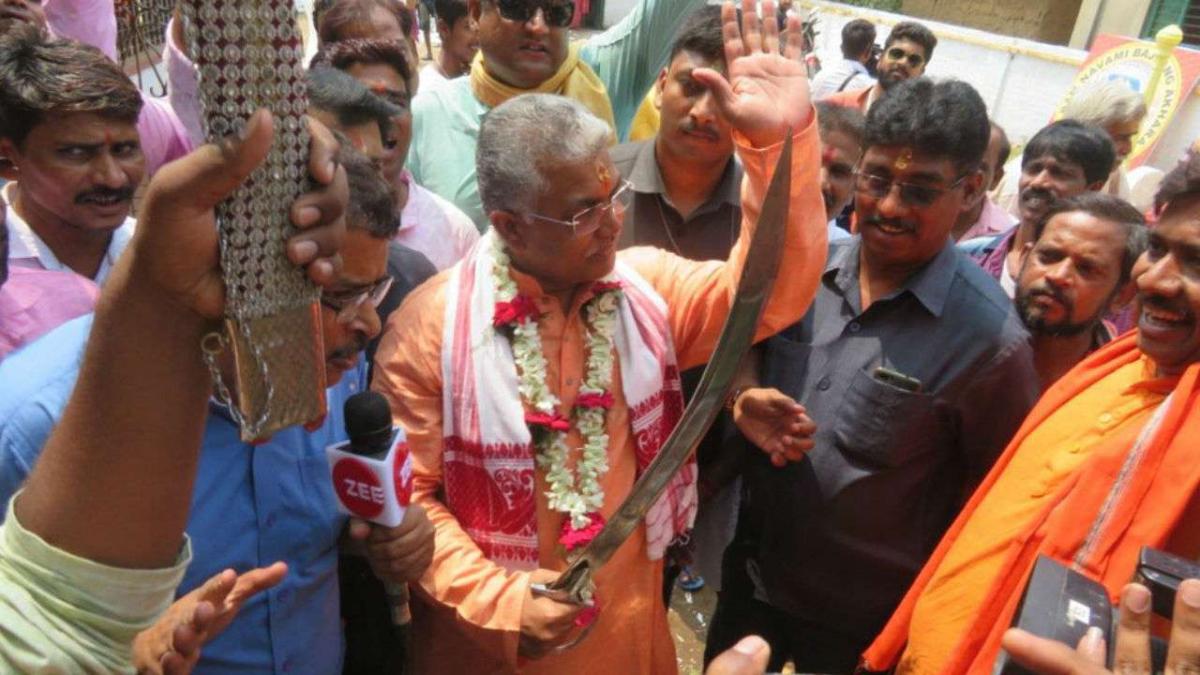 Image Courtesy: Twitter
Ghosh told PTI that the first rath yatra will begin from "the temple town of Tarapith in Birbhum district on 3 December. Party president Amit Shah is likely to take part in it". "Party leader Samik Bhattacharya said that Shah will lead the Rath Yatra from Birbhum district to protest the reign of terror allegedly unleashed by the ruling Trinamool Congress in Bengal," the Indian Express reported. "Shah will lead the yatra from Birbhum district because it has become the birthplace of violence in Bengal," Bhattacharya said. He added that the second rath yatra, from Sagar Island, will be led by Uttar Pradesh Chief Minister Yogi Adityanath, and would be a demonstration against the "appeasement politics of the TMC". The final rath yatra is to be led by Assam Chief Minister Sarbananda Sonowal; it will begin from West Bengal's Cooch Behar district, and will be a protest against "the infiltration of Bangladesh into West Bengal," according to the Indian Express. PTI reported that each rath yatra would cover 14 Lok Sabha constituencies.
Following the three yatras, the BJP plans to hold a public meeting in the state in January 2019, where Prime Minister Narendra Modi will make an address, and chief ministers from BJP-ruled states would also be invited, Ghosh told the Indian Express.
Notably, when speaking to South Asian Monitor, Ghosh said that the rath yatra would "start from four designated areas—Birbhum, Tarapith, Coochbehar and Gangasagar (in South 24 Parganas)—and press for the implementation of the Narendra Modi government-propelled Citizenship (Amendment) Bill, 2016″. The bill has been introduced in Parliament, and outlines granting Indian citizenships to minorities residing in India's neighbouring countries. The BJP is looking to "grant citizenship to all Bangladeshi Hindus, irrespective of whether they have papers (present citizenship or nationality) or not," Ghosh said to South Asian Monitor. "While all Hindus are welcome, the BJP will spearhead a programme to identify Muslim infiltrators who have settled illegally in West Bengal," Ghosh explained, saying that "while it will be difficult to identify many of the Muslim immigrants in a short period of time, at least a beginning will have been made". He said that the BJP would employ measures similar to the National Register of Citizens, which has been used in Assam, to pinpoint illegal immigrants.
South Asian Monitor highlighted that the rath yatras align with election season in Bangladesh, which is set to hold general elections to its Jatiya Sangsad, or National Assembly, saying that this could affect the political process in the country.