The Bharatiya Janata party (BJP) announced the revocation of T Raja Singh's suspension from the party on Sunday, October 23. Suspended from the party last year after his offensive comments on Prophet Mohammed, Singh has been reportedly busy during the "suspension" period writing letters to organisers of Garba events, warning Hindutva organisations to remain ''vigilant' against "ghair-Hindu' people."'
The Telangana elections for 119 assembly constituencies will be held in four phases from November 3-15, 2023 and the Model Code of Conduct therefore came into effect on October 9. The letter drafted by Singh to Garba organisers has been reported on October 14.
Singh is known for being a frequent hate offender. According to news reports, he has around 100 and counting cases against him. However, the BJP has once again given him a party ticket to defend his Ghoshamahal constituency in Hyderabad.
The model code of conduct in anticipation of the Telangana assembly elections came into effect on October 9. Amongst other things, the MCC emphasises on the need to maintain communal harmony and refrain from making caste and communal comments. However, despite the MCC being set up in force in the state, the MLA was witnessed on camera allegedly making hate speeches. Though the erstwhile MLA's defence on the issue (last year) when he was suspended was that "he only criticises Owaisi" but this is seen as criticising all Muslims, this is not borne out by a slew of hate speeches consistently and regularly made by him where it is Islam, Prophet Muhammed and Muslims who are a target.
This month, as people lay in anticipation for celebration of the festival of Garba, several videos of him have been circulating on social media in which he is seen urging Garba event organisers in Hyderabad to remain vigilant about the alleged entry of non-Hindus during the upcoming Navaratri celebrations.
According to one report, he has sent a letter to ten garba organisers in Hyderabad. The Goshamahal constituency MLA who was "suspended by the BJP" over his comments on the Prophet, had called for the restriction of entry to these Garba events exclusively to Hindus, citing concerns about the so-called 'Love Jihad' bogey and has expressed his concern for the 'safety of Hindu girls'. Singh also has reportedly written that even the staff, including DJ's caterers, bouncers, musicians, and lighting personnel etc., should not be from a non-Hindu community and thus, they should not be permitted near the Garba pandals.
Along with this letter to groups in Hyderbad, Singh visited Surat, Gujarat and gave the following speech at an event reportedly organised by Sanatani Sena on October 16, 2023, Singh made the following speech, "But, our garba and dandiya are being eyed by some people, some anti-Dharma people, which we should be vigilant about. Whose programme or temple is this? All are Hindu here right?' The crowd replies yes. 'Then what are 'ghair-Hindus' doing here? Do we ever go to their programmes? But these people run a conspiracy by donning the tilak, wearing the Kalawa, and come and make our sisters and daughters victims of 'Love Jihad."
Location: Surat, Gujarat

Organizer: Sanatani Sena

Telangana legislator T Raja Singh advocates violence against Muslims participating in Dandiya/Garba events. pic.twitter.com/ehBUWyEcYI

— HindutvaWatch (@HindutvaWatchIn) October 18, 2023
These two of his recent speeches were published on social media on October 18, 2023.
In another similar event in Surat Gujarat from October 17, 2023, talking about the 'aashirwaad given by his Gujarati brothers', he reportedly made once more communally charged speech.
In another event in Surat, he repeated similar calls for violence while peddling anti-Muslim conspiracy theories. pic.twitter.com/RLpJIwtr7d

— HindutvaWatch (@HindutvaWatchIn) October 18, 2023
Furthermore, in his written appeal to event organisers, Raja Singh has also spoken about the alleged rise in 'Love Jihad' cases that have exclusively, according to him, occurred at these Garba events. In this vein, he has in his letter urged event organisers to take stringent measures, including requiring attendees to apply a tilak at the entrance and verifying their identity with Aadhaar cards before granting access.
The charged letter also stipulates that people other than Hindus should be denied entry to the Garba pandals. Additionally, Singh warned that a group of 100 'karyakartas' will be present at the event with valid tickets, warning that people should take necessary preventive 'steps', "A team of 100 Hindu karyakartas will be present in your event with valid tickets and if any such entry (of Love Jihadis) is noticed, they will take necessary steps to prevent it (which in turn may spoil your event). So, please ensure that only Hindus are permitted to attend your event so that it is a success for you as well."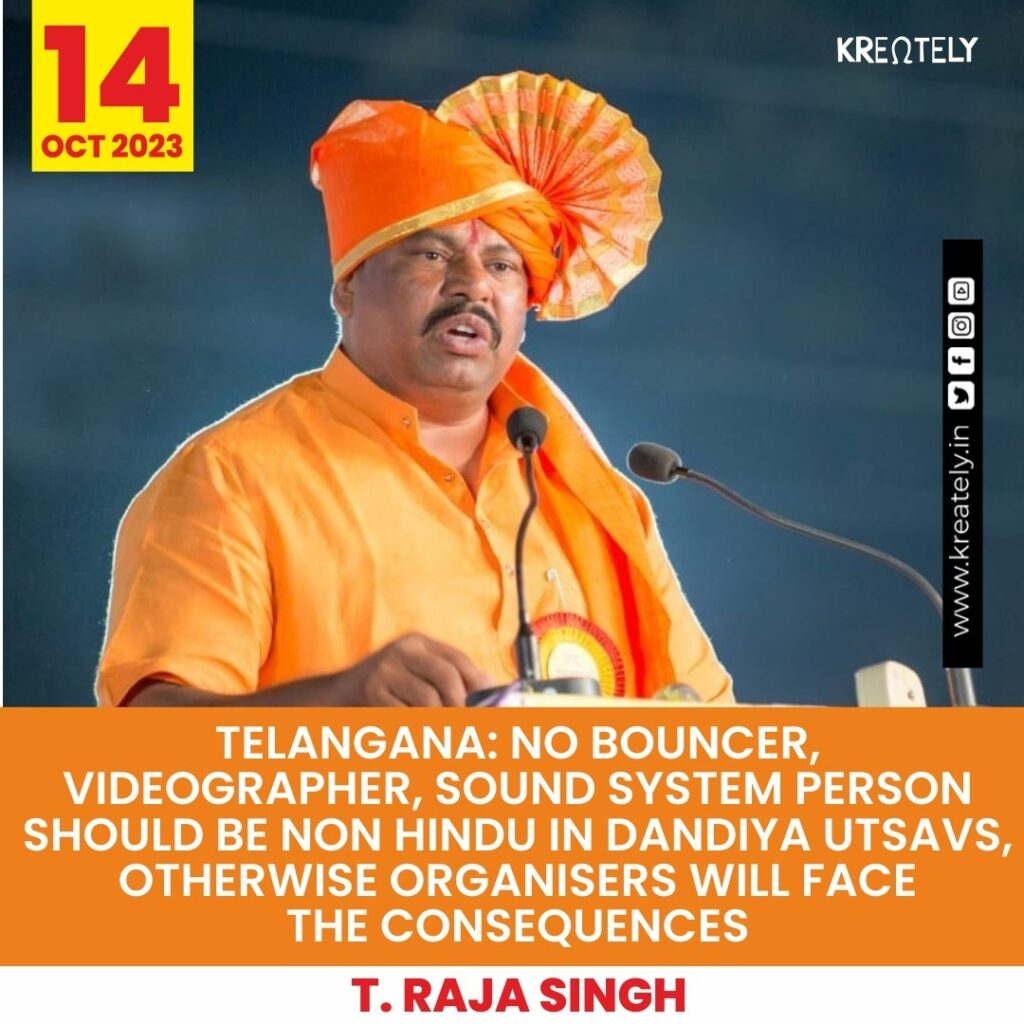 This image with Singh's directions on celebration of the Hindu festival Garba was shared by a seemingly right-wing, pro-BJP account called Kreatively. The caption for the photo was 'Are you being vigilant, Telangana?' These guidelines in the letter by Singh is similar to the speeches he had given in Surat earlier this month.
Do Singh's statements affect peace and harmony?
What is further worrying that on Monday, October 18, an alleged 'ruckus' arose in Hyderabad at a garba event. Reports allege that the Bajrang Dal created an issue that a Muslim man had entered the celebrations to engage in 'love jihad' at the annual Navkar Navratri Utsav at the Begumpet Hockey Stadium in Hyderabad. According to Siasat.com, a video was circulated of the mob at the event by BJP's legal cell member, Advocate Neelam Bhargava Ram, who even referenced T Raja Singh in his statement on X. The man accosted by the mob was allegedly handed to the police. However, when Siasat.com reached out to the Begumpet police station, they said no such man has been handed over to them. The organisers of the event have stated that there is strong possibility a business rivalry against them which is why their event was targeted.
What of his suspension from the party?
New reports arrived late Saturday evening that the suspension of Singh by the BJP might be revoked soon. Singh had been suspended from the party after he had made remarks against the Prophet, which had led to protests. Many social media users uploaded videos celebrating his reinstatement.
Suspension of T Raja Singh revoked by BJP!pic.twitter.com/meMfFeeM80

— Kreately.in (@KreatelyMedia) October 21, 2023
And on Sunday, the BJP released a statement attesting to the same. The party released a statement which stated that Singh's reply and explanation was 'considered by the committee', on the basis of which they have revoked his suspension. According to Deccan Chronicle, The party's state president G. Kishan Reddy said, "The decision was taken after the committee considered his explanation to the show cause notice served on him." According to ANI, Singh had earlier expressed confidence that he would contest and win from the Ghoshamahal constituency again on a BJP ticket.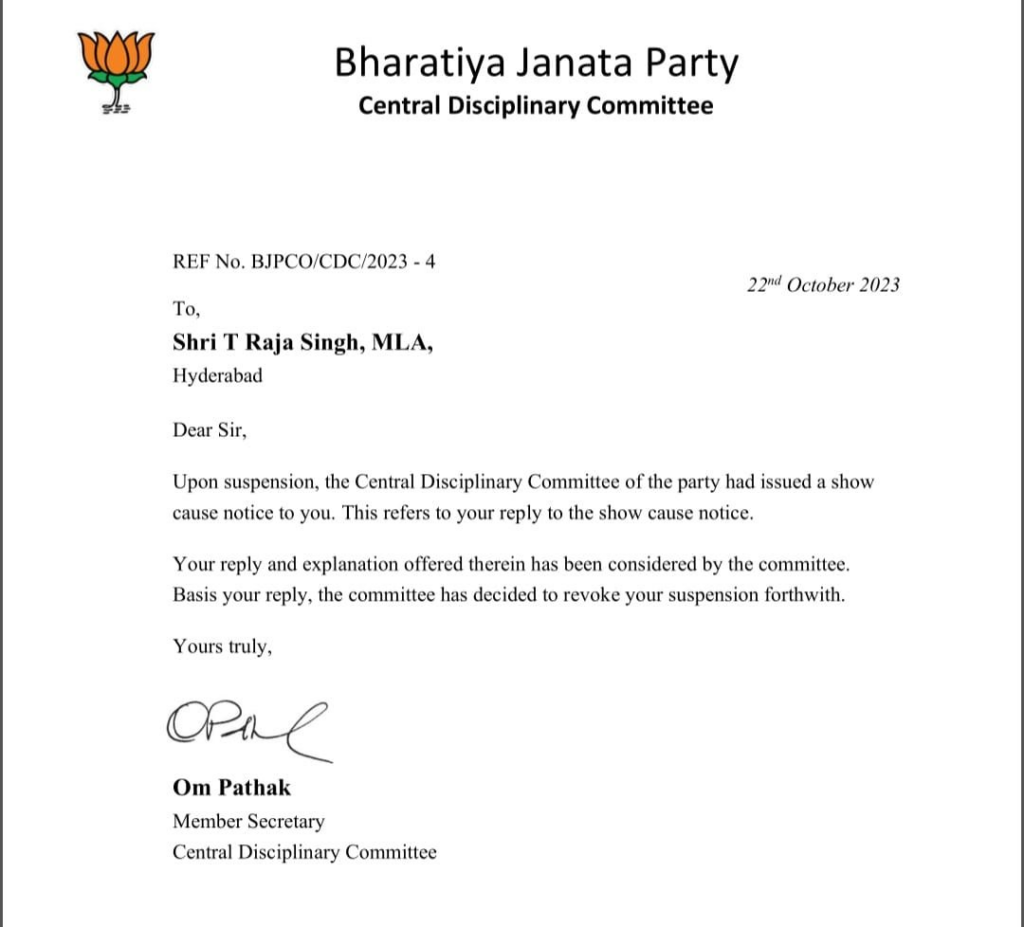 The party also released its final list for the upcoming Telangana elections which will be held on November 30th 2023, which featured Singh contesting from the Ghoshamahal constituency once again.
BJP releases the first list of candidates for the upcoming Assembly Elections in Telangana.

Party MPs Soyam Bapu Rao fielded from Boath, Arvind Dharmapuri from Koratla and Bandi Sanjay Kumar from Karimnagar.

T Raja Singh to contest from Goshamahal. pic.twitter.com/IkghIilEpM

— ANI (@ANI) October 22, 2023
Singh, seen with garlands and a resounding smile, spoke to ANI stating the following, "MLA T Raja Singh says, "Goshamahal Assembly constituency comes under Hyderabad Parliamentary constituency. The MP is Asaduddin Owaisi who is anti-national. I am the MLA from here and I defeated one of his men to become one. Asaduddin Owaisi used to sell Muslim votes to Congress. He now sells votes to BRS. He is a businessman. In the time to come, I will keep winning from here and give a reply to the anti-nationals."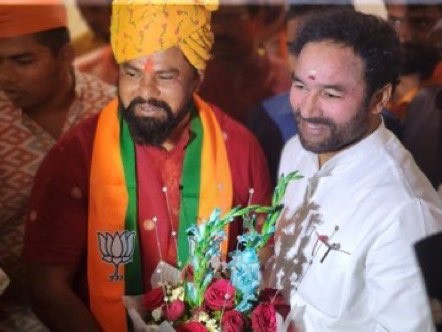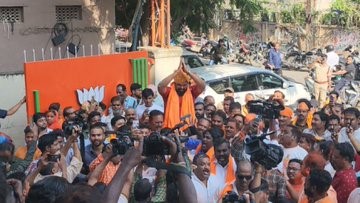 Meanwhile, Hyderabad MLA Asaduddin Owaisi took to X to make his observation on the matter.
.@narendramodi has rewarded his dear "fringe element." Quite sure that Nupur Sharma will also get her blessings from the PM. Hate speech is the fastest way to a promotion in Modi's BJP https://t.co/Qky6RlObH8

— Asaduddin Owaisi (@asadowaisi) October 22, 2023
Observers have stated that Singh being reinstated to the party comes in light as the list for the candidates for the upcoming Telangana assembly polls is likely to be announced soon. According to a report by The News Minute, several party leaders had stated way before the list released that they were expecting to see his name in the list once again; his followers too have been demanding that he be reinstated to the party. Singh was suspended from the party on the day when Hyderabad witnessed widespread protests after he repeated the offensive comments which were made by former BJP spokesperson, Nupur Sharma, regarding the Prophet. Sharma's derogatory statements had ignited a fierce controversy across the Middle East as well as India.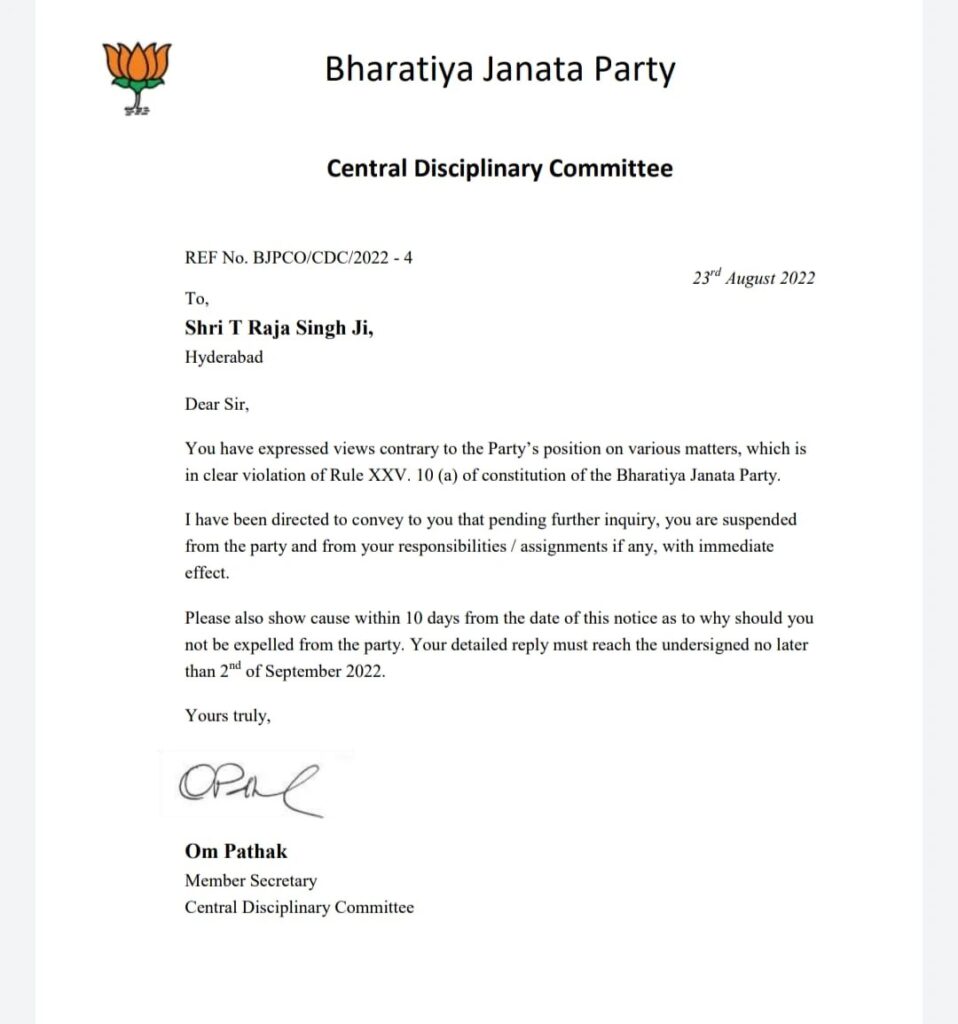 According to the suspension letter issued by the part last August, 2022, the reason for his suspension was cited as 'Rule XXV' of the party's constitution, which says that the 'parliamentary board' … 'has the authority to take note of any breach of discipline by members.' However, it did specify the event or statement which was breached. Following this, writing a response from jail, last August 2022, to the show cause notice issued to him in this regard, Singh had written to secretary of the BJP disciplinary committee Om Pathak that he had 'never criticised Muslims', and he was only imitating comedian Munawar Farooqui, according to Scroll.in.
While Singh had made comments on Farooqui's show on August 20th 2022 he made derogatory comments on the Prophet on August 22, 2022. Furthermore, there is no mention of the video Singh released after the Nupur Sharma row wherein he made derogatory comments about the Prophet as she had.
After the video made rounds on social media, a crowd had gathered outside the Hyderabad police commissioner's office and demanded Singh's arrest after which he was arrested. This really begets the question as to why BJP is retaining a member who has repeatedly called for violence, especially against minorities. However, contrary to having concern over Singh's violent speeches, Singh appears as more of a 'star campaigner' for the BJP, especially because he has won the constituency in Ghoshamahal twice previously. Singh has also been reported over the year to have made hate speech across the country.
Earlier this month, in Rajasthan too, Singh had made an incendiary speech at an event which even saw the presence of another BJP MLA from the state, Kirodi Lal Meena, according to Sabrang India. With news reports such as the one above alleging that over a 100 cases have been registered against Singh, Hindutva Watch has reported that Bangalore police registered another case against Singh where a zero FIR was filed against him for his reportedly anti-Muslim speeches given in Bhilwara, Rajasthan, earlier this month. However, despite the number of FIRs and complaints against him it remains to be seen whether Singh's reportedly hate-filled speeches will be prevented from happening again.
Citizens for Justice and Peace has been complaining against Raja since as far back as 2018 when he first surfaced as an aggressive hate campaigner for the party making problematic statements over the Amarnath Yatra that takes place in Jammu & Kashmir each year
There onwards, in February 2019, CJP's Hate Watch team had shed light on one hate speech by Singh which was broadcast to Singh's approximate half a million followers on Facebook.
Singh was then, too, a sitting MLA and a party whip of the state when he made a post on his account wherein he explicitly urged his followers not to buy anything from 'terrorist Kashmiris' during the Amarnath Yatra. CJP complained to Facebook without delay. However, the video remained there till 2019 where it had gathered over 300,000 views.
However, Facebook continued to host his account despite numerous complaints, as well as FIRs lodged against him. Yet, CJP kept pressing on the issue after it learned that the page which was supposedly taken down on Facebook was still active. For instance, in February 2019, CJP was invited to a roundtable discussion on Online Hate Speech and Facebook Community Standards and during the question and answer session with Facebook's representative Varun Reddy, the CJP team presented concrete examples of hate speech, such as Raja Singh's page, which remained active despite repeated reporting and complains.
However, while his page was eventually taken down, his videos reportedly continued to proliferate on the social media site. What is alarming further is that it was two years later in March 2021 that Facebook, finally concluded that Singh had violated its community standards and his official account was finally removed from the platform. However, the earlier report by CJP observes that his hate-filled rhetoric continued to spread through what appears at first glance to be several of his "fan pages" like the Tiger Raja Singh Fan Club and T Raja Singh Samarthak Jalgaon PRK Group hosted thousands of followers.
In 2023 itself, CJP has rallied means to legally address his hate speech and communal tactics. Prior to Ram Navami processions organised by right-wing groups in Hyderabad and Mumbai, CJP proactively reached out to local authorities intimating them of the nature of these events. The team sent letters to the Santacruz Police in Mumbai and the Mangalhat Police in Hyderabad on March 28 and March 29, 2023 respectively.
In letters address to the Assistant Commissioner of Police, Goshamahal Division, and the Deputy Commissioner of Police, West Zone, Hyderabad., CJP maintained about Singh's history which has recorded him consistently delivering hate speeches against minority communities and thus committed a violation of the Telangana High Court order that barred him from participating in rallies after being granted bail in a previous case.
Further, in May 2023, CJP submitted a complaint to the State Election Commission in Karnataka with regards to the hate comments made by the Singh during the election campaign in Karnataka. In the complaint, CJP had urged strict action against Singh for his speech since it included anti-Muslim slurs and thus was in direct violation of the Model Code of Conduct on two instances.
Despite these repeated violations of criminal law and Indian election law, T Raja Singh, though facing prosecutions and even having been jailed, has been chosen, again by the ruling regime in New Delhi as a candidate for the upcoming polls in the state of Telangana.
Related
Love Jihad now part of public policy in Assam
Hate Speech: T Raja Singh attempts to incite hate in Rajasthan
Indian minorities must be protected, GOI needs to take steps: IAMC report
Crossing all limits, BJP MLA, T. Raja Singh calls for genocide & economic boycott