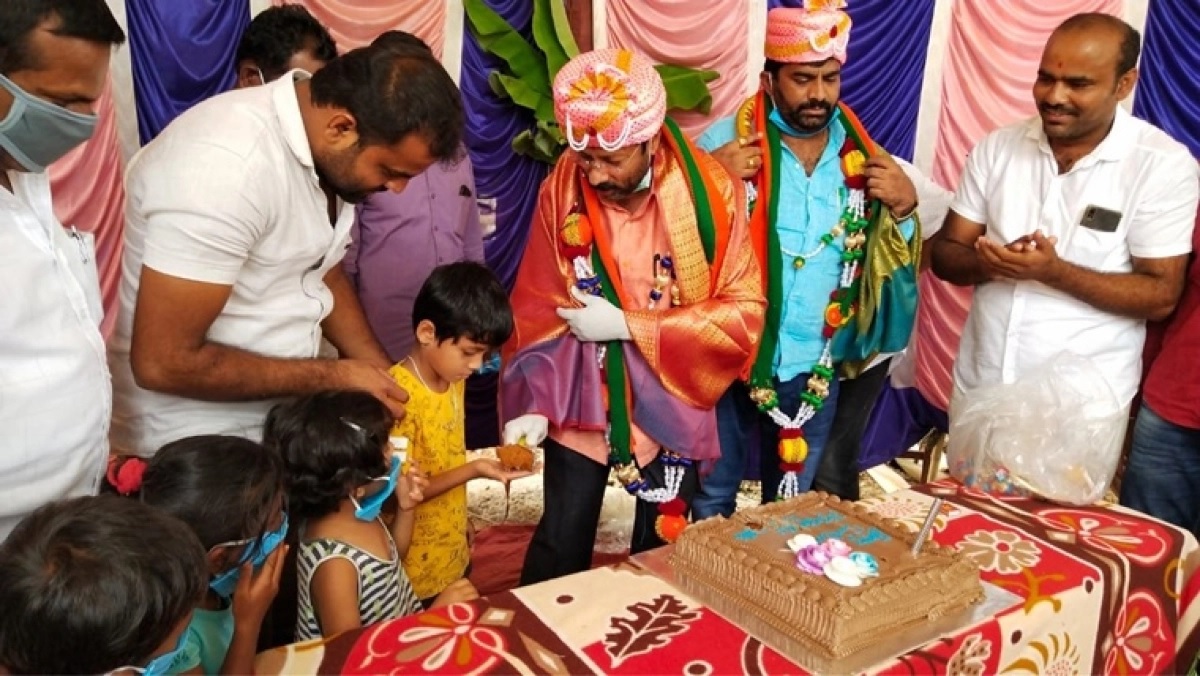 While all of India is staying home to flatten the curve of the Coronavirus infection, Karnataka MLA Masala Jayaram, has flouted all lockdown norms by holding a grand birthday party in his constituency in Tumakuru district on Friday, April 10, cited various media reports. The MLA invited over a 100 people in his constituency, Turuvekere, to come and join in his birthday celebrations. Some other media reports say that over 500 people were invited.
#Breaking | Karnataka BJP MLA Masala Jayaram 'lavishly' celebrated his birthday amid the lockdown. Over 100 people attended the function.

Details by TIMES NOW's Deepak. pic.twitter.com/lJpOL3DvOX

— TIMES NOW (@TimesNow) April 10, 2020
According to reports, at the MLA's party at Idagoor village in Gubbi taluk, guests who wore no masks and huddled close together, were served biryani and cake. While some huddled around him as he cut the cake, some later huddled together in small groups to enjoy the meal.
Visuals from the event show Masala Jayaram was dressed for the occasion wearing a Mysuru pete and wrapped in a purple shawl, wearing white latex gloves. He cut a chocolate cake under a shamiana while others stood around the table, cheering and taking photographs. In visuals, people could be seen standing close to each other, taking photographs and feeding the MLA cake, reported The News Minute.
However, what was ironical was that the MLA who flouted social distancing norms, was educating the people about the spread of the virus. He said, "We do not know how the virus spreads. Social distancing is vital. Please wash your hands regularly with warm water." He also said that he would distribute face masks to everyone in the village and asked villagers to share their knowledge about how to stop the spread of coronavirus, to others.
Criticizing the event, JDS leader Narase Gowda told The New Indian Express, "It marked his 51st birthday and he should have observed it in a simple manner in these times. He had arranged non-vegetarian food for over 500 people, and social distancing was not maintained."
Related:
India braces for a possible extension of an altered lockdown
Mumbai and Pune make mask wearing compulsory in public amid Covid-19 outbreak