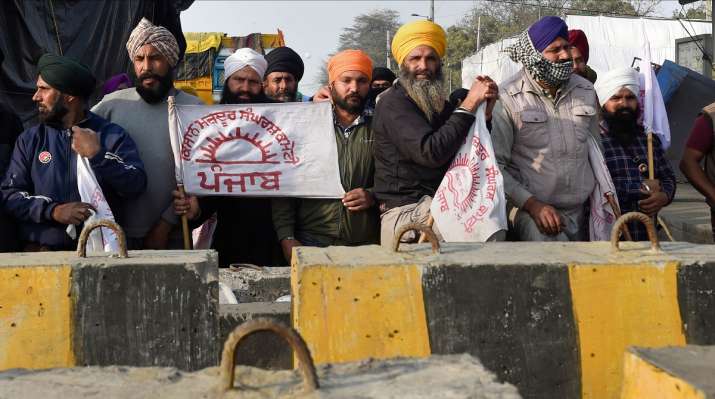 Image: PTI
Haryana Chief Minister Manohar Lal Khattar is right in saying that dialogue is the only solution to the farmers' agitation but wrong in supporting the three farm laws, said the Samyukta Kisan Morcha (SKM) on November 2, 2021.
"[Khattar's statement] shows the hypocrisy of the Bharatiya Janata Party [BJP] which remains unwilling to resume dialogue with protesting farmers. The last round of talks ended on January 22. The government has refused to resume the dialogue. Meanwhile, several BJP leaders, including Khattar, have made threatening statements against the farmers," said SKM leader Balbir Singh Rajewal in a joint statement.
The coalition of peasant groups argued that Tuesday's bypoll results in Haryana and Himachal Pradesh hinted at the future of the ruling regime, if it did not align government policies with citizens' interests. In the Parliamentary bye-elections to 3 seats, the BJP won only one seat out of three. In the Assembly by-elections to 30 assembly seats in 14 states, the party suffered wherever the farmers' movement urged supporters not to vote for the BJP for its anti-farmer policies.
Cotton farmers trials continue
Heavy pink bollworm infestation continues to damage cotton crops and resulting in extensive losses for Punjab and Haryana farmers in several districts. Several suicide cases were reported during this time. In response, governments offered a compensatory amount between Rs. 2,000 and Rs. 12,000 per acre depending on the extent of damage. However, farmers said it does not cover even a fraction of the losses incurred, estimated at Rs. 60,000 per acre. Punjab farmer unions are fighting for an adequate compensation package for loss-incurring farmers.
Protesting farmers will soon complete a year of struggle at Delhi borders denouncing the three laws – the Farmers (Empowerment and Protection) Agreement on Price Assurance & Farm Services Act, the Farmer's Produce Trade and Commerce (Promotion and Facilitation) Act, the Essential Commodities (Amendment) Act – demanding the withdrawal of the Electricity (Amendment) Bill 2021 and demanding a legal guarantee to Minimum Support Price (MSP).
Related:
50 farmers martyred in October alone!
Delhi police remove barricades near farmer protest sites
Three women farmers die in road accident at Tikri border