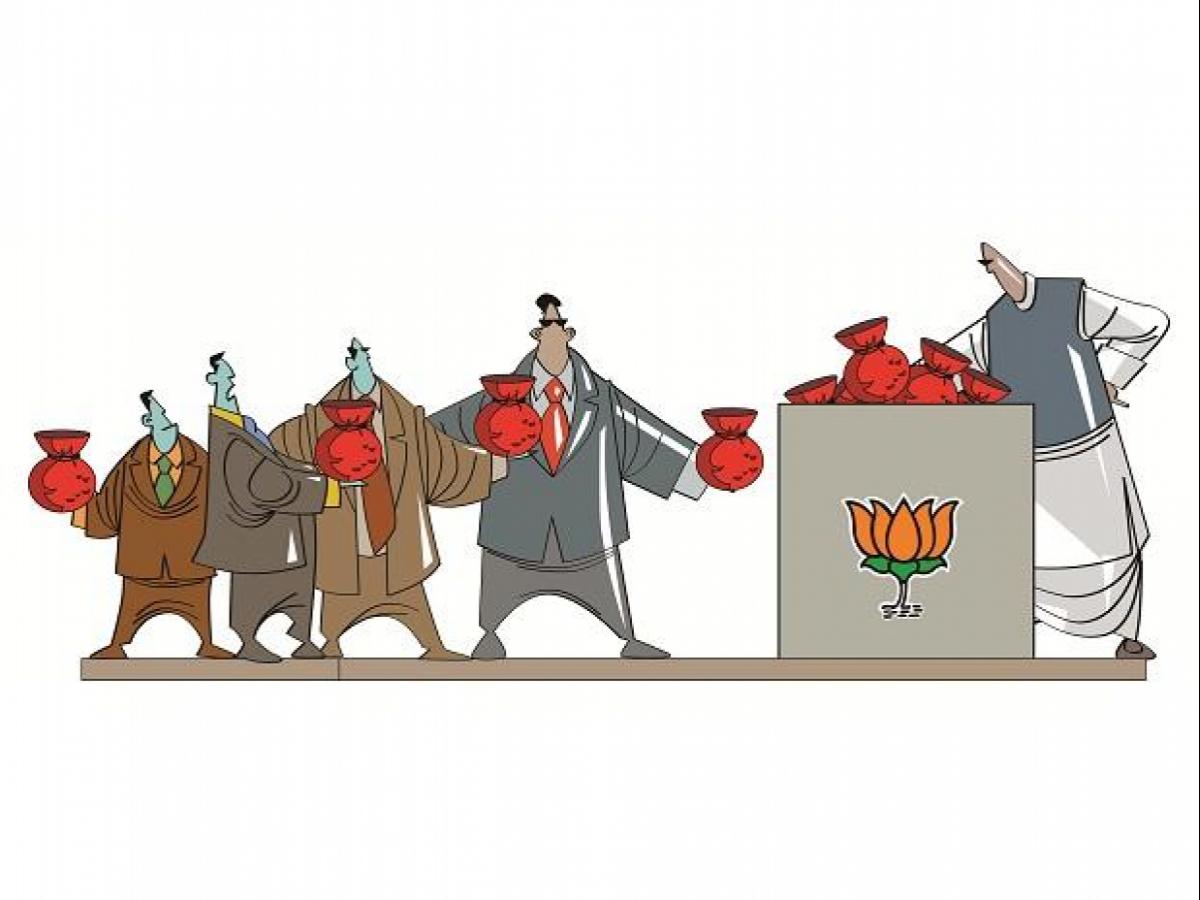 Illustration by Binay Sinha / Business Standard

The Bharatiya Janata Party (BJP) received a whopping Rs 2,642.63 crore as income from sources that cannot be traced, the highest among the national parties. Meanwhile parties from the South topped the list of regional parties with maximum income from "unknown sources". This was revealed in two successive reports by the Association for Democratic Reforms (ADR), the first published on August 31, 2021 (national parties), and the second on November 11 (regional parties).
BJP's bounty
An analysis of funding sources for national parties showed that the BJP declared 72.93 percent of its income from an unknown source during FY 2019-20. Of this, Rs. 2555.0001 cr came from electoral bonds. This unknown income of BJP is 3.5 times more the aggregate of income from unknown sources declared by the six other national parties – Rs. 734.78 cr.
Overall, income from unknown sources accounted for 78.24 percent of the total income (Rs. 3377.41 cr) of all national parties analysed – BJP, INC, AITC, CPM, NCP, BSP and CPI.
"Since a very large percentage of the income of political parties cannot be traced to the original donor, full details of all donors should be made available for public scrutiny under the RTI. Some countries where this is done include Bhutan, Nepal, Germany, France, Italy, Brazil, Bulgaria, the US and Japan. In none of these countries it is possible for more than 70 percent of the source of funds to be unknown, but at present it is so in India," said the report.
According to expenditure reports submitted to the EC, the BJP spent as much as Rs. 252 cr in the Assembly elections held in Assam, Puducherry, Tamil Nadu, West Bengal and Kerala. As per the party's election expenditure statement submitted to the EC, Rs. 151.18 cr was used for the West Bengal poll campaign alone given how this was a state coveted the most by the BJP. The TMC submitted that it spent Rs. 154.28 cr on the West Bengal elections where it gave the BJP a sound drubbing.
BJP expenditure for other areas was as follows: Rs. 43.81 cr for Assam poll campaign, Kerala: Rs. 29.24 cr for Kerala poll campaign, Rs. 22.97 cr for Tamil Nadu poll campaign and Rs. 4.79 cr for Puducherry poll campaigns.
Considering the dubious sources of national parties' incomes, the ADR endorsed the EC's recommendation that only those political parties which contest and win seats in Lok Sabha/ Assembly elections should be awarded tax exemption. It also recommended that details of all donors who donate above Rs 2,000 be declared in the public domain.
"ADR supports ECI for its strong stand to enforce reforms in funding of political parties and hopes that these reforms are proactively taken up by the Government for implementation," said the report.
Income sources of regional parties
On November 11, another ADR report said that over 55 percent of donations received by regional political parties in fiscal year 2019-20 came from "unknown sources" of which nearly 95 percent were sourced via electoral bonds.
When it comes to regional parties, the ADR report said 25 regional parties in the same fiscal year received up to Rs. 803.24 cr of donations. Rs 445.7 cr was attributed to "unknown" sources of which Rs. 426.233 cr (95.616 percent) was sourced via electoral bonds. Meanwhile, Rs. 4.976 cr (1.116 percent) were attributed to voluntary contributions. This is much higher than the percentage of unknown sources of donations for national political parties – Rs. 3,377.41 cr or 70.98 percent of income.
Regional parties from southern states such as the TRS, TDP, YSR Congress Party, DMK and JD(S) topped the list of getting the highest incomes from "unknown" sources. The TRS received Rs. 89.158 cr, the TDP received Rs. 81.694 cr, the YSR Congress Party received Rs. 74.75 cr, while the DMK received Rs. 45.50 cr as donations. Another party that made this list was Odisha's BJD party that got Rs. 50.586 cr as donation from unknown sources.
The ADR noted that political parties are not required to reveal the name of individuals or organizations donating less than Rs. 20,000. As a result, a substantial amount of funds cannot be traced and are from 'unknown' sources. Although national parties were brought under the RTI Act by the CIC ruling in June 2013, they have still not complied with the decision.
"Full transparency is, unfortunately, not possible under the current laws, and it is only the RTI that can keep citizens informed," said the report. Accordingly, it advised that any organization that receives foreign funding should not be allowed to support or campaign for any candidate or political party.
"Mode of payment of all donations (above and below Rs. 20,000), income from sale of coupons, membership fees, etc. should be declared by the parties in the 'Schedules' of their audit reports, submitted annually to the I-T department and the ECI," said the ADR report.
For FY 2018-19, total income of regional parties amounted to Rs. 885.956 cr, of which Rs. 481.276 cr or 54.32 percent came from unknown sources.
Related:
BREAKING: SC refuses to stay the sale of electoral bonds
SC expresses concern over the possible misuse electoral bonds, reserves its order on the matter
30 Assam election candidates face serious criminal cases: ADR
Sitaram Yechury raises concerns about EVMs, electoral bonds in letter to CEC