The Yogi govt in UP has given Rs.760 crores to Akharas and BJP has spent Rs. 4200 crores to organize the 2019 Kumbh Mela in Allahabad.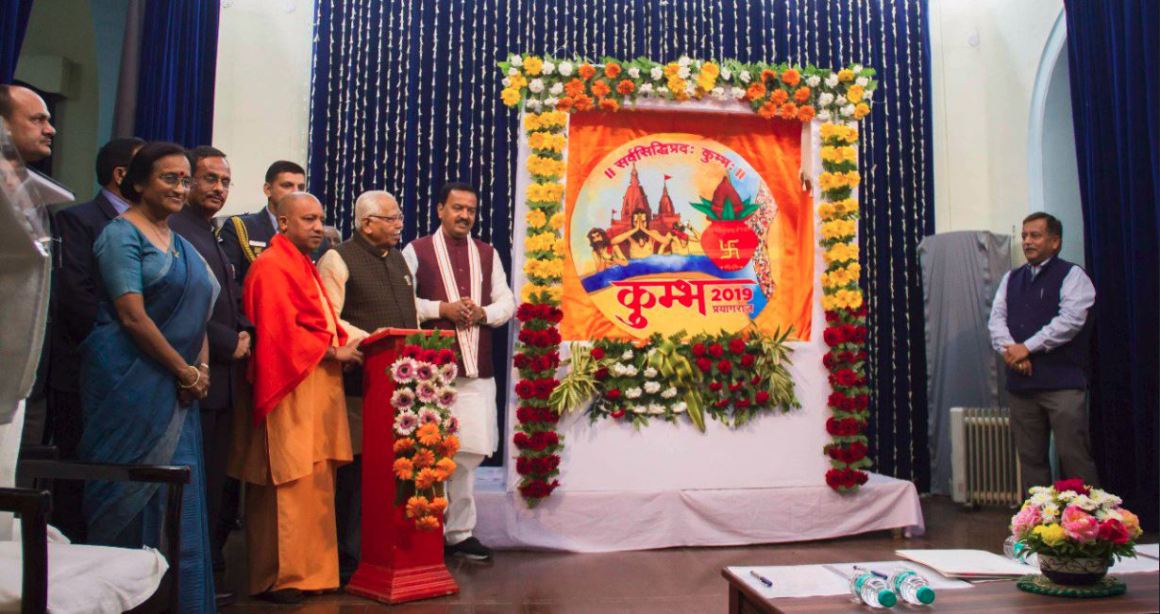 Image Courtesy: Twitter @uptourismgov
The ruling party is flexing its muscles in Uttar Pradesh by giving Rs. 760 crores to various Akhadas in the region. The Yogi Adityanath govt has spent an additional Rs. 4200 crores to prepare for the Ardh Kumbh Mela scheduled for January 2019.

The Yogi govt in UP has given Rs. 260 crores to the Akhadas in Allahabad and had already distributed Rs. 500 crores among the three biggest Akhadas in the state earlier. It is being seen as a clear sign of Hindutva brigade strengthening its saffron image. It was reported by Jansatta that the Akhadas said they'll use this money to develop basic facilities.

"An estimated cost of Rs 4,200 crore is being spent on next year's Kumbh Mela, making it one of the costliest holy congregation. The BJP-led government has sought grants of Rs. 2,200 crores from the central government for the 50-day long mela. The last Kumbh Mela was held in 2013 during Akhilesh Yadav regime and cost around Rs. 1,300 crore," reported News18.

The nexus between the politicians and religious seers is clear as BJP President Amit Shah is scheduled to meet Akhada priests on Friday, October 12. He will also take stock of the arrangements made for the pilgrimage. "While in Allahabad, Shah will also meet the saints of the Akhara Parishad, including its chief Narendra Giri. The Akhara Parishad is the apex body of saints from all the 14 akharas that participate in the Kumbh and whose feedback on Kumbh 2019 will be an important one," the report said.

Ahead of the impending 2019 Lok Sabha polls, BJP is going all out in UP Kumbh Mela pilgrimage to secure the majority vote. The UP government has allegedly sent an invitation to 70 lakh villages across India to participate in the grand Kumbh Mela 2019. It is said that up to 12 crore devotees will gather at Allahabad for the Ardh Kumbh Mela which has been organised between January 14 and March 4, to take a dip in the holy Sangam waters.

In an unprecedented move, the UP government under Yogi Adityanath is organizing the six-yearly ardh-Kumbh (half Kumbh) on a massive scale. Not only has the resources of the cash-strapped state mobilized in making this otherwise quiet affair a mega event, but also had public outreach programs involving senior RSS functionaries have taken place in far-flung Mumbai as well. As is often the case with BJP's senior functionaries, Yogi Adityanath also seems to have dug up dubious reasons to justify the scale of this event, even 'rebranding' the age-old holy mela. Noted adman Prasoon Joshi, head of the censor board of India, has been roped in to design the logo. While the entire exercise, being done as it is in an election year, smacks of opportunism, a distinct communal agenda is visible as well.

In an exclusive interview with Sabrang India, eminent lawyer Prashant Bhushan has brought up the possibility of false flag attacks at the venue where 4 million devotees are estimated to descend. He draws this conclusion in light of the recent busting of a Hindu right-wing terror module in Maharashtra.

"Maharashtra ATS raided some members of right-wing Hindu fundamentalist organisations. They found a large stash of bombs, detonators, gelatin sticks, etc. On further interrogations, they found that they were planning to explode these bombs in Ganpati Mandals and Eid functions to cause mayhem and pin blame on Muslims to cause communal violence. Ardh Kumbh is not a big festival. The Yogi govt has made it a mega affair like a Maha Kumbh and are making it a bigger event then it actually is. They're preparing, spending thousands of crores to make a mega city for people of 4 crore people on the banks of the Ganga river in Allahabad when the population of the city is only 20 lakhs. My fear is, in such a large gathering, it will be impossible to maintain security. On any major bathing day, crores of people go to take a dip and if a small bomb goes off somewhere, the resulting stampede will kill thousands. That is seriously fearsome," he said.

Watch the video here.