Close to Rs One Crore was deposited, mysteriously in only one account of the Bharatiya Janata Party (BJP) on November 8, 2016, hours before the 'secret' decision taken by PM Modi and his cabinet to declare 500 and 1,000 Rs notes illegal. The question remains, if this is what happened in West Bengal, what about the party accounts in other states? And what about the accounts and dealing of parent organisations like the Rashtriya Swayamsevak sangh (RSS) and it's affiliates? Did they also know and benefit from the previous knowledge much like insider trading, which is an offence?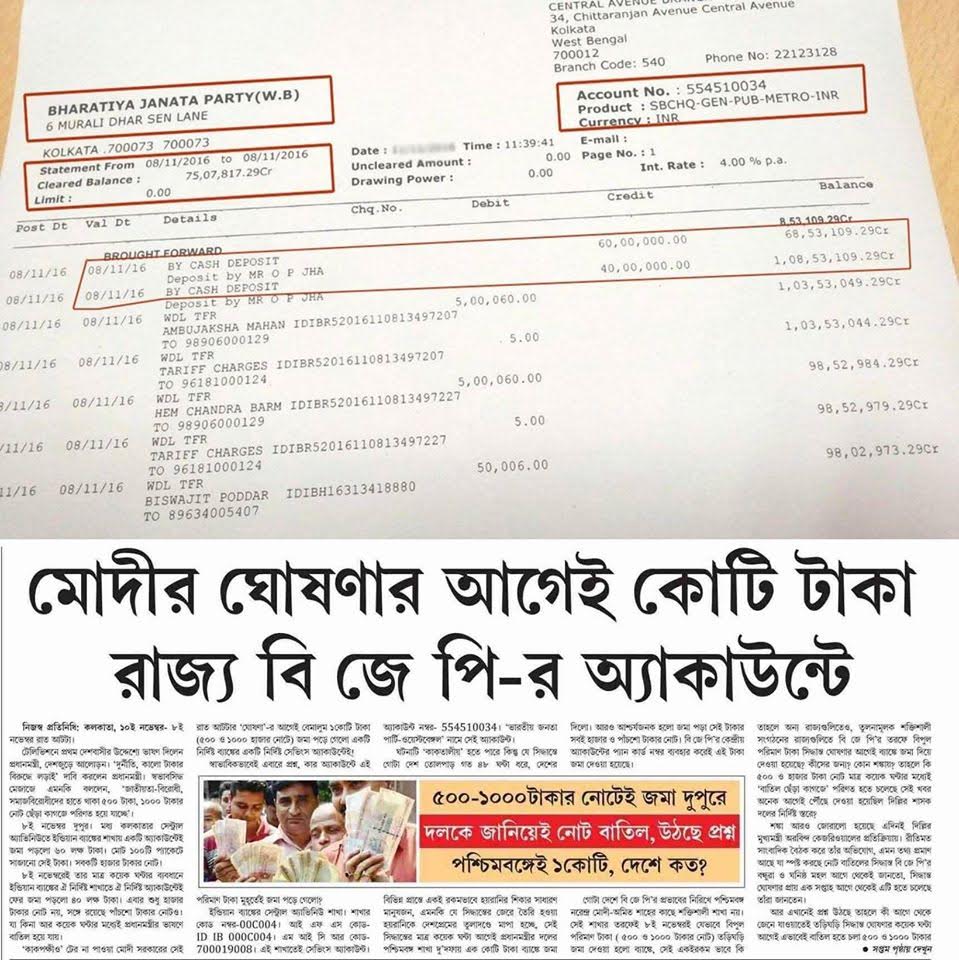 The following information has come into public domain: the West Bengal unit of the BJP got 2 large cash deposits, worth 60 lakhs and 40 lakhs each on, made into its account on November 8, 2016, just a few hours before Narendra Modi announced the demonetization plan of 500/1000 notes.
An article in Bengali and appearing in the CPI(M) party mouthpiece, Ganashakti, today claimed that around Rs 1 crore worth of cash was deposited in the Chittaranjan Avenue branch of Indian Bank here in Kolkata. Money was deposited in savings account no 554510034 (Indian Bank, Central Avenue Branch, Branch Code – 00C004, IFSC Code – IDIB 000C004, MICR Code – 700019008, Savings Bank Account No), which is in the name of the West Bengal unit of the Bharatiya Janata Party.
The West Bengal unit of the CPI(M) today alleged that a huge amount of cash has been deposited in the bank account of the state unit of the BJP. The deposits were made before the Prime Minister demonetised Rs 500 and Rs 1,000 notes late in the evening on November 8.
It claimed that cash deposits with Rs 1,000 and Rs 500 notes for Rs 60 lakh and Rs 40 lakh respectively were made on November 8 immediately before demonetisation was announced. The article further raises the question as to whether people close to the BJP were aware of the demonetisation move and, accordingly, took advantage.
Incidentally, CPI(M) spokespersons were asked as to whether this deposit of Rs 1 crore in cash was an aberration or if it was a spike when compared to the regular amount of transactions or deposits made in this account. It is yet to comment on the same or get back with the details.
Source: Front page news in Ganashakti
BJP denies
Meanwhile, Dilip Ghosh, President, West Bengal unit of BJP, has denied the allegations. In an interview with Businessline, he claimed that there were no irregularities. Ghosh maintains that the money will be used mostly for by-elections due in Bengal. "This is money that is accounted for and if required we can give details of these transactions to any investigating authority," he told BusinessLine.
By-polls will be held on November 19 across Cooch Behar and Tamluk Parliamentary constituencies of West Bengal and in the Monteswar legislative assembly seat (in Burdwan district).Asked specifically why there was such a high-value cash transaction, Ghosh pointed out that these were mostly donations received by the party from various quarters."Normally, party funding is through donations and a part of this is in cash. We issue receipts against the cash received. Copies of such receipts are also available with the party for verification," he added.
A party spokesperson, on the other hand, questioned the authenticity of the news sources.