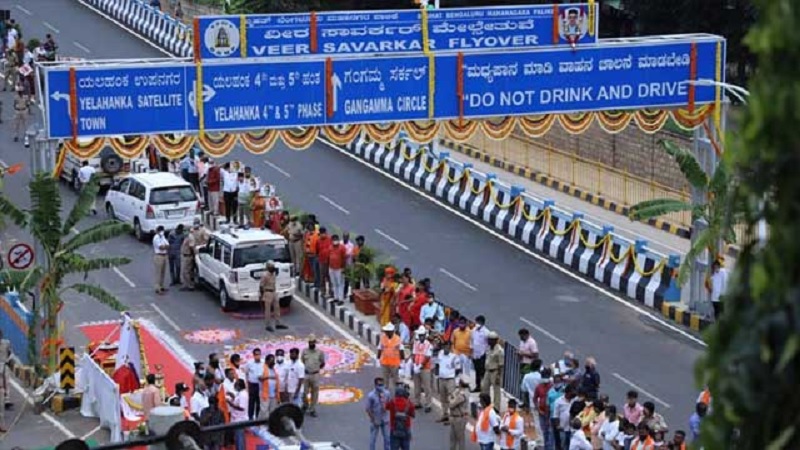 Image Courtesy:daijiworld.com
While it is yet to be established if Bengaluru residents will credit the flyover, newly renamed after 'Veer' V.D. Savarkar in Yelahanka as a boon to ease its notorious traffic snarls, the name itself may have created some cracks within local groups who may otherwise have supported the state's B.S. Yediyurappa-led Bharatiya Janata Party (BJP) government.
Prominent Kannada groups have now questioned the state BJP government's decision to name the floover after Savarkar. According to a report in The Print, the organisations have hit out at the decision calling it a move aimed at "appeasing its political bosses". There is a pro-Kannada lobby, and pro-South Indian pride is also at stake, as the organisations are now asking why Karnataka's own leaders, including freedom fighters have been ignored so far and "and why someone like Savarkar is being imported."
"The BJP government is doing this only to create a controversy. Its main objective is to appease its political bosses. It does not have the interests of the state or the people's sentiments in mind," Arun Javgal, a member of Kannada activist group Banavasi Balaga, who had been at the forefront of the 'Namma Metro Hindi Beda' campaign against the use of Hindi on metro station boards in Bengaluru, was quoted by The Print. He asked, "Why should infrastructure projects be named after people like Veer Savarkar and Syama Prasad Mookerjee? Our land has produced greats like Sir M. Visvesvaraya; what prompts these political parties to name projects after those who weren't even remotely connected to our history or Kannada culture?"
According to Javgal,"A park in south Bengaluru is going to be named after Syama Prasad Mookerjee. It is as if they are doing this with a vengeance. All protests and opposition does not matter." The Print also quoted Kannada film director, poet and activist Kavita Lankesh, who called this an example of the BJP's "fascist" attitude. "There are hundreds of Kannadigas that we are proud of, whom they could have named it after. How could they even honour him like this? Just like they (BJP) want to impose Hindi as the national language, they are trying to impose this kind of ideology on us," Lankesh said. The article also quoted Ashok Chandargi, president of the Belgaum District Kannada Organisations Action Committee, "This is nothing but the agenda of the BJP. What can we do now, they are in power. They think they can make such decisions and get away with them."
However, as expected Karnataka's Tourism and Culture Minister C.T. Ravi defended the decision, and told The Print that Savarkar was a "nationalist" and that's why they were honouring him.
There had been a controversy raging on the issue months before the flyover was named after Savarkar. Opposition parties had objected to Savarkar being honoured this way and said Karnataa's own political icons should have been commemorated instead. While it is true that there are many unrecognised social reformers and freedom fighters who deserve recognition from the Karnataka government, Savarkar anyway is at the helm of a contested legacy.
In an opinion column in SabrangIndia Prof. Shamsul Islam, a scholar and activist, had analysed the Karnataka Govt's decision to honour Savarkar, in June. Prof. Shamsul Islam, wrote that it was the "Karnataka government led by a senior RSS whole-timer, B.S. Yediyurappa is going to honour Hindutva icon, VD Savarkar by naming two of the newly built major flyovers in Bangalore and Mangalore after him." He noted that there was a huge uproar against this decision of the RSS-BJP government as many pro-Kannada organisations with opposition parties and liberal-secular organisations questioned the logic to ignore so many freedom fighters, social reformers and others from within the state. Since the renaming ceremony was taking time, the RSS strong arm outfit, Bajrang Dal had strung a banner reading "Veera Savarkar Melsethuve (flyover)" in Kannada on the flyover at Mangalore. They also wrote "Bajrang Dal" in saffron paint on the divider of the flyover.[i]
"It would be a sad day not only for Karnataka but the whole country if a seasoned collaborator of the British rulers and Jinnah led Muslim League is glorified in any way," wrote Prof Islam. He added historical evidence of Savarkar's political decisions which the Right Wing nationalists of today conveniently ignore. Instances such as this: " Savarkar, like the RSS, abhorred every symbol of the Indian people's united struggle against the British rule. He refused to accept the Tricolour (at that time there used to be a charkha or spinning wheel in the middle of it) as the national flag or flag of the freedom struggle. In a statement issued on September 22, 1941 for the benefit of Hindu Mahasabha cadres, he declared, "So far as the flag question is concerned, the Hindus know no flag representing Hindudom as a whole than the 'Kundalini Kripanankit' Mahasabha flag with the 'Om and the Swastik' the most ancient symbols of the Hindu race and policy coming down from age to age and honoured throughout Hindusthan. It is actually sanctioned and owned by millions of Hindus today from Hardwar to Rameshwaram and flies aloft on every Hindusabha branch office at thousands of centres. Therefore, any place or function where this Pan-Hindu flag is not honoured should be boycotted by the Hindu sanghatan-ists at any rate…The Charkha-Flag [before the present national flag it used to be the one] in particular may very well represent a Khadi-Bhandar, but the Charkha can never symbolize and represent the spirit of the proud and ancient nation like the Hindus."[ii]" Karnataka CM it seems will now have to act quickly to placate the hurt local pride, before the issue blows up any further.
The Bharatiya Janata Party's national team, meanwhile, has another formidable South Indian to placate urgently. A senior BJP member well known for critiquing his own party, lawyer and Rajya Sabha member Subramanian Swamy has already warned the leadership and called for the sacking of the party's Information and Technology (IT) cell chief Amit Malviya. Swamy has accused Malviya of running a smear campaign against him using fake tweets, and messages. "The BJP IT cell has gone rogue. Some of its members are putting out fake ID tweets to make personal attacks on me," posted Swamy, "If my angered followers make counter personal attacks I cannot be held responsible just as BJP cannot be held responsible for the rogue IT cell of the party." True to form, the followers of Subramanian Swamy have responded, as commanded.
Swamy himself has taken on the party, and the education minister over the issue of lesser number of students taking the JEE exams this year. He posted, "out of 18 lakhs who downloaded passes only 8 lakhs turned up to take up the exam. What a disgrace for the nation which extols vidhya and gyan!!"
I just accurate count on how many students took the JEE exams this last week: out 18 lakhs who down loaded passes only 8 lakhs turned up to take up the exam. What a disgrace for the nation which extols vidhya and gyan!!

— Subramanian Swamy (@Swamy39) September 9, 2020
When countered over the numbers, Swamy's supporters sent the ministers screen shots like these…
He then spoke about the Sunanda Pushkar unnatural death case, "the body was available to AIIMS team, and the Team did an excellent thorough job under chairmanship of Dr. Sudhir Gupta. and concluded it as murder. An extensive Report was given to Delhi Police, but DP did not yet file it in Court. Why?" The Delhi Police it may be noted reports directly to the Union Home Ministry
In the Sunanda Pushkar unnatural case, the body was available to AIIMS team, and the Team did an excellent thorough job under chairmanship of Dr. Sudhir Gupta. and concluded it as murder. An extensive Report was given to Delhi Police, but DP did not yet file it in Court. Why?

— Subramanian Swamy (@Swamy39) September 9, 2020
Related:
Did Savarkar, Syama Prasad Mukherjee and RSS betray the Quit India Movement?
K'taka Govt decides to honour Savarkar, a collaborator with both the British & Muslim
BJP IT cell has gone rogue: Subramanian Swam