Swami Agnivesh, who was on his way to the BJP Headquarters in Delhi to pay his last respects to former Prime Minister Atal Bihari Vajpayee, was allegedly attacked by the BJP workers.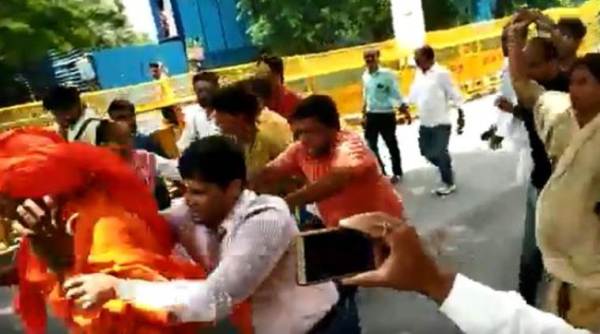 This attack comes soon after the attack on him in Jharkhand's Pakhur area.
In the footage that is circulating on social media, Swami who is Saffron clad, can be seen being chased and assaulted by a group. The group also calls him "Deshdrohi" (traitor) as he keeps walking and trying to get away. One man yanks his turban and a woman is seen holding it, in a manner so as to strike him.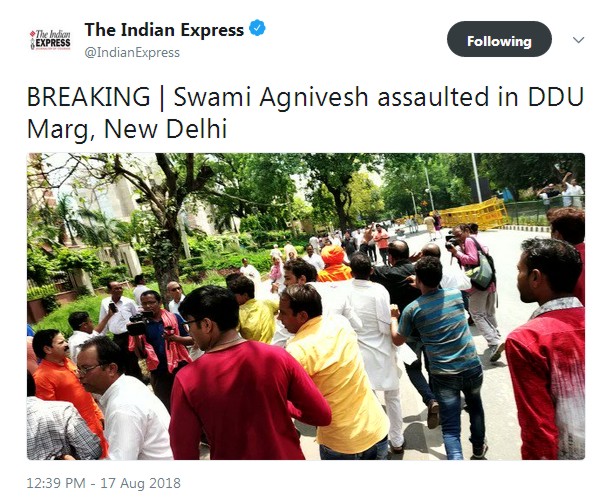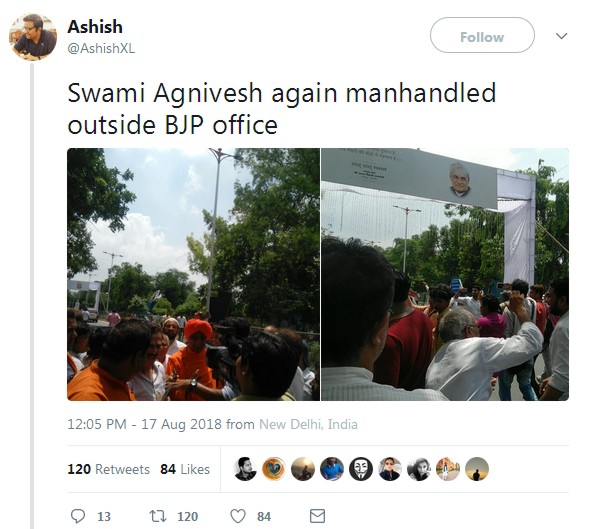 About the attack, Swami Agnivesh said, "I had gone to pay my respects to Vajpayee ji. Because of the police pickets, I had to walk down the last stretch… suddenly a group of people came and attacked us. There were two-three of us and they were quite a few. They beat us, pushed us around, abused us and knocked off my turban,"
Mr. Vajpayee, who was India's Prime Minister for three terms from BJP and an RSS ideologue, died yesterday at 93. His body was kept at BJP's new office in the state, which is located on the Deen Dayal Upadhyaya Road for tributes just ahead of his funeral.
No arrests have been made so far for the previous attacks on him on July 17 in Jharkhand.
Reportedly, the BJP denied having any links with the attackers but one of its leaders justified the attack giving reference to Swami Agnivesh's 'track record'. However, in the previous attack clear links of the attackers with BJP and other associated organisations had emerged. The attackers belonged to Bharatiya Janata Yuva Morcha (BJYM), Bajrang Dal, BJP, RSS.
It is speculated that Swami's mass appeal and his work among Adivasis and women and children, apart from his upfront views on the promises of development by PM Modi are not being appreciated by the BJP supporters. Swami is also a staunch critique of regressive religious practices and has worked to bust many myths.