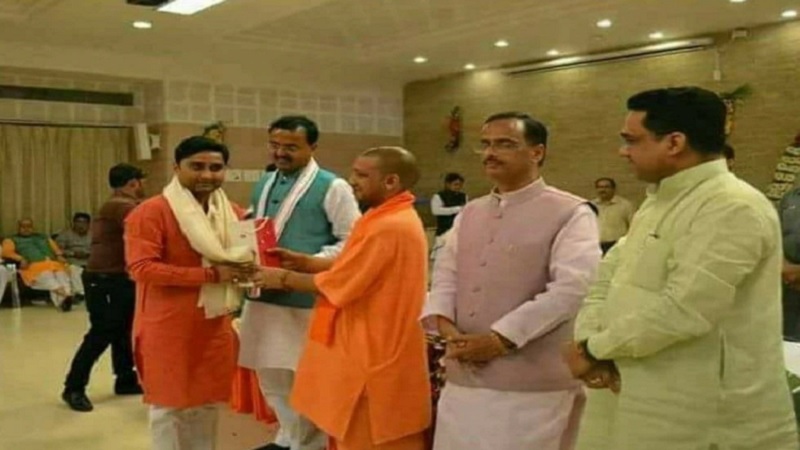 Image Courtesy:indiatoday.in
Sachin Pandit, one of the two men arrested for firing on Member of Parliament and All India Majlis-e-Ittehadul Muslimeen (AIMIM) chief Asaduddin Owaisi's convoy in poll-bound Uttar Pradesh has claimed to be a member of the Bharatiya Janata Party (BJP). To prove his claim, Sachin Pandit's 'Membership slip' was posted on social media.
He has been identified as 'Deshbhakt Sachin Hindu' on the slip. Multiple photos of Sachin Pandit posing with BJP leaders, including UP Chief Minister Adityanath, Deputy Chief Minister Keshav Prasad Maurya, MP Mahesh Sharma, and others are viral on social media.
https://www.facebook.com/sachin.pandit.52438174
According to news reports, Pandit is a law student who hails from Durai village in the Badalpur area of Greater Noida. Police state that Pandit, had been previously booked in an attempt-to-murder case as well. The Greater Noida Police have reportedly been interrogating Pandit's relatives as well. His father Vinod Pandit told the police that he provides labourers to 20-25 private companies on contract companies and that Sachin works with him, reported India Today. He recalled the events leading up to the shooting saying, "Around 8:00 am yesterday [Thursday], Sachin went out saying he was going to talk to discuss something with the management of one of the companies. He had been a little upset for the last two-three days."
The two men had reportedly told the police that they "were planning to attack the leader for some time," reported India Today. The accused, Sachin and Shubham, were regularly attending "almost every public rally by Owaisi and were also present at the site of his poll rally in Meerut on Thursday" , stated news reports. The accused were tracking Owaisi and attacked when the vehicle stopped at the toll gate. The men have reportedly told the police that they were "hurt by the anti-Hindu comments".
Sachin's photos now going viral reveal he has been a BJP worker and is especially close to Mahesh Sharma, BJP MP from Gautam Buddh Nagar. As social media user Kaushik Raj recalled, Mahesh Sharma had visited Mohd Akhlaq's alleged lyncher Ravi Sisodia's village when the latter had died. He is also known to UP's Deputy CM Dinesh Sharma and BJP MP Satyapal Singh, as well as Nitesh Tomar.
Sachin Pandit, who has been arrested for allegedly firing upon AIMIM President Asaduddin Owaisi, has close connections with the BJP. A thread:

He is close to Nitesh Tomar who was awarded by Yogi Adityanath. And he can be seen close to the stage from where Amit Shah is speaking. pic.twitter.com/u4VBLvcG8U

— Kaushik Raj (@kaushikrj6) February 4, 2022
Shubham, the second accused hails from Saharanpur and has only studied upto class ten. Police told the media that Shubham is a farmer and a criminal case against him has been found so far. A country-made pistol was recovered from the accused, who have reportedly "revealed the names of the people from whom they had bought the weapon."
According to police the two men were 'angry' at Asaduddin Owaisi and his brother Akbaruddin Owaisi, and "watched videos of Owaisi's speeches on Facebook and Twitter."
Asaduddin Owaisi rejects Z category security
Meanwhile, Asaduddin Owaisi told the Lok Sabha in an impassioned speech, that he does not want Z category security. "I am not going to sit quietly out of fear of the assailants. They have been radicalised. You are repeating the errors of NDA 1. I want to ask the government – should they not impose UAPA on those responsible for such radicalisation? I am not scared of death, but see the IB reports. Look at what has been said [against me]. I do not want Z category security, I live free. I am ready to accept the bullet. I believe that Owaisi's life is not bigger than Akhlaq, Pehlu. Please end this hatred. End this hatred, make me an A category citizen so that you and I are equal. Radicalisation will harm you and right wing terror will harm you. Right wing terrorism will rise. Take action, charge them under UAPA."
He recalled that he was the one who spoke up raising concerns when the Prime Minister's security was breached in Punjab, "People of Uttar Pradesh will reply to hate with love."
सांसद पर हमला करने पर आरोपियों पर UAPA क्यों नहीं लग रहा है?

मुझे नहीं चाहिए Z कैटेगरी की सुरक्षा: @asadowaisi @aimim_national pic.twitter.com/ly1qprR3VE

— News24 (@news24tvchannel) February 4, 2022
A day after his convoy was fired at, Asaduddin Owaisi was provided with Z category security by the Central Reserve Police Force (CRPF). He will now be guarded by at least 22 CRPF men. The security has been put in place after the massive uproar over the attack on a member of parliament, in election-bound UP. According to news reports the government allotted the security detail "after reviewing the threat level in the light of last night's attack."
This attack comes in the wake of calls given to "behead" Asaduddin Owaisi, by repeat hate offender Bhupinder Tomar alias Pinky Chaudhary, who had said, "As long as the warriors and volunteers of Hindu Raksha Dal work together as a unit and follow the path of Hindutva, they will behead you (Owaisi.)" and, "Teri Gardan kaat kar mera naam badhaenge, (They will make my brand/name grow once they behead you)." Pinky's hate speech and direct call for violence was met with cheering from his Hindutva soaked audience.
Related
Men who fired at Owaisi's car tell cops they had been tracking him
Will Bulandshahr gangrape-murder case take the Hathras route?
Is Prayagraj's 'Sant Sammelan' just another edition of Haridwar's infamous Dharma Sansad?
Uttar Pradesh: Why were communal slogans raised in Ghaziabad?
Is hatemonger Pinky Chaudhary hoping for a political debut?