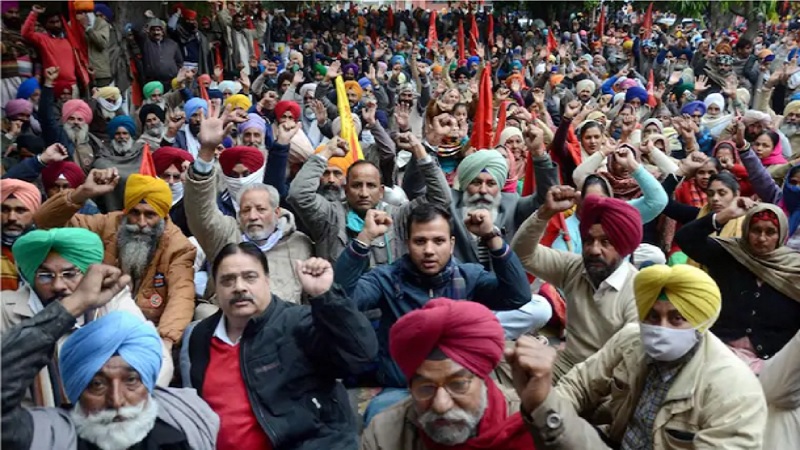 Image Courtesy:udayavani.com
The central government is not serious about talks and solving farmers' problems, said the All India Kisan Sangharsh Coordination Committee (AIKSCC) in a press release on January 6, 2021.
Farmers, who have been protesting at Delhi border for the past month and more remain unimpressed with Centre's statement that it has "understood that the demand is for repeal" and that it will have to undertake "further consultation." Leaders also said that several ministers and Bharatiya Janata Party (BJP) leaders are also putting a spanner in the wheels.
"The Agriculture Minister announced he will be talking to other farmer Unions who support the laws. Already this exercise to manufacture support has been undertaken, achieving very poor response. Taking cue from PM Modi, BJP leaders from MP and Punjab have said demands are unjustified," they said.
Union Minister Nitin Gadkari attacked the Minimum Support Price (MSP) while talking about the need to improve food production and feed India's population. He said that MSP is higher than market rate, even when the government says MSP will continue.
"Ministers should know that India is host to 33 percent of the world's hungry people, double its population share. Niti Ayog members say the government can't buy and store food, while the government says procurement will continue," said farmer leaders pointing out that during such assurances paddy prices have now increased to Rs. 900 – 1000 per quintal.
Meanwhile, leaders congratulated Rewari protestors who foiled Haryana police's attempt to create a rift between protestors and locals as the two groups unitedly cornered the officials and forced them to move the barricades blocking farmers,
The state police had blocked protesters from both sides and stopped all traffic hoping to blame farmers. However, on Wednesday morning, truck drivers, protestors and supporters foiled the police's alleged attempt.
The AIKSCC Working Group said that several other protests began in other parts of the country such as a sit-in with more than 500 tractors marching into Baraut area of Baghpat district, Uttar Pradesh. Tamil Nadu capital Chennai also held a massive dharna. Odisha tribals are planning protests to show solidarity with farmers.
Moreover, farmer leaders called for tractor parades at the district level on January 26 when Delhi farmers will observe a Republic Day Tractor Parade. A "dress rehearsal" version will take place on January 7 along the KMP highway with large mobilizations gathering.
Several mass programmes have been issued by farmers organisations for the month. People across India on January 13 and January 14 will burn copies of the three Acts – the Farmers (Empowerment and Protection) Agreement on Price Assurance & Farm Services Act, the Farmer's Produce Trade and Commerce (Promotion and Facilitation) Act and the Essential Commodities (Amendment) Act – as well as the Electricity Amendment Bill 2020 after receiving no acknowledgement of acceptance of farmers' minor demands.
January 18 will be observed as Mahila Kisan Diwas to commemorate women farmers while January 23, the birth anniversary of Subhash Chandra Bose, will also be celebrated.
Related:
Tractor march on Jan 7 instead of Jan 6, farmer leaders warn the govt to know its limits
Is Reliance not walking the talk on Contract farming?
Karnataka and Kerala farmers come together to intensify struggle
Are the new farm laws constitutional?
Haryana: Farmer protesters suffer tear gas shellings, survivors claim police used expired shells
Farmers protest faces new enemy in the form of winter rains
Former Minister calls Centre's three agri laws "draconian", demands repeal
Rajasthan julloos at par with Delhi protests! Farmers observe relay fast