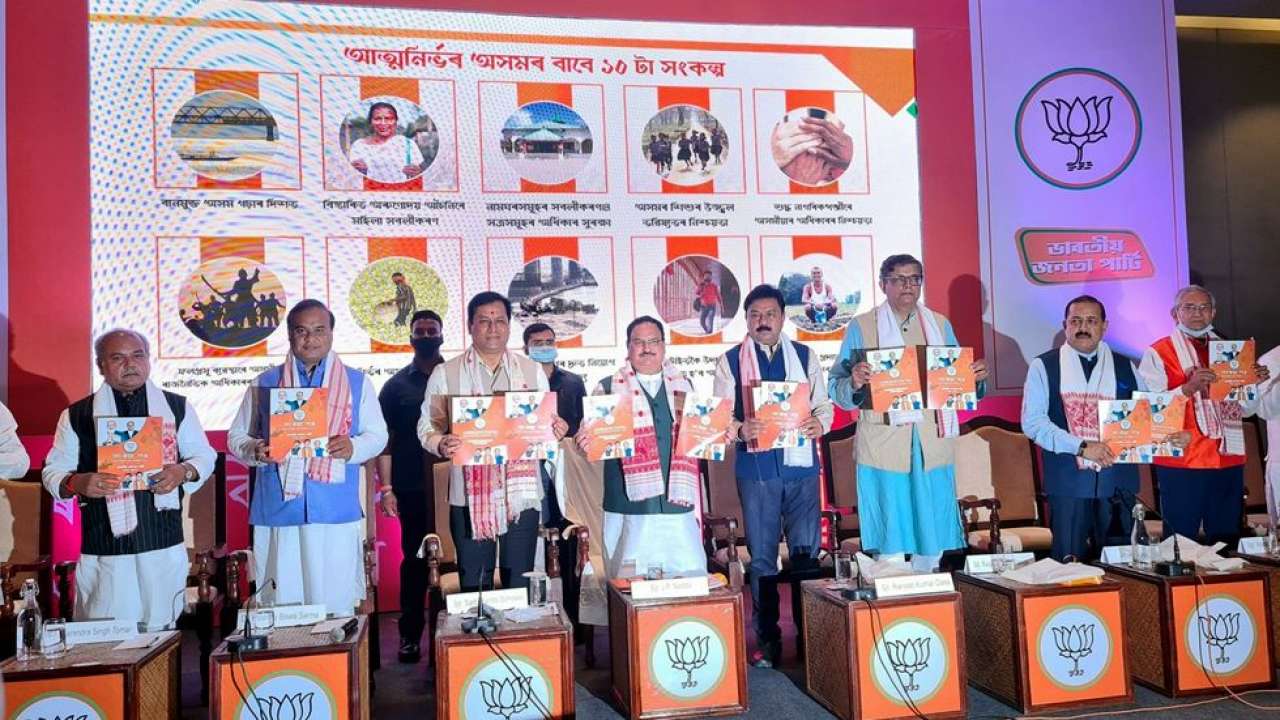 As the high-voltage election campaigning progresses in Assam, BJP released its Sankalp Patra or election manifesto for the state. The manifesto was launched by none other than BJP president JP Nadda in Guwahati in the presence of Assam Chief Minister Sarbananda Sonowal, state BJP President Ranjeet Kumar Dass, Health and Finance Minister Himanta Biswa Sarma, BJP National Vice President Jay Panda, and many other senior BJP leaders and ministers.
Speaking on the occasion of the release, Nadda said, "We commit to work for a corrected NRC," adding, "We will protect genuine Indian citizens and detect infiltrators." This is interesting given how the party had rejected the updated National Register of Citizens (NRC) that was released on August 31, 2019. Though over 19 lakh people had been excluded from this list, the BJP-led Assam government had alleged that names of illegal Bangladeshi immigrants had been included in it. Though the NRC was a process monitored by the Supreme Court, the Assam government has vehemently refused to accept the NRC. Moreover, the Assam government has repeatedly demanded reverification despite the Supreme Court having refused the demand previously.
Meanwhile a quick glance at the manifesto reveals that it is deeply communal and could cause further polarisation in the poll-bound state. For example, in the chapter titled Manifesto Highlights, promise number 8 says, "We will formulate appropriate laws and policies to take and end the menace of 'Love Jihad' and 'Land Jihad' in Assam." This is shocking not only because Assamese society has always prided itself for the harmonious coexistence of people of different faiths in the state, but also because this kind of blatantly communal content was missing from previous manifestos and vision documents. The BJP manifesto for the upcoming Assembly Elections appears to have a rather divisive agenda.
Nadda also said, "Over the last five years the BJP government has worked tirelessly to protect Jati, Mati, Bheti (i.e. Assamese Nationality, Land of Assam, and Base of Assamese people)." He accused previous governments of leading the state into stagnation due to absence of both, desire and ability to solve problems of people of the state. Nadda credited the Sonowal administration for building a momentum for development.
However, more than 40 percent of the promises recorded in Sankalp Patra appear to be promises made way back in 2016. For instance, in the manifesto, highlights start with sub chapter Protection of Civilization of Assam. In this first chapter the first promise of BJP is, "We will undertake all necessary efforts to further take ahead the process to provide ST status to the Tai Ahoms, Koch Rajbongshi, Chutia, Moran and Matak communities without hampering the existing reservations, rights and privileges of tribals in the state." This is exactly what it promised five years ago in its vision document. Back then, BJP had said that it will take every step to give ST status to Tai Ahoms, Koch Rajbongshi, Chutia, Moran and Matak communities within six months after coming to power of the state.
Not only this, the Sankalp Patra of BJP starts with 10 Sankalp for Atma Nirbhar Assam, in which the first Sankalp says, "The people of Assam will be free from the vagaries of floods." But, five years ago the vision document of BJP had made the promised that problem of floods in Assam will be solved for ever within five years if it comes to power of the state.
In this starting point of Sankalp Patra, BJP once again promises for dredging river Brahmaputra, which was also its electoral promise of 2016. Thus out 360 promises declared in Sankalp Patra of BJP, nearly half appear to be recycled versions of old and unfulfilled promises.
Related:
Assamese made a compulsory subject for non-Assamese school students