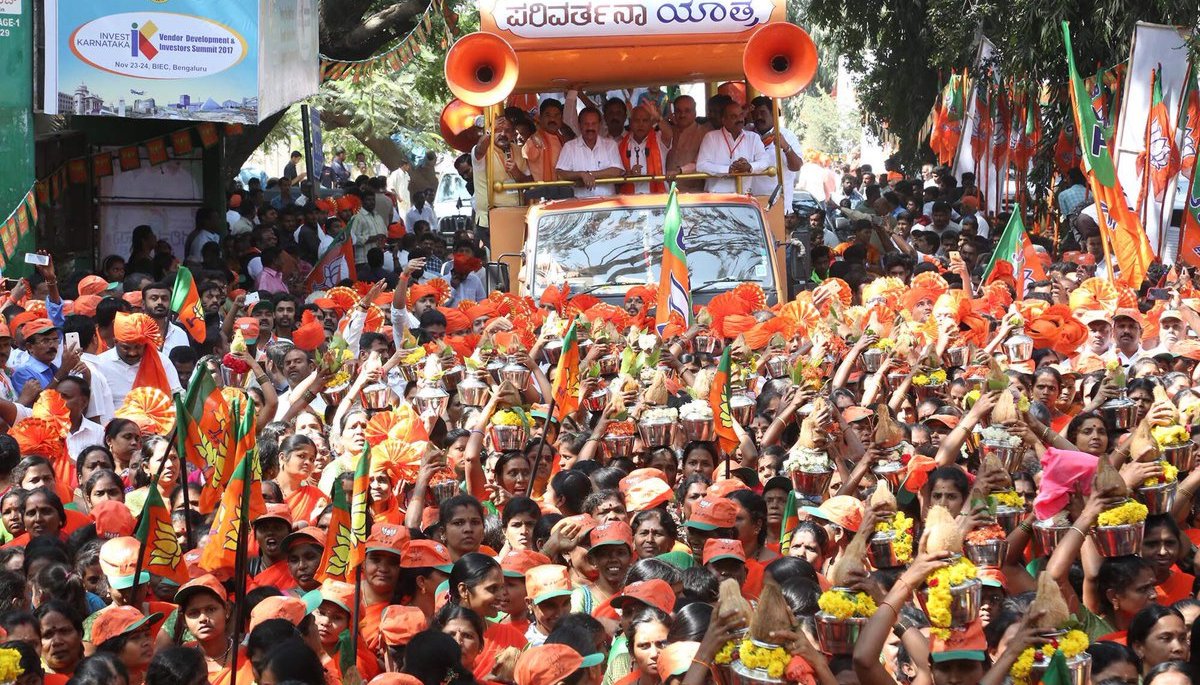 In an interesting move, the BJP has excluded two of its most controversial — and provocative — public speakers out of the list of its star campaigners for the December 5 by-elections to 15 Assembly seats. Party sources in the state suggested that fielding veteran MP Anant Kumar Hegde and first time parliamentarian Tejasvi Surya would have been embarrassing since they had till recently been lambasting most of the BJP's current candidates — Congress and Janata Dal Secular defectors. Apart from these two, also absent from the list forwarded to the Election Commission is former Congress chief minister S.M. Krishna, 87, who joined the BJP in 2017.
Why? A senior BJP leader said the party wanted to keep the campaign free of the sort of controversies that had marred almost all recent elections. "With so many newcomers (from the Congress and the JDS) we don't want to trigger any issues within the party. It's better to keep it that way since we must win seven seats to keep this government alive," the leader, who declined to be named, said.
In January this year, then Union Minister Ananth Kumar Hegde, who is known to make controversial statements in the past, yet again sparked a row on Sunday after he explained how to keep "Hindu girls safe." Addressing a public event in Karnakata's Kodagu, Hegde said that the hands which "touch" Hindu girls, should be "chopped off" and "cease to exist." In a statement that clearly amounted to hate speech, Hegde said, "There should be a fundamental shift in our thinking. We should keenly observe what's happening around us. Regardless of caste and religion, a hand that touches a Hindu girl should not exist. History is written like that."
Meanwhile, in the same speech, Hegde also claimed that the Taj Mahal in Agra was not built by Muslims and that it was a "Shiv Mandir called Tejo Mahalaya." He said, "Taj Mahal was not built by Muslims. It's definitely not built by Muslims, the history speaks for it. Shah Jahan in his autobiography has said he bought this palace from King Jayasimha. It's a Shiv Mandir built by King Paramatheertha, Tejo Mahalaya. Tejo Mahalaya became Taj Mahal. If we keep sleeping, most of our houses also will be named manzil. In future, Lord Ram will be called jahanpana and Sita will become bibi."
The BJP can only survive in power if seven of these defectors win the elections. Opportunism overrides ideology for the time being, at least! The BJP has 105 MLAs and the support of an Independent in a House of 208. The 15 by-elections will raise the Assembly's strength to 223 and the majority mark to 112, and seven wins will give the BJP a majority of its own.
Two of the state's 225 Assembly constituencies will not witness a vote because of a court case involving alleged malpractices in the 2018 Assembly polls."Perhaps the party thought it would be better to use their (Hegde and Surya) services in the Lok Sabha," the leader said, alluding to the Parliament session that began on Monday.
Until now, Hegde has been an all-time favourite for the saffron party, Six-time Lok Sabha member Hegde and first-time MP Surya could not be reached for comments as they were in Delhi for the Lok Sabha session. Krishna's secretary said he was down with fever and was not taking calls or meeting people. Hegde had controversially lauded Nathuram Godse in the middle of the Lok Sabha polls, tweeting it was time to "move away from being apologetic" about Gandhi's murder. His comment had come soon after BJP candidate and terror accused Pragya Singh Thakur had called Godse a "patriot".
Hegde had also asked how Rahul Gandhi, "born of a Muslim father and a Christian mother", could claim to be a Brahmin. In 2016, Hegde had been also booked for hate speech over a reported comment attacking Islam. Hegde has been booked by Karnataka police for making a deliberate statement to media that unless Islam is eliminated, terrorism cannot be rooted out.
On November 9 this year, a special court for trial of criminal cases against MLAs and MPs has rejected Uttara Kannada MP Anantkumar Hegde's plea to drop his name from the hate speech case booked during the 2019 Lok Sabha elections. While hearing the appeal, special court judge Ramachandra D Huddar directed the prosecution to file charge-sheet and adjourned the matter to December 16. The Election Commission had filed a case against Hegde on the allegations of delivering a religious provocative speech in Manki police station limits, Uttara Kannada district. Following the case, MP Hegde filed an appeal seeking to drop his name from the case.
Surya, 29, whom BJP president Amit Shah had handpicked as a Lok Sabha candidate, had during the summer campaign appeared to equate support for Modi with patriotism.
"The Left-liberals on Twitter may not like me saying this. But this election is a test of a common Indian's patriotism, and if you are with Modi you are with India, if you are not with Modi you are anti-India," he had said.
In 13 of the 15 seats, the BJP has fielded defectors from the Congress-JDS who had helped it grab power in Karnataka in July. But it has left out two of the rebels to give tickets to disgruntled old loyalists.
The BJP last week denied admission to R. Roshan Baig — the lone Muslim among the rebels — apparently because of the corruption cases against him. Another Congress rebel, R. Shankar, is likely to be accommodated in the legislative council. The list of the 40 campaigners includes chief minister B.S. Yediyurappa, state party president Nalin Kumar Kateel, Union ministers D.V. Sadananda Gowda, Pralhad Joshi and Suresh Angadi, national organising secretary B.L. Santosh and several state ministers and legislators.
Related Articles:
Abuse was the first weapon in the BJP campaign
BJP MP Anantkumar Hegde booked for hate speech