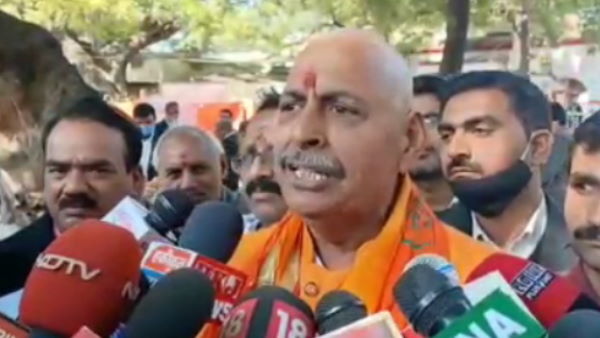 Communal speech even during elections, when a code of conduct is in place, is becoming the norm in Uttar Pradesh. The latest is of Bharatiya Janata Party's (BJP) candidate from Mirzapur Assembly Ratnakar Mishra. He filed his nomination on Monday and declared that he does not want the votes of those "who do not believe in Mother India," and those who "will not believe in Lord Ram, I do not want the vote of such traitors, otherwise my ballot paper will become impure," stated news reports.
Mishra's statement implies he does not want non-Hindu votes, and his inflammatory language against the vote itself by calling it impure showcases the impunity with feels he can make communal remarks. The Assembly seat will go to polls in the seventh phase on March 7, and Ratnakar Mishra, is the incumbent BJP MLA from Mirzapur. He is also the Panda Samaj of Vindhyachal Mandir, and according to news reports, after filing the nomination, Ratnakar Mishra told the media that "people will vote for me because of my good behaviour in Mirzapur." When asked why he had to take a procession along to file his nomination, he claimed, "I had gone out on foot alone but the people of Mirzapur came out of their homes and shops to give me their immense love and blessings, then how would I refuse anyone."
However, he is clear that he will "refuse" or reject the vote of those who do not believe in the Hindu god Ram. His indication here seems to be towards the nearly 40,000 Muslim voters in the area. He has reportedly not gone to campaign amongst the Muslim community and when asked why Mishra claimed he wanted votes only of those who chanted "Jai Sri Ram, and Bharat Mata ki Jai". He only wanted votes who considered Ram as their "ancestor"; any other vote he said would be "impure" and he did not want the vote of "such traitors".
His hate speech comes close on the heels of his party colleague Raghvendra Pratap Singh who represents the Domariyaganj Assembly constituency in Siddharthnagar district of Uttar Pradesh that will go to poll in phase six, on March 3. Singh had recently said, "Topi band hoiba, miyan log tilak lagai ke chalein… aur aap logan se hi kahi hei chacha SitaRam," (Translation: Muslims will stop wearing their skullcaps and start putting Hindu tilaks on their foreheads and say SitaRam as a greeting.)
Related:
Assembly elections: Over 67 percent voter turnout in Haridwar, Saharanpur
UP CM Adityanath targeting minorities again?
Uttarakhand CM Pushkar Singh Dhami's UCC talk, a sign of pre-poll jitters?