'If you elect a person like Imran Qureshi, the day a person like Imran wins, you will not be able to enter Sardhana'. The BJP MLA from candidate from West UP's Sardhana, Sangeet Som said so about the BSP candidate at a public meeting in his constituency.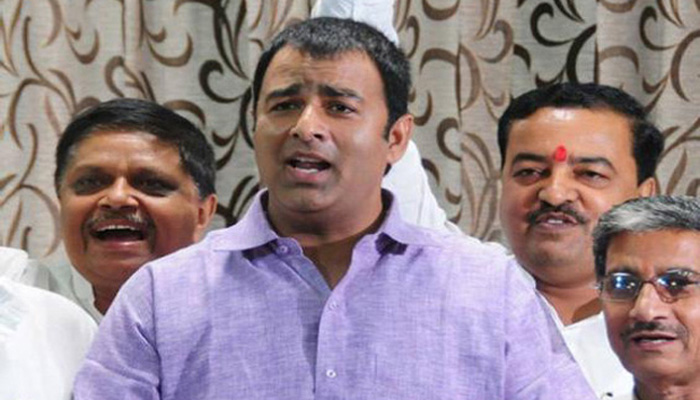 A 21-minute video of the same was uploaded by Som on his official Facebook page before it was deleted on Thursday, (January 19). Speaking to the media, Som admitted the video was of his speech but said it was no attempt to polarise. "The essence of my speech is defeat Imran and make me win. What else should I say in an election campaign? Should I not take his name? I have not said defeat a Muslim and make me win," Som said.
This is what riot-accused Sangeet Som said speaking in Jitkari village on the 2013 Muzzafarnagar riots. "Azam Khan got the Muzzafarngar riot accused released from police station whose clothes were stained in blood. Zahir baat hai, public mein rosh hona hi tha (It is obvious people would have got angry)," Som told the crowd. He goes on to accuse Akhilesh Yadav of "doing politics of one community" and points out that 887 youth jailed for the Muzzafarnagar riots belong to the Pal, Saini, Kashyap, Harijan and Thak ..
He further accuses the CM of putting a line in his schemes like Rs 30000 aid to girls passing Class 10 and 12 that "it will only be given to girls of one community". A senior UP government official vehemently denied this to ET. "Akhilesh wants to make boundary wall for graveyards. Why not so for funeral grounds and Ramlila Maidans too? 1000s of crores have been spent on building Haj House, which is of no use, in Ghaziabad to make one community happy. But why not make Kavad Houses for world's big ..
He further says people like Imran have come to "spoil the atmosphere" of Sardhana and reminds the crowd how he defeated Imran's father Haji Yakoob Qureshi in the last election. "I might be 1000 times bad, but I'm still better than Yakoob. I am one of your own. You can kick the gate and come meet me in Sardhana. But how will you go meet someone like Imran if he wins? Such people have lanes which are so narrow that two people cannot pass side-by-side," Som said.