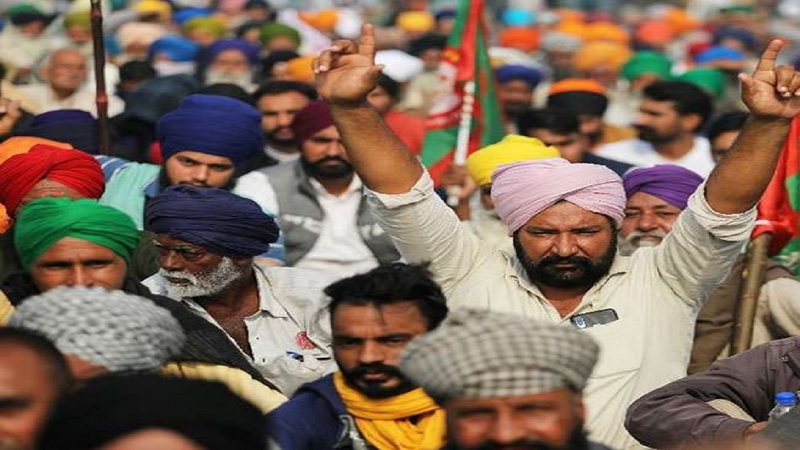 Image Courtesy:english.jagran.com
Members of the Bhartiya Kisan Union (Bhanu) approached the Supreme Court on December 10, 2020 to request permission to intervene in a case filed by DMK MP Tiruchi Siva challenging the three farm Acts forcibly passed by the central government, said India Today.
Petitioner Bhanu Pratap said in the petition that the Farmers (Empowerment and Protection) Agreement on Price Assurance & Farm Services Act, the Farmer's Produce Trade and Commerce (Promotion and Facilitation) Act and the Essential Commodities (Amendment) Act will commercialise agriculture and will make farmers vulnerable to the greed of big corporates.
Representing Pratap, advocate AP Singh said that the Acts were passed without adequate discussion. He also pointed out that the government refuses to consider their concerns despite multiple representations sent by farmers organisations.
He said that weaknesses of the agricultural sector should be addressed by strengthening the APMC system, MSP and financial support rather than monetization of farmers. Accordingly, the petition described the three laws as "unconstitutional" and "anti-farmer." The matter will be heard in the last week of December.
Meanwhile, six petitions against the farm laws are already pending with the apex court, including Siva's plea. Further, RJD Rajya Sabha MP Manoj Jha and Chhattisgarh Kisan Congress member Rakesh Vaishnav moved the court against the laws while a third plea filed by the Bharatiya Kisan Party in November asked for a stay on the implementation of these laws. The Supreme Court had earlier issued notice to the central government on October 12 for a response.
Farmers across India have been protesting against the farm Acts fearing corporate repression. Despite multiple discussions, farmers and the government have failed to reach a consensus.
Intensifying protests further, they have now called for a national boycott of all Reliance Jio products and called for another nationwide protest on December 14.
Related:
Punjab's Workers Union promises to look after fields until farmers return
MP Adivasi farmers send memorandum to Prime Minister decrying Centre's farm laws
Modi government's anti-farmer face exposed: Farmers' leaders
Are the new farm laws constitutional?