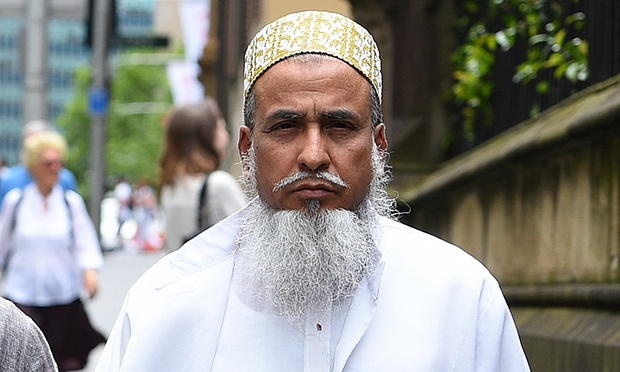 Photo of Convicted Vaziri
A huge victory for young Bohra girls who were tortured for centuries making them undergo Female Genital Mutilation (FMG)
After Shabbir Mohammed Vaziri, a high ranking Bohra cleric, was subjected to jail term(s) for conspiring in the 'khatna' of two 7-year-old Bohra girls[1], and after the Australian Government threatened further action, the Bohra Dai, who boasts of divine legitimacy — command over Farishta (angels), and who promises Bohras of a place in paradise (jannat) if the simple act of touching the hand of the Syedna is performed – has crumbled under the threat of legitimate civic action. He has quietly ordered the Australian Bohra Jamat to make a public announcement banning Female 'khatna'. This inhuman procedure, kept under wraps for decades, includes clipping the clitoris of young seven year old Bohri girls, aimed to prevent enjoyment of sexual pleasure.
The belief is premised on a desire to control sexuality: if girls do not experience sexual pleasure, they will not be drawn to involvements or encounters with men not have illegitimate sex. This is a twisted, flawed and inhumane logic. In reality, clitoridectomy generates unhealthy relationship and frustrations with husbands. The psychological damages due to forcible 'khatna' of girls as young as seven years, in fact can lead to other complications in relationships.
It is often argued among Bohra and African tribes that the practice of Female Genital Mutilation (FGM) or 'khatna'[2] is a command from the Prophet or Imams from some 14 centuries ago, even though only a small percentage of Muslims follow the practice. The context of justification for the practice is the wars of 14 centuries ago, when soldiers were killed and the winning army captured women and children of vanquished slaves and even sold them.
In those days, many men married four wives and also had several slave girls. When the master died, the slave girls were sold, inherited, or freed. These slave girls did not undergo clitoridectomy (cutting of clitoris) in a bid to curb or control their sexuality. The relationships between men and women, including sexual relations, were more natural. The practice of FGM, apart from being inhuman and painful, has generated deep perversions within relationships.
"Khafd (also known as khatna or female circumcision) has recently been interpreted by the Supreme Court of NSW to be within the meaning of Female Genital Mutilation (FGM) as defined in section 45 of the Crimes Act of NSW. It is likely that the practice will be interpreted to fall within the specific laws in relation to FGM in other states or territories of the Commonwealth of Australia. Consequently, khafd is illegal, whether it is carried out within any of the states of Australia or overseas." (From the notice, emailed to all Australian Bohras in the form a resolution letter, came a day after the Anjuman-e-Burhani (Sydney) – a trust managing Bohra affairs in Australia – held a meeting to discuss khatna)
I have been writing against practice of 'khatna' for several years. Some Bohra women have written to me about their childhood 'khatna' trauma. Some men have talked to me about their sexual frustrations; some Bohra women wrote of their ingrained belief that 'khatna' makes Bohra woman pure ("pak"). Other girl's wrote of their belief that the 'khatna' was a religious command. Few of them said they were lucky that their parents saved them from the torture of 'khatna'.
Fortunately, over the last year, brave Bohra women have come forward and formed a group called Sahiyo (friends). Through their blogs and contacting various editors, columnists, and media around the world, they have brought about an awareness about the ills of this draconian practice. Fortunately, for Bohras women khatna or FMG perpetrators in Australia was caught red-handed and the perpetrators were given harsh punishment forcing the Bohra chief priest Syedna Mufaddal to ban the practice in Australia.
I had thought and hoped that England, France or USA with larger Bohra population would be the first to take such action. They should learn a lesson from Australia and act now.
I appeal to one and all: write to all governments to ban the practice especially the government of western countries. In India and Pakistan, there is no specific law against FMG or 'khatna'.
My appeal is to all those who value human dignity all over the world: please impress upon your government to pass strict laws against forcible genital mutilation of seven-year-old girls in the name of religion.

[1] In November 2015, three Bohris were convicted of conspiring to commit FGM in a landmark trial by a jury in Austrialia. The convicted included the mother of two young girls, who were victims of the practice, the person who conducted the procedure and Shabbir Mohammed Vaziri
[2] Khafd (also known as khatna or female circumcision