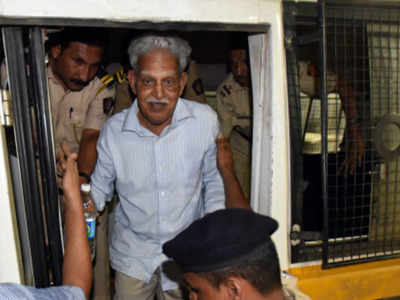 The Bombay High Court has directed Nanavati Hospital to submit a fresh report on the health condition of poet-activist Dr. Varavara Rao who was shifted to that hospital as per the court's order after his health was deteriorating at the prison hospital. The next hearing is on January 13.
On November 18, the Bombay High Court Division Bench of Justices SS Shinde and Madhav Jamdar directed that Dr. Rao be shifted to Nanavati Hospital for 2 weeks, while still being in NIA custody. But the court had directed that he should not be discharged from the hospital without informing the Court and that the court would examine his medical reports. Senior Advocate Indira Jaising had argued for Dr. Rao's release stating that even under Unlawful Activities Prevention Act, an accused is entitled to bail and his detention amounted to cruelty, "Death is inevitable. But everyone wants to exit in a dignified manner," she had argued.
She had also informed the court that he was being looked after by his co-accused Vernon Gonsalves and Arun Ferreira who are not medically trained and so if anything, untoward happens, "it will be nothing short of a 'custodial death'."
After hearing the arguments, the Bench reportedly said, "Ultimately the man is on almost death bed. He needs some treatment," and thus directed that he be moved to Nanavati Hospital. On the next hearing, on January 13, the court is likely to consider whether his medical conditions warrant extension of his stay at the hospital.
Dr. Rao a Telugu revolutionary poet was arrested under stringent charges of the Unlawful Activities (prevention) Act, in 2018 after his home was raided by the Pune police, for allegedly being involved in planning and instigating the Bhima Koregaon violence on January 1, 2018. He was initially kept under house arrest as per the apex court's order but in 2019, he was taken under custody and lodged in Pune's Yerawada jail where other accused in the case, Vernon Gonsalves and Gautam Navlakha have also been incarcerated.
The order may be read here.
Related:
Taloja Jail denies new spectacles to visually challenged Gautam Navlakha!
Bombay HC directs immediate hospitalisation of Dr. Varavara Rao
Humanity is most important: Bombay HC in Gautam Navlakha case