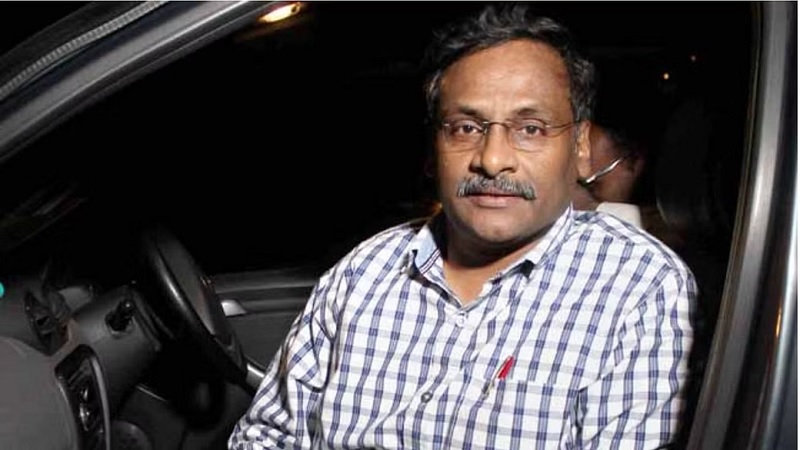 Image Courtesy:nationalheraldindia.com
On Friday, a Nagpur Division Bench of the Bombay High Court acquitted Professor GN Saibaba in connection with a case of his alleged links to Maoists. According to PTI, the court ordered his immediate release.
The news agency reported that a division bench of Justice Rohit Deo and Anil Pansare allowed the appeal filed by the wheelchair bound professor challenging a 2017 trial court order that convicted him and sentenced him to life imprisonment.
The court also allowed the appeals of five other convicts, and acquitted them. These are – Pandu Pora Narote, Hem Keshwdatta Mishra, Prashant Rahi Mahesh Tirki and Vijay Nan Tirki (both Adivasis). However, this news came too late for Narote, who died in August this year.
SabrangIndia has been reporting on the struggles of GN Saibaba who has been incarcerated at the Nagpur Central Jail.
In the 101-page order, the division bench dealt at length on the issue of the conditions and grounds for mandatory sanction under the UAPA. The Judges held that the Police did not take the approval of the independent authorities for the sanction, which here is Director, Prosecution in Maharashtra. By deciding to acquit not discharge the accused, there is little likelihood that another trial of the same accused on the same facts of this case (the principle of double jeopardy), can take place. However, this does not mean that the prosecution will not attempt an appeal on the grounds that the acquittal was on technical grounds, not merits.
Lawyers for the defence were Nihalsing Rathod, Pradeep Mandhyan, Barunkumar, HP Lingayat and Subodh Dharmadhikari. For the state, were Siddharth Dave, special public prosecutor and H.S. Chitale, assistant public prosecutor.

Brief background of the case
The Sessions Court at Gadchiroli on May 7, 2017 sentenced Prof. Saibaba to life imprisonment under the Unlawful Prevention (Activities) Act (UAPA), for alleged links with banned organisation Communist Party of India (Maoist). He had appealed against the Judgment of the Sessions Court before the Nagpur Bench of Bombay High Court, but his appeal has been pending for the last five years.
Dr. Saibaba, who has been a long-time defender of the rights of India's minorities, especially Dalits, Adivasis and forest dwelling communities, against vested corporate interests, was first arrested in in May 2014, and eventually sentenced to life imprisonment in March 2017, for "waging war against the state".
GN Saibaba, a human rights defender
As an activist and rights defender, Dr. Saibaba has campaigned against a push to end reservations for lower castes, as well as against "encounter killings" of innocent people in Andhra Pradesh. He launched the Forum Against War on People, in response to the Indian government's Operation Green Hunt in India's tribal belt, which allegedly cracked down on Adivasis in the region.
He organised a national campaign against the operation that reportedly led to investors pulling out. In July 2015, he told The Hindu that the authorities felt "the best way to stop me was to throw me in jail."
Prison administration's apathy towards his deteriorating health
The appeals of his activist-wife Vasantha Kumari about his deteriorating health have been falling on deaf ears. Not only is the Delhi University professor 90 percent disabled, he suffers from ailments like hypertrophic cardiomyopathy, hypertension, paraplegia, kyphoscoliosis of the spine, anterior horn cell disease, acute pancreatitis and a cyst in the brain.
On May 21 this year, GN Saibaba went on hunger strike in jail fighting for his fundamental right to privacy, life, liberty and bodily integrity. The jail authorities installed a CCTV camera in front of his Anda Cell without providing any valid reason which records everything 24X7 including use of toilet, bathing, and all his bodily activities. The hunger strike led to a further deterioration in his already fragile health and he had to be hospitalised.
In fact, just two weeks before the hunger strike, it was reported that the Nagpur Jail authorities had been denying Prof GN Saibaba a plastic water bottle for three weeks in the peak of summer. The wheelchair bound professor had been finding it difficult to lift the small pot kept in his cell or even a glass bottle, and was reportedly unable to hydrate himself adequately amidst soaring temperatures due to this.
Related:
Dr. GN Saibaba hospitalised after his health deteriorates due to hunger strike
GN Saibaba to go on hunger strike to protest being placed under CCTV surveillance
Now, jail authorities deny GN Saibaba plastic water bottle!