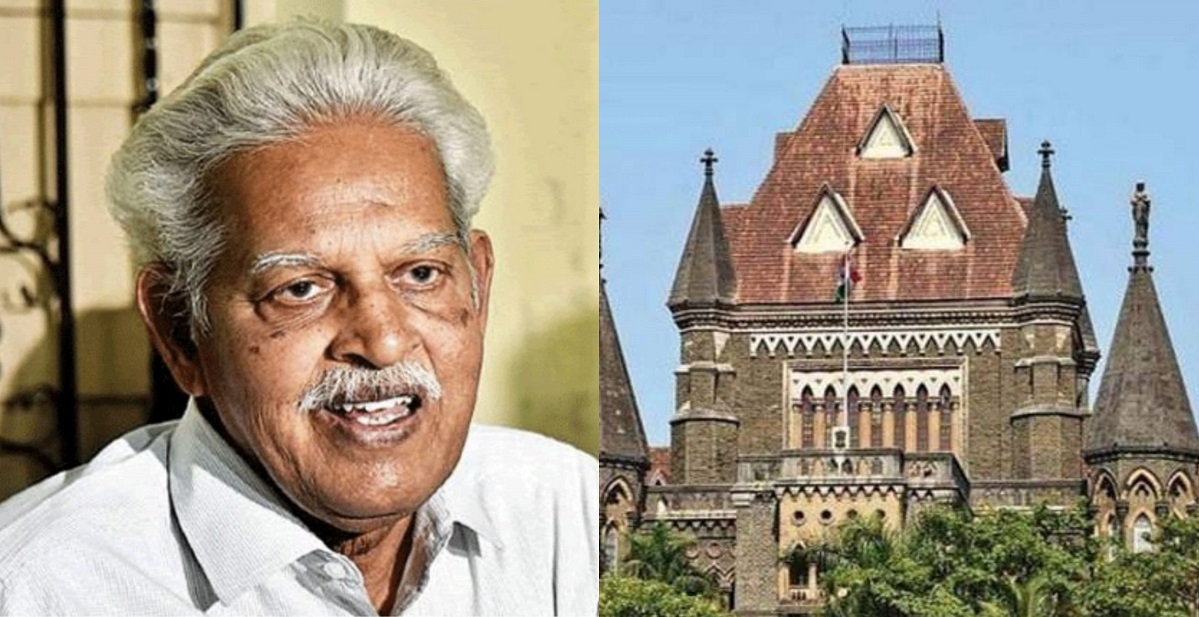 On November 18, 2020, a Division Bench of Justices SS Shinde and Madhav Jamdar directed the State to shift the 81-year old undertrial Dr. Varavara Rao, to Nanavati Hospital for 15 days of thorough treatment, reported LiveLaw.
Senior Advocate Indira Jaising argued for Dr. Rao's immediate release citing medical conditions, and Public Prosecutor Deepak Thakare represented the State of Maharashtra. Additional Solicitor General Anil Singh appeared for the National Investigation Agency (NIA).
The Bench said, "Ultimately the man is on almost death bed. He needs some treatment. Can the State say no we will treat him in Taloja? We are only saying transfer him to Nanavati for two weeks. We will further see after two weeks."
The Bench further directed that he should not be discharged from the hospital without informing the Court and his medical reports have to be submitted before it. The family members of Dr. Rao have also been granted permission to meet him at Nanavati Hospital.
His bail plea was physically heard by the Division Bench today after the proceedings were interrupted yesterday due to technical glitches. The court had observed yesterday (November 17), "We know the seriousness involved in this matter and that is why we will hear it physically tomorrow itself."
Petitioner submissions
Indira Jaising submitted before the court that the famous Telugu poet Dr. Rao's November 12 medical reports mentioned brain atrophy. A combined reading of all his reports also suggested the possibility of organ failure. "In my appeal which is for bail. I submit that even under Unlawful Activities Prevention Act, an accused is entitled to bail", she added.
Ms. Jaising also referred to High Court judgments to assert that Dr. Rao was being detained in cruelty and that "Death is inevitable. But everyone wants to exit in a dignified manner."
On November 12, the Bench of Justices AK Menon and SP Tavade had ordered for a medical examination to gauge the health status of Dr. Rao. It had also added that the exam be conducted via video on 12th itself, if possible, with the participation of doctors from Nanavati Hospital who had earlier issued a report on Dr. Rao's condition. This medical report had to be submitted to the court before November 16.
In yesterday's hearing Ms. Jaising argued that the medical report submitted to the court was a complete eye wash. When the Government submitted that Dr. Rao was conscious and oriented, Jaising lashed out saying, "Rao was not examined by a specialist so how can the video examination tell this court whether he needs to be shifted out of the prison to the hospital?" She even pointed out that the Nanavati Hospital doctors suggested a complete blood count and sonography of the abdomen to be done, which had not yet been carried out.
Today, she further submitted that there was a "reasonable apprehension" that the petitioner Varavara Rao may die in jail and will not stand trial in the Bhima Koregoan case. Bar and Bench reported that Ms. Jaising added, "His respiratory system shows no sign, and his intake of food is compromised. Combined with his age and COVID, he needs monitoring. That cannot happen in Taloja Jail, there is nothing even for a sample analysis."
She also argued that Taloja Jail hospital is not equipped to do neurological and other tests and urged the Bench to immediately shift him to Nanavati hospital. She argued that Courts have held that when it comes to medical bail, provisions of CrPC have to be followed over UAPA.
"The tests conducted at Taloja jail hospital were conducted by a private agency in Panvel. How can he be monitored in a hospital like that where there are no laboratories? See the timing. Sample collection time is 10 am from Taloja Jail. The reporting time is 10.30 am. They sent the sample to Panvel and brought the report to you, Milord. This is physically impossible", she asserted.
She also informed the court that he was being looked after by his co-accused Vernon Gonsalves and Arun Ferreira who are not medically trained and so if anything, untoward happens, "it will be nothing short of a 'custodial death'."
Opposing medical care at JJ Hospital, Senior Advocate Jaising further argued that when Rao's family visited him at JJ, they found him in a pitiable condition in a pool of urine without a nurse or an attendant. "I am alleging negligence on the part of the State. If the State is unable to look after him, he needs to be shifted to Nanavati Hospital," she said.
Respondent submissions
Public Prosecutor Deepak Thakare, appearing for the State, and ASG appearing for NIA had suggested that Varavara Rao will be shifted to the JJ Hospital, a government hospital, and all tests could be conducted there. Deepak Thakare further argued that Dr. Rao was being monitored in the Hospital ward of the Jail since August this year.
But the court also noted his submissions that the Jail Hospital ward lacked a neurosurgeon and neurologist. So, the Public Prosecutor Thakare, informed the Bench after taking instructions from the government that the State of Maharashtra has no objection to shifting him to Nanavati Hospital. But the prosecutor submitted that the case should be treated as a special case and not as a precedent.
Court's final order
The court agreed with the submission of Senior Advocate Indira Jaising that proper medical examination may not be possible over a video call of 15 minutes and that detailed physical examination under the guidance of specialists was necessary.
It further stated that even if Rao is shifted to Nanavati Hospital, he will continue to be in NIA custody. Dr. Varavara Rao is to be immediately hospitalised as per courts direction and the matter will now be heard on December 3, 2020.
Related:
Govt report an eye wash, Varavara Rao needs to be seen by specialist: Indira Jaising
No bail for Varavara Rao yet, but HC orders medical exam