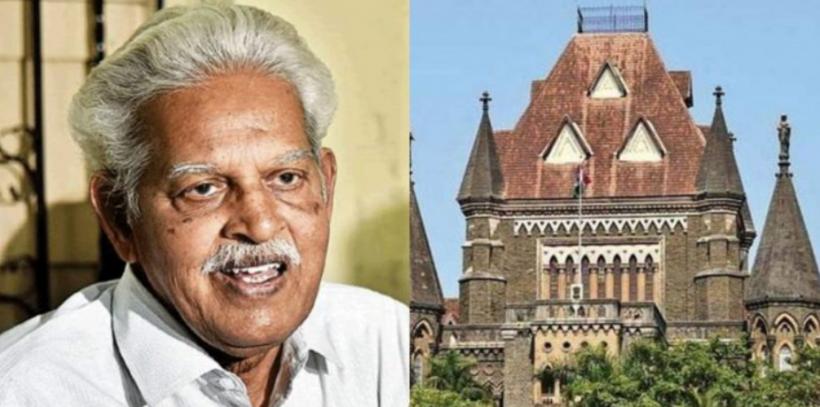 The Bombay High Court has granted bail to Dr. Varavara Rao on medical grounds for a period of 6 months, owing to his deteriorating health in the past one year and while also taking into consideration his advanced age.
The Division Bench comprising Justices Manish Pitale and SS Shinde held that even if medical reports deem him fit to be discharged and stable for now, the same has to be read in consonance with his medical history until now which suggests he has suffered from number of ailments which could only deteriorate his health further if he sent back to prison. Rao who has been in judicial custody for over 2 years, has been in and out of hospitals until the court intervened and ordered to keep him in hospital until court's further orders.
Case until now
The court was considering two petitions and one appeal against the Special NIA court denying bail to Rao on medical grounds. One petition was filed by Rao himself seeking a direction that his medical records be produced and he be sent for check up and appropriate treatment and the other was filed by his wife stating that Rao's right to health, dignity and life were being violated by the state by not providing him appropriate medical treatment.
Rao was arrested in August 2018 but was remanded to house arrest until November 2018 when he was taken to Pune. It was alleged that Rao was a member of banned organisation-Communist Party of India (Maoist) and was actively involved in arranging funding and providing arms and ammunition to the organization to wage war against the established Government.
The high power committee constituted under the direction of the Supreme Court to decide category of persons to be released on interim bail to check the spread the Covid-19 in prisons, issued a direction that it would be open to prisoners over 60 years of age to apply for interim bail even if they were accused under the Unlawful Activities (Prevention) Act (UAPA). When Rao applied for bail after this direction, he was admitted to JJ hospital as his condition worsened. But then he was discharged despite his ailments and the NIA court relied upon the hospital's report to deny him bail.
Hence, the appeal was filed before Bombay High Court and during its pendency Rao had to be admitted to JJ Hospital once again due to deteriorating health. His wife stated that immediately prior to being admitted to J.J. Hospital, when she spoke to him it was evident that his speech was not clear and that he was hallucinating. When she visited him at the hospital, he was found in a pitiable condition, without proper nursing assistance, hence the writ petition was filed on behalf of Rao for conducting proper medical tests and for providing him with appropriate treatment.
Later on, in July 2020 he contracted Covid-19 and was thus shifted to St. George Hospital but his condition kept deteriorating and a few days later, on the intervention of National Human Rights Commission (NHRC) Rao was shifted to Nanavati Hospital, a private Hospital. He was found to be suffering from Urinary Tract Infection caused by severe bacterial infection apart from battling Covid-19. Yet, he was again discharged and sent back to Taloja jail where he remained bedridden with a catheter and this court directed that Rao be assessed through video examination and after some tests, as a special case, Rao was shifted to Nanavati Hospital once again for treatment.
NIA's affidavit opposing the appeal against his bail rejection stated that there was ample material in the chargesheet against Rao to show his direct involvement in anti-national activities and that he could not be granted bail on humanitarian grounds when the acts that he was accused of were against human and State interest.
Jurisdiction of High Court when bail denied on merit
The court first dealt with the question whether court's writ jurisdiction can be invoked when already the special court had rejected bail on ground that allegations against him were Prima facie true, as per provisions under section 43D(5) of UAPA and whether Article 21 can be invoked for securing bail on the ground that continued incarceration would endanger his life. The court also considered the state's contention that if this was allowed the court would face several petitions from inmates on health grounds despite rejection on merits.
"Although, the prisoners stand confined within the prison and, to that extent, stand deprived of their liberty as per procedure established by law, it cannot be said that they cannot invoke myriad shades of rights guaranteed under Article 21 of the Constitution of India," observed the bench. The court then went on to cite several judgments of the Supreme Court upholding rights of prisoners.
The court also cited the recent Supreme Court judgment in UOI v. KA Najeeb whereby the court held categorically that statutory restrictions like the one found in Section 43D (5) of the UAPA per-se do not oust the ability of the Constitutional Courts to grant bail on the ground of violation of Part III of the Constitution of India.
This court held that even though the case in KA Najeeb was concerned with the plight suffered by an undertrial, who had continued in custody for a long period of time, the principle laid down in the said case appears to be that the restrictions in special statutes like the UAPA can be harmonized with the jurisdiction of Constitutional Courts.
The court held that even if an application for bail on merits was pending before the court, that would also not prevent the court from exercising its writ jurisdiction to grant bail on health grounds. With regards to the contention of the NIA that if this were allowed, it would lead many such petitions asserting rights under Article 21, the court observed, "Merely because there is a possibility of filing of petitions under Article 226 of the Constitution of India for release of prisoners from custody on health grounds, it cannot be said that this court ought not to consider cases where such grounds are genuinely made out". The court held that taking any other view would amount to diluting rights available to prisoners to claim relief on health grounds under Article 21.
The court held that an undertrial of advanced age suffering ailments is an aspect that cannot be ignored while considering bail. The court asked, "Even if such old aged prisoners with various health conditions are accused of serious offences, the question is as to whether they can be forced to live a subhuman existence behind bars, only because they stand accused of serious offences?" Answering its own question, the court said that since NIA is not in a position to tell how much time will the trial take to be completed with charges yet to be framed and over 200 witnesses to be examined, the answer to this question has to be in the negative.
Has a case been made out?
The court then perused the many hospital admissions of Rao and the many ailments he suffered from while referring to his medical records from the hospitals. They considered that apart from other ailments, Rao suffered from cerebral atrophy which may be age induced, and that he has suffered from bouts of delirium induced by electrolyte imbalances. The court held that there can be no doubt that Rao would face acceleration and intensification of ailments if he continues to remain in custody.
The court noted that Rao was shifted to Nanavati only upon NHRC's intervention and after his discharge, his health was not closely monitored as instructed by Nanavati Hospital doctors leading to further deterioration necessitating Rao's re-admission to Nanavati only after the court's intervention.
"In view of the aforesaid material and sequence of events, we have come to the conclusion that sending the undertrial back to Taloja Central Prison would certainly endanger his life. In fact, continued custody of the undertrial at the Taloja Central Prison is wholly incompatible with his health condition, because the hospital at the Taloja Central Prison is not adequately equipped to take care of the undertrial, given his advanced age and various health conditions."
The court held that even if the medical reports submitted by Nanavati Hospital suggest that Rao is fit for discharge and stable, the same has to be appreciated in the context of Rao's health condition evident from all his medical records till date. The held, "we are of the opinion that although the
Nanavati Hospital in its latest reports has certified that the undertrial is fit for discharge, it cannot be concluded that he is fit to be sent back to the Taloja Central Prison or the hospital attached to the said prison".
The court held thus,
"The condition of old age, sickness, infirmity and multiple health ailments suffered by the undertrial indicate that his continued custody would be incompatible with his health conditions and that sending him back to Taloja Central Prison would amount to endangering his life, thereby violating his fundamental right under Article 21 of the Constitution of India."
The court again cited UOI v. KA Najeeb to use it as a position of law to be relied upon when a court concludes that continued incarceration would violate an accused's right under Article 21 of the Constitution. The court opined,
"This court, as a Constitutional Court, cannot be a mute spectator to the undertrial being sent to prison and then to Government Hospitals where his health deteriorates further, to be ultimately shifted to the Private Superspeciality Hospitals, upon intervention of courts and such movements of the undertrial continue back and forth only because his bail application has been turned down on merits under Section 43D(5) of the UAPA."
The court further stated, "In addition to the discussion hereinbefore on law as well as on facts, in the facts of the present case, we are of the opinion that adopting a humanitarian approach in the peculiar facts and circumstances of the case is warranted".
The court did not appreciate neither did it agree upon NIA's stand that "it is not justifiable for an accused of such offence to seek relief on humanitarian grounds when such acts are itself against the human and state interest".
The court responded saying, "With all humility at our command, keeping in view human consideration, the well recognized fundamental rights of the undertrial to have quality medical aid for serious ailments suffered by him, advanced age, inadequate facilities in the hospital attached to the Taloja Central Prison, we are of the opinion that this is a genuine and fit case to grant relief; or else, we will be abdicating our constitutional duty and function as a protector of human rights and right to health covered under right to life guaranteed by Article 21 of the Constitution of India".
The court clearly held that merely because Rao was accused with such serious charges, his health condition cannot be ignored. The court also considered Rao's advanced age and that he required support from his immediate relatives in order to have some semblance of normalcy during whatever period of life now remains. The court also pointed out that Rao's journey to the many hospitals show that initially the relatives were not even informed about his health condition till he was admitted to the Nanavati Hospital on the intervention of this court.
The court while being in favour of granting bail to Rao, held that bail cannot be granted for unlimited period of time and unconditionally as it needs to strike a balance between the rights of the undertrial and the necessity of bringing the accused to book.
The court thus directed that Rao be discharged from Nanavati Hospital depending on his health and be released on bail, for the present, for 6 months on furnishing bond of Rs. 50,000 and two solvent sureties in like amount. The court also directed that Rao cannot leave jurisdiction of Mumbai and shall attend proceedings as and when summoned while being allowed to apply for exemption from appearance. The court further directed that Rao shall report to the nearest police station through WhatsApp Video Call fortnightly and not try to contact any co-accused or indulge in any activity for which he has been accused. The court directed that Rao shall surrender after 6 months or apply for extension depending on medical condition and shall surrender his passport.
The complete order may be read here.
Related:
Bombay HC grants Dr. Varavara Rao bail for six months
If timely trial not possible and accused spent considerable time in jail, courts obligated to grant bail: SC in UAPA
Bhima Koregaon case: Was evidence planted to implicate activists?