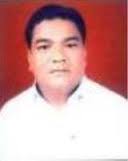 PTI reports that the Nagpur bench of the Bombay High Court today quashed the election of the BJP MLA from Gadchiroli on a plea that he didn't disclose details about the office of profit he was holding at the time of filing his nomination papers for the 2014 Assembly elections.
"A petition against the sitting MLA Deorao Holi was filed by Narayan Jambhule of Forward Block who had contested unsuccessfully against him in the 2014 polls," Jambhule's advocate Pradeep Wathore told PTI.
The petitioner had claimed that Holi did not disclose details about the Office of Profit he was holding while filing his nomination.
The counsel stated the Returning Officer concerned ignored the fact that Holi was a serving Medical Officer with the state government at the time of filing his papers.
"A departmental enquiry was proposed against him that time and recovery of Rs 8.68 lakh was pending against him," Wathore said without elaborating.
He said the HC bench in its order has declared Holi disqualified and stated that his nomination form should not have been accepted by the returning officer of Gadchiroli (ST) Assembly constituency.
When contacted, Holi told PTI he would challenge his disqualification in the Supreme Court after studying the order.