A book should never be judged by its cover neither a news report by the headline! When ANI put out this story, Lynching alien concept to Bharat, has its references elsewhere, says Mohan Bhagwat, at 10:47 am on Tuesday, Dussehra Day, with Dateline Nagpur one would have been tempted to wonder (or hope) if the chief of the Rashtriya Swayamsevak Sangh (RSS), Mohan Bhagwat has had a sudden change of heart!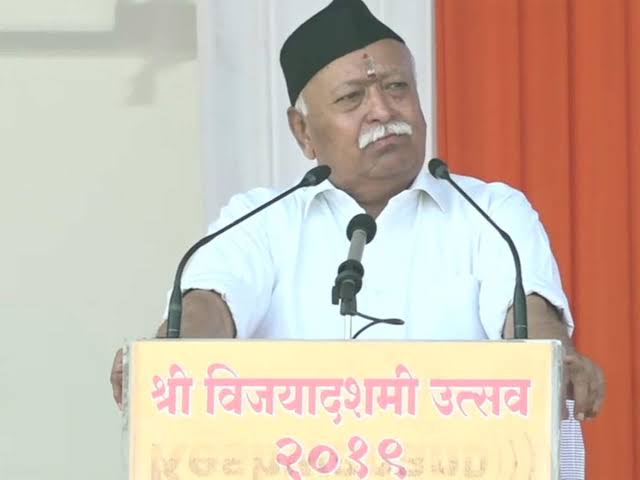 But a quick perusal -2-3 minutes and a chilling sense of deja vu hits you. Bhagwat has used the occasion of Vijayadashmi, precious to him and his kin to spew yet another speel of 'defamation and conspiracy.'
"Branding some incidents of social violence as 'lynching' are actually meant to defame our country, Hindu society and create fear among some communities. Lynching is alien to Bharat and actually has its references elsewhere," Bhagwat said at an RSS event organised on the occasion of Dusshera.
While conceding that diversity is an "intrinsic strength of our nation," Bhagwat is quick to add a rider: "But diversity of caste, creed, language and region are being used by vested interests to separate one from another, turning them to differences; imposing fabricated identities on manufactured separations," he said. What pray does this sentence actually mean?

Untoucables choosing the word, "Dalit" to assert their oppression and exclusion?
Hindus speaking up for human rights and against Hindutva ?
Minorities asserting their equal rights to life and equality before the law in Ambedkar's Constitution driven Bharat?
The speech delivered at Nagpur takes this discourse further.
Says Bhagwat on Dussehra Day, 2019:
"It is essential to be alert in identifying plots of vested interest and counter them on intellectual and social planes… Alertness is a constant necessity," he added.
And surprise of surprises, especially given the RSS'ambivalence on the Indian Constitution, Bhagwat actually states that the society must act by "remaining within the limits of Constitution".
"Whatever the difference of opinion be, howsoever provocative actions might have taken place, still the society must act by remaining within the limits of Constitution, reposing faith in the police and judicial system of the country," he said. We trust and faith that these words will percolate down to the cadres of the parivar!
There are more pearls of wisdom from Bhagwat: The RSS chief stated that different sections of the society should strive to increase goodwill, dialogues and cooperation among themselves.
"In today's context, it is absolutely important to work for the goodwill, harmony and cooperation among all sections of society.
Leading this attempt at dialogue says Bhgwat is, the Sangh itself!! "The Sangh Swayamsevaks have been making efforts to enhance this type of dialogues and cooperation," he finally concluded.