Image courtesy: PTI
Another wave of support comes in for farmers as international groups, Madhya Pradesh's Adivasis, a students' collective from Tamil Nadu and many others have thrown their support behind Indian farmers who continued their agitation against the three farm laws passed by the central government.
Brazil's Landless Workers Movement, one of the largest social movements in Latin America, sent a letter of solidarity on December 9, 2020 expressing full support to Indian farmers who "are protesting the national government's attempts to introduce laws that would make small-scale food producers vulnerable to exploitation by large companies."
The full letter may be viewed below: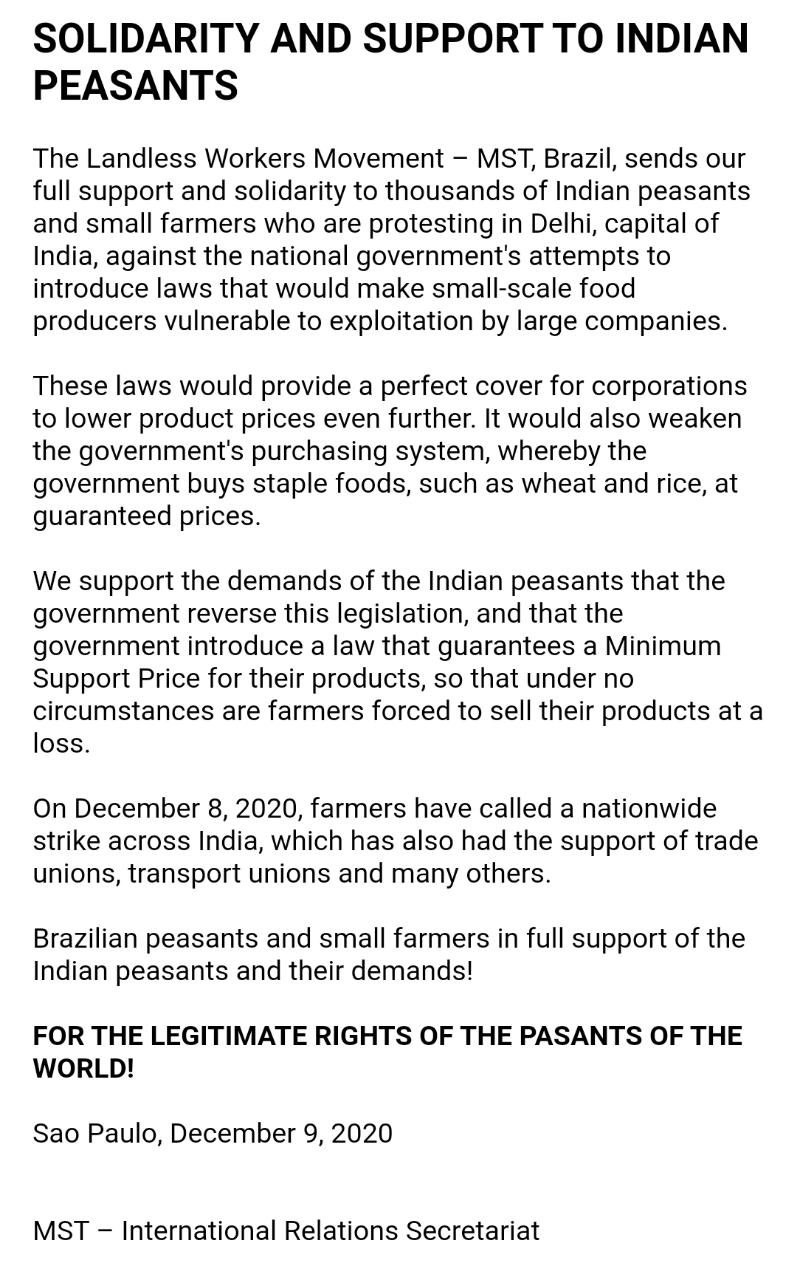 Previously, MPs from the UK and Canada's Prime Minister had voiced a similar sentiment of solidarity aside from numerous solidarity protests held by non-resident Indians (NRIs) across the world.
On December 6, Canada's National Farmers Union (NFU) published an article promising solidarity with Indian farmers on their website. The NFU praised farmers who continue to protest new agricultural laws even as shrinking net farm incomes reach a crisis level for farmers around the world.
"India's food security is threatened, as new laws will shift its agricultural economy from "food production" for people to "commodity production" for trade and export," they said.
The Union warned that farmers would take on more debt and risk working in a contract farming system due to these laws. They also pointed out that the laws will lift the ban on hoarding food by corporate buyers, allowing them to capitalise on production by price-gouging consumers during shortages and depressing prices to farmers in times of abundance.
THE NFU's full statement may be viewed here.
Meanwhile, thousands of members of the Jagrit Adivasi Dalit Sangathan demanded the implementation of Minimum Support Price (MSP) system as per the Swaminathan Commission report's formula in a memorandum released on Wednesday. The organisation also held a solidarity protest earlier.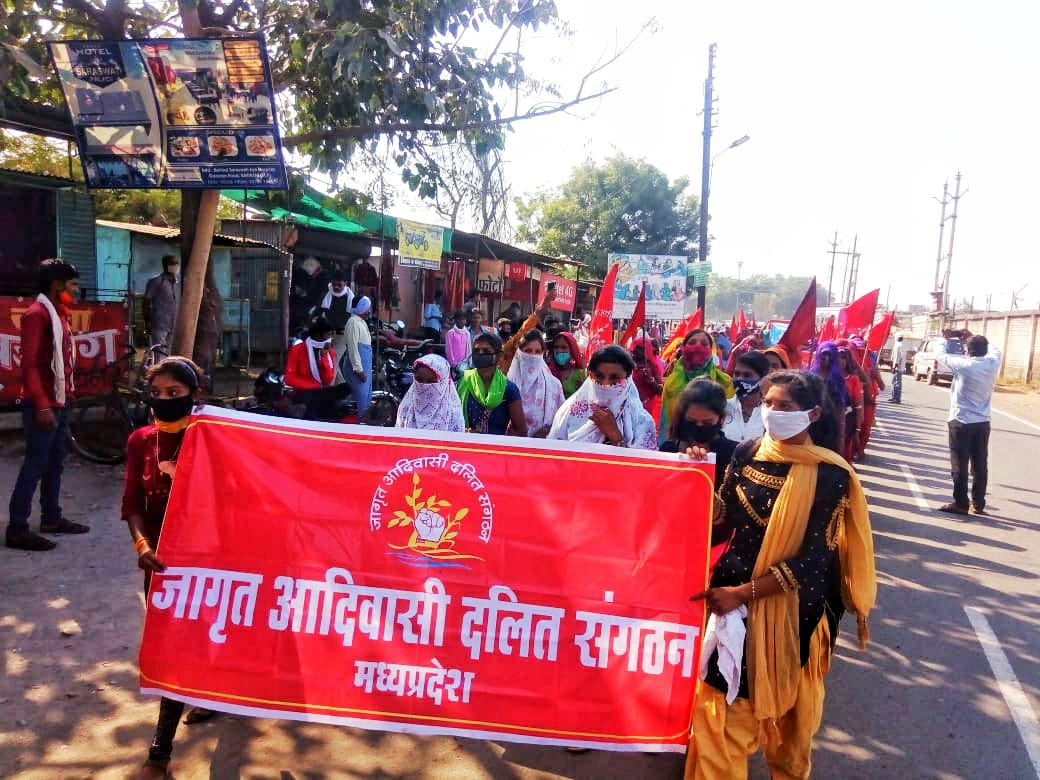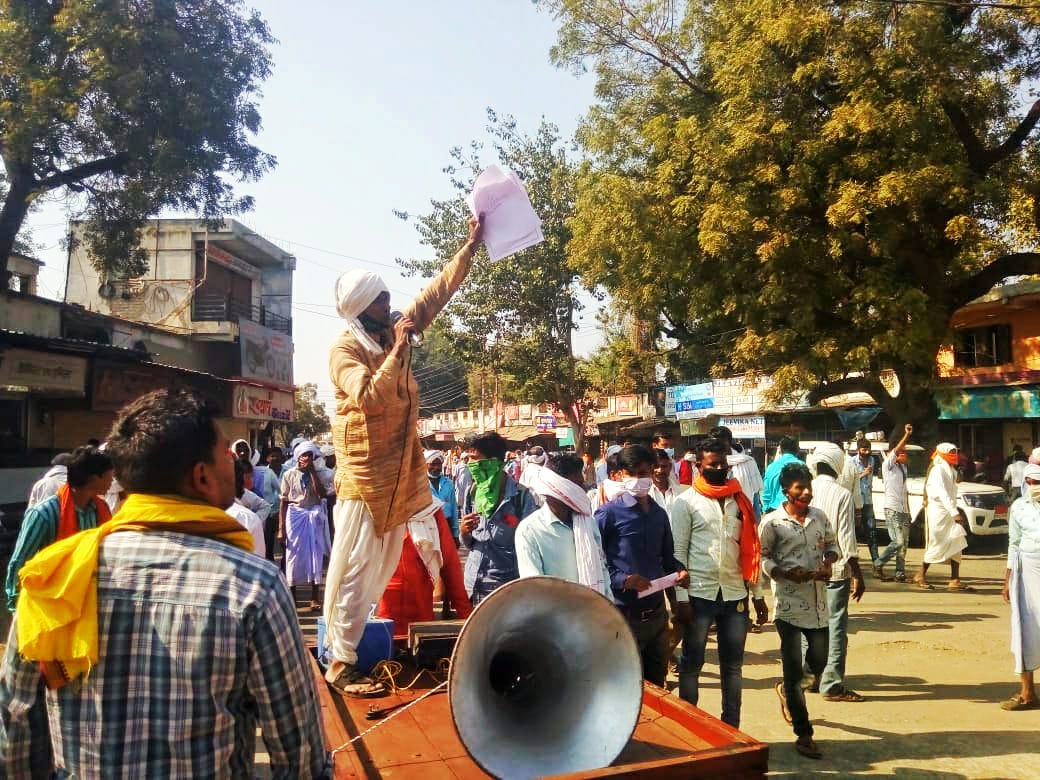 They called for a repeal of the three anti-farmer laws as well as the Electricity Bill. Further, they condemned the state government for the deteriorating quality of education during the Covid-19 pandemic as well as the administration's move to hand over 40 percent of the state's forests to corporates. While demanding full forest rights, they assured that members would observe more protests in coming days.
Earlier, All India Union of Forest Working People's (AIUFWP) Deputy General Secretary Roma Malik joined protesting farmers at the Singhu border where she promised that members would join farmers in their movement to assert their rights.
"You [all farmers] have started a wonderful defiance against the Modi-government who are repressing minorities. We, Adivasis, who are still fighting for our rights, promise to participate in future protests," she said.
The AIUFWP has stood alongside Indian farmers ever since the second nationwide protests. On November 25, AIUFWP's General Secretary Ashok Choudhary said, "The laws passed by the central government are a direct attack on peasants, workers and the sovereignty of India under the current right-wing neoliberal regime. The AIUFWP strongly supports farmers, trade unions and informal sector participating against Anti-Farmers act and Anti-Labour reforms."
Similarly, Tamil Nadu's student group Chinta Bar in a Facebook post strongly condemned right wing trolls' attempts to disrupt online talk between All India Kisan Sabha (AIKS) leader Dr. Vijoo Krishnan and the Ambedkar Periyar Study Circle (APSC).
"The talk was on the farm bills and the ongoing farmer's protests. It is an utter shame these groups and individuals have stooped to such an extent to create ruckus during a peaceful and democratic discussion. It should also be noted by such disruptive forces that their acts will not intimidate any of the progressive minded sections … We express our solidarity with the Ambedkar Periyar Study Circle, IIT Madras and shall stand in support with them against these forces," they said.
The full post may be viewed here.
Along with various marginalised sections of society, as many as 111 Armed Forces Veterans expressed solidarity with peacefully protesting farmers.
"The purpose of this statement is to inform protesting farmers that Armed Forces Veterans unconditionally and unequivocally support their rightful demands being conveyed in a democratic and peaceful manner. We condemn the use of force on farmers with tear-gas and water-cannons. In the larger interest of maintaining the integrity of the social fabric of our country, we strongly urge the Government to accept the demands of agitating farmers and agitating workers," they said.
Farmers persevere
After inconclusive meetings with the central government, farmers have now called for a boycott of all Reliance Jio products along with announcement of future protests. They are demanding the withdrawal of the Farmers' Produce Trade and Commerce (Promotion and Facilitation) Act, the Farmers Empowerment and Protection) Agreement on Price Assurance and Farm Services Act and the Essential Commodities (Amendment) Act. Sabrang India analysed the three laws and found loopholes within the policies such as farmers' inaccessibility to civil courts.
Related:
Are the new farm laws constitutional?
Farmers reject government's repackaged old amendment proposal
Farmers' Protest: International pressure mounts on India
MSP for farmers: Exposing the lies of the Modi government
'Samundar Bandh' if gov't does not listen to farmers: Fishworkers show solidarity
Farmers fight corporates, remove central government middlemen