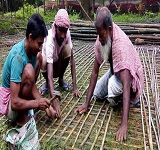 Women take part in the rituals in Khidirpur
http://www.thehindu.com/todays-paper/tp-national/durga-puja-brings-together-muslims-hindus-in-kolkata/article19765909.ece
Kolkata, September 28, 2017 00:00 IST

In Kolkata's minority-dominated Khidirpur, the Durga puja has been jointly organised by Hindus and Muslims for over 70 years now. Sitting on an unsteady plastic chair inside a cramped room, Seikh Jahangir speaks passionately about the event. As he wipes sweat off his forehead, Mr. Jahangir keeps fiddling with the subscription slips in his hands. They are still collecting funds.
"All the Muslim women in the neighbourhood take part in the rituals, such asboron(welcoming the goddess), as well as immersion," says Mr. Jahangir, secretary of the puja committee. They also prepare the offerings to the goddess. Out of the 28 members in the puja committee, 25 are from the minority community.
Mr. Jahangir is unemployed but determined to overcome his financial constraints and make the 2017 puja a success. He is the third person in his family to head the Durga puja committee, known as Five Star Club Sarbojonin (community) Durgotsav.
"My grandfather and father were also secretaries of the puja committee. We don't see Durga puja as a festival of another community, but as a festival of harmony and togetherness," says Mr. Jahangir, as his friend and another member of the Puja committee, Bikash Roy, looks on.
Meals for Muharram
During Muharram, the participants in the religious procession, which starts about a few yards away from the Puja pandal, are offered meals by the organisers before they set off.
"There is a club just beside ours, where all the members are Muslims and take out processions on Muharram every year. Like always, this year also we will take part in Durga puja and Muharram together," says Mr. Roy. He points to the drums on top of a cupboard in the corner of the room. "We are also preparing for Muhurram," he says.
However, the organisers are unsure whether they will be able to continue the puja next year as they are facing acute fund constraints.