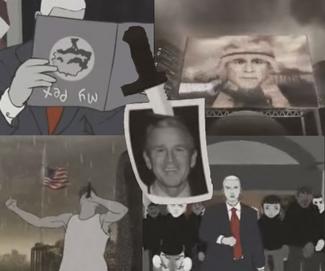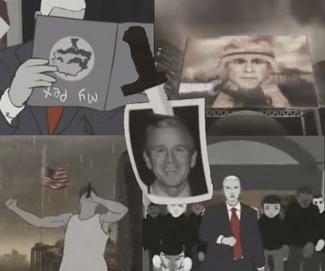 October 28, 2004
by The Nation
Has Eminem – the poster child of American disenchantment – become the new face of activism?
Those who are accustomed to Eminem's gay-bashing, gun-toting antics will hardly believe their eyes as they watch his new video in which the top-selling rapper and his posse file into the voting booths, the words "Vote Tuesday, November 2" fading into the screen.
Mosh could well be one of the most overtly political pop music videos ever produced, and is easily the most direct anti-Bush cultural statement since Michael Moore's Fahrenheit 9/11. Although the video debuted just a week before the election, it could have an unprecedented cultural and political impact, coming from the top-grossing rap star in America, and one of the seminal pop icons of the last decade.
The largely animated video begins with a suited Eminem reading "My Pet Goat" upside down to a classroom full of children. Moments later, however, Eminem shifts from his usual mode of sarcastic critique to lyrics reflecting sincere political passion.
We see him shadowboxing in front of a wall plastered with newspaper headlines such as "Bush Knew," "Bush Declares War," "Congress OKs $87 Billion" and "Blechtell" (sic). We see a soldier coming home from the war, only to find his wife holding out a letter stating "Private Kelly, You Have Been Re-Assigned to Iraq." When the soldier reads the notice, his eyes shift from shock, to fear, to outrage, as he emphatically mouths "F**k Bush." Later, we see a woman opening an eviction notice while her children watch Bush talking about "tax cuts" on television.
Mosh's brooding beat elevates the song's sense of urgency. "Let the President answer on high anarchy/Strap him with an AK-47, let him go/Fight his own war/ Let him impress daddy that way/No more blood for oil, we got our battles to fight on our own soil," he shouts.
As Eminem and his battalion of urban foot soldiers march through the rain-soaked streets, there is a sense that an epic battle is imminent. He rallies the troops – "let us…set aside our differences, and assemble our own army, to disarm this weapon of mass destruction that we call our President" – but his army eventually shuns violence for the voting booths.
Critics – especially from the right – will dismiss Mosh as a shrewd attempt to boost record sales by capitalising on the tide of anti-Bush populism. Yet, Eminem has truly made a leap with Mosh. In his first four albums – despite pointing out the absurdities of American politics and culture – his mantra, ultimately, was "I just don't give a f**k." Never before has he advocated for political change. Even if the song's late arrival gives it a limited impact on the vote, Eminem's pronounced political shift should send shivers through the largely unchecked right-wing establishment.
(Sam Graham-Felsen, a Nation intern in fall 2004, is the author of the blog www.boldprint.net).
© Copyright 2004 The Nation
http://boss.streamos.com/real/interscope/eminem/encore/video/mosh-rev/00_mosh-rev.ram
Lyrics – 'Mosh' by Eminem
(I pledge allegiance to the flag of the United States of America
And to the Republic for which it stands
One nation under God
Indivisible
It feels so good to be back…)
Scrutinise every word, memorise every line
I spit it once, refuel, reenergise, and rewind
I give sight to the blind, mind sight through the mind
I ostracise my right to express when I feel it's time
It's just all in your mind, what you interpret it as
I say to fight you take it as I'm gonna whip someone's ass
If you don't understand don't even bother to ask
A father who has grown up with a fatherless past
Who has blown up now to rap phenomenon that has
Or at least shows no difficulty multi task
And juggling both, perhaps mastered his craft slash
Entrepreneur who has held long too few more rap acts
Who has had a few obstacles thrown his way through the last half
Of his career typical manure moving past that
Mister kiss his ass crack, he's a class act
Rubber band man, yea he just snaps back
Come along, follow me as I lead through the darkness
As I provide just enough spark, that we need to proceed
Carry on, give me hope, give me strength,
Come with me, and I won't steer you wrong
Put your faith and your trust as I guide us through the fog
Till the light, at the end, of the tunnel, we gonna fight,
We gonna charge, we gonna stomp, we gonna march through the swamp
We gonna mosh through the marsh, take us right through the doors
To the people up top, on the side and the middle,
Come together, let's all bomb and swamp just a little
Just let it gradually build, from the front to the back
All you can see is a sea of people, some white and some black
Don't matter what colour, all that matters is we gathered together
To celebrate for the same cause, no matter the weather
If it rains let it rain, yea the wetter the better
They ain't gonna stop us, they can't, we're stronger now more then ever,
They tell us no we say yea, they tell us stop we say go,
Rebel with a rebel yell, raise hell we gonna let em know
Stomp, push up, mush, f**k Bush, until they bring our troops home come on just…
Come along, follow me as I lead through the darkness
As I provide just enough spark, that we need to proceed
Carry on, give me hope, give me strength,
Come with me, and I won't steer you wrong
Put your faith and your trust as I guide us through the fog
Till the light, at the end, of the tunnel, we gonna fight,
We gonna charge, we gonna stomp, we gonna march through the swamp
We gonna mosh through the marsh, take us right through the doors, come on
Imagine it pouring, it's raining down on us,
Mosh pits outside the oval office
Someone's trying to tell us something, maybe this is God just saying
we're responsible for this monster, this coward, that we have empowered
This is Bin Laden, look at his head nodding,
How could we allow something like this, Without pumping our fist
Now this is our, final hour
Let me be the voice, and your strength, and your choice
Let me simplify the rhyme, just to amplify the noise
Try to amplify the times it, and multiply it by six
Teen million people are equal of this high pitch
Maybe we can reach Al Quaida through my speech
Let the President answer on high anarchy
Strap him with AK-47, let him go
Fight his own war, let him impress daddy that way
No more blood for oil, we got our own battles to fight on our soil
No more psychological warfare to trick us to think that we ain't loyal
If we don't serve our own country we're patronising a hero
Look in his eyes, it's all lies, the stars and stripes
They've been swiped, washed out and wiped,
And Replaced with his own face, mosh now or die
If I get sniped tonight you'll know why, because I told you to fight
So come along, follow me as I lead through the darkness
As I provide just enough spark, that we need to proceed
Carry on, give me hope, give me strength,
Come with me, and I won't steer you wrong
Put your faith and your trust as I guide us through the fog
Till the light, at the end, of the tunnel, we gonna fight,
We gonna charge, we gonna stomp, we gonna march through the swamp
We gonna mosh through the marsh, take us right through the doors
(Eminem speaking angrily)
And as we proceed, to mosh through this desert storm, in these closing statements, if they should argue, let us beg to differ, as we set aside our differences, and assemble our own army, to disarm this weapon of mass destruction that we call our president, for the present, and mosh for the future of our next generation, to speak and be heard, Mr. President, Mr. Senator
http://boss.streamos.com/wmedia/interscope/eminem/encore/video/mosh-rev/00_mosh-rev.asx
Archived from Communalism Combat, October 2004 Year 11 No.102, Forum 3