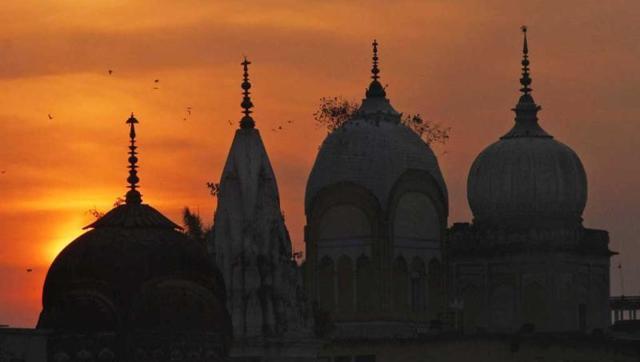 Photo Courtesy: AP
Hindustan Times, Anil Kumar Ojha, Gaya
Updated: Apr 14, 2016 15:39 IST
http://www.hindustantimes.com/india/gaya-mosques-to-provide-water-to-ramnavami-devotees/story-FZ2nmCGbPwANqWw57EnpYJ.html

Time and again, people in the heritage city of Gaya have proved their credentials in spreading communal harmony.
Setting yet another example of religious tolerance, city mosques here on Friday will offer water to devotees taking part in Ramnavami processions and help them beat the heat.
The imams of all important mosques conveyed this decision to Gaya senior superintendent of police (SSP) Garima Mallik during a meeting here.
The SSP had called a meeting with imams, maulavis and intellectuals of the minority community to seek their cooperation in maintaining law and order during the religious processions.
It is not for the first time that such a goodwill gesture would be seen here. About two years ago, Jagadguru Swami Raghwacharya, then Mahanth of Vaishnavite Ramanujacharya Math, had offered accommodation and food to Haj pilgrims arriving at Gaya to board Jeddah-bound flights. Reciprocating the gesture, imams had offered similar facilities to Hindu pilgrims coming here during the Pitrapaksh Mela.
During the meeting with the SSP, the imams not only agreed to the proposal of the police to maintain the social fabric of Gaya, but also offered 'khidmat' (service) to devotees. "We will ensure drinking water facilities to devotees," they said.
"When Muslims prepare Ramnavami flags and incensed sticks for the festival, why should they shy away from extending cooperation to the procession," said Nauagarhi Khankah imam Ahamad Sujail. Almost similar views were expressed by maulana Farooque Kasmi of Munni Masjid and Sawarat Hussain of Peer Mansoor mosque. The imams also agreed to remain on roads during the procession to maintain peace and harmony.
The SSP, who has been holding meetings of peace committees on a regular basis, said close vigil would be kept on trouble-makers during the processions.