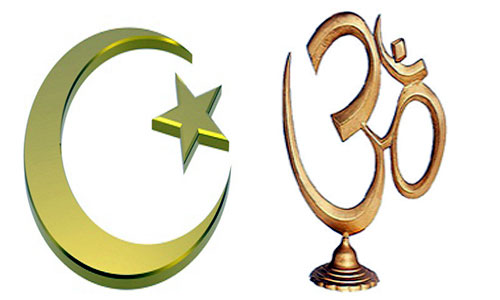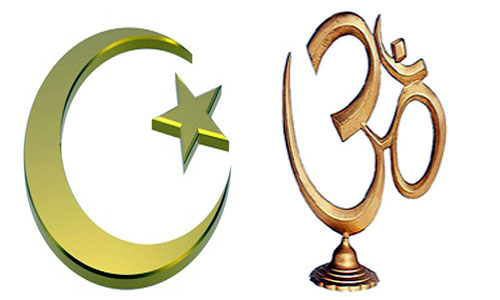 Wisdom flows on the waters of the Ganga.
When the World Cup final was underway in Mumbai, I was ensconced on a beautiful bajra, a traditionally bedecked boat in Varanasi, immersed in the musical genius of thumri singers of the Benaras school. In other words, I spent much of the evening in the middle of the serene Ganga, listening to exquisite renditions of thumri, dadra and chaiti by some of the highly talented artistes of this genre.
Though they are not as well known as their gurus yet, most of the performers were disciples of the legendary Girija Devi, Begum Akhtar and Siddheshwari Devi. Girija Devi was there to revel on the magical journey that was organised by the Delhi-based VSK Baithak, a major patron (organisation) of music even if they are mostly partial to the khayal gayaki (style).
This was my lucky escape from the madness that passed for cricket that fortnight. And I am happy that I slept through nearly all of the deafening India-Pakistan match and found Girija Devi's company to escape the final. My decision was vindicated by the turn of events.
Pakistan's cricket icon Shahid Afridi has been rowing back and forth over his confused views about Indians and, by implication, Hindus. He has tried to deny how he disparagingly told a TV channel at home that Indians could never be as large-hearted as Pakistan's Muslims. Why did he have to say something so contrary to his post-match comments in Mohali just a few days earlier? Did he not play the Wasim Akram-led test match that Pakistan won in Chennai when the Indians stood up to heartily applaud the winners?
In Mohali, in spite of losing the coveted match, which four of his fielders should be held accountable for, Afridi had come out as a winner with his dignity in defeat. Then he proceeded to make a hash of it back home with his wayward views about his neighbours' cultural traits.
So which Pakistani Muslims are generous and large-hearted in Mr Afridi's opinion? Those that prostrated in submission at the Lahore shrine of Data Ganj Baksh or those that bombed it and killed scores of worshippers there? They both are Pakistanis and presumably Muslims. A high-ranking Pakistani died tending to a hapless Christian woman's right to equal and fair justice but his killer is as popular, if not more, among Afridi's fellow Pakistanis. Which Pakistani and which Muslim is Afridi's role model?
The virus of bigotry is not new or peculiar to Pakistan. In the 1950s mullahs of Lucknow tried to make an example of the great Urdu poet Yas Yagana Changezi by parading him, with a garland of shoes, astride a donkey. Changezi's celebrated couplet is relevant to the Hindu-Muslim discourse kicked off by Afridi's stray remark. What riled the mullahs was this Yagana verse:
"Sab tere siwa kafir, aakhir iska matlab kya?
Sar phira de insaan ka aisa khabt-e-mazhab kya?
(Everyone is a kafir except you, does that make any sense at all?
What is it if not bigotry, that revels in your rise and another's fall?)"
Afridi, of course, is too much of a genial, fun-loving Pathan who makes a competitive, often pugnacious cricketer. It is perhaps unfair to bracket him with religious or nationalist zealotry; yet he must be accused of displaying considerable ignorance. It was naďve of him, for example, to turn a cricket ground into a prayer hall where his team offered namaaz before a grateful gaggle of TV journalists.
Can you imagine the obverse? I would dread the thought of Indian players performing a mass puja with conch shells before a match. In any case, whenever I travel by PIA, I laud my luck that Indian commercial flights do not as yet take off to the recitation of Vedic shlokas.
Of course, Afridi is not alone in wearing the badge of religion and nationhood to the detriment of the sport that gave him his identity. Equally jarring was the news of Indian skipper Mahendra Singh Dhoni's tonsured head, which reports said was carried out as a promised sacrifice to a deity after he lifted the World Cup.
More worrying are the news stories since the Mumbai win of his eagerness to join the Indian Territorial Army and, together with Sachin Tendulkar, their plan to fly Sukhoi warplanes as an advertisement for the Indian military. The Indian Air Force has accorded them the rare privilege.
But what does it all signify – that sports champions are incomplete without a macho, military facet to their personality, which comes in handy in a contest against a perceived enemy. (I hear that the Chinese cricket team is all but ready to make its appearance on the international stage; what then?) In a display of nationalist rush of blood, Gautam Gambhir, a first-rate cricketer in any format of the game, spoilt it for himself. He committed his innings in Mumbai to the victims of the 26/11 carnage. Suppose a Sri Lankan cricketer had stepped forward with a similar commitment to the rout of the Tamil Tigers?
Add to this the filthy display of money-power that was unique to this World Cup. India is dripping with corruption. Its hosting of the recent Commonwealth Games is less remembered for the records broken, more for the loot and plunder by the organisers. The arrival of the Indian Premier League as a private sector initiative has only increased the involvement of tycoons and dubious money. A minister was forced to resign last year for alleged involvement with the tournament. An inquiry is underway to weed out corruption in the IPL.
Clearly, the fabled billion people of India, many of them starving, could not be applauding cricketers being pampered with fantastic sums of money. The government does not have enough money to feed the poor, or send children to school, but it lavishes crazy amounts on cricketers. The vulgarity borders on criminality and comes close to the standards first set by Dawood Ibrahim and his smuggling syndicate in a Gulf state in the 1980s.
I would have loved to take Afridi along to my Benaras soirée. I would have loved to share with him Mirza Ghalib's famous tribute in Persian to the holy city.
"Where autumn turns into the touch of sandal
On fair foreheads,
Springtide wears the sacred thread of flower waves,
And the splash of twilight is the crimson mark
of Kashi's dust on heaven's brow.
The Kaaba of Hind;
This conch-blower's dell."
This article was published on Dawn.com on April 7, 2011
Courtesy: Dawn; www.dawn.com
Archived from Communalism Combat, May 2011 Year 17 No.157-Ethos