Muslims from Sheikhpura village in Malda, West Bengal, including the local imam and haji, remind us of the India Hindutva seeks to destroy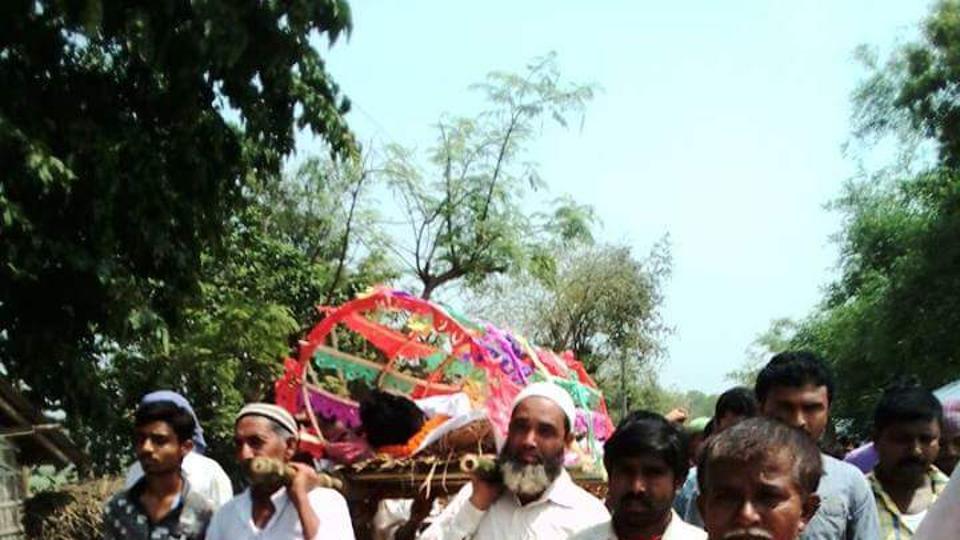 Muslims of Sheikhpura carrying the body of Biswajit Rajak to the crematorium. Photo credit: Hindustan Times
Sheikhpura is a village in Manikchakpura block, Malda district, West Bengal on the India-Bangladesh border. The entire population of over 6,000 in the village is Muslim except for two Hindu families. One of them is the family of 35-year-old Biswajit Rajak who died due to liver cancer on Monday. The Rajak family is so poor that they were unable to pay the crematorium charges for the last rites for Biswajit.
That's when the Muslims of Sheikhpura came forward to set an example all Indians could learn much from. They gathered at the house of the deceased and requested his father Nagen Rajak to allow them to cremate his son.
They collected money for the last rites from Muslims in the village, walked 3 kms. carrying Biswajit's body on their shoulders, chanting 'Hari Bol' all the way to the crematorium.
 They participated in all the traditional Hindu rituals, collected the ashes for immersion in the nearby river, took a dip after the cremation before returning to their village. Even the local molvi joined others in walking to the crematorium.
Earlier Sheikhpura's Muslims had also collected money for sending Biswajit to a hospital in Kolkota for treatment.
"I had neither the money nor the manpower to take my son to the crematorium. I don't know what would have happened if the villagers didn't come forward for the last rites of my son," Biswajt's's father, Nagen Rajak, told the
Hindustan Times
with tears streaming down his eyes.
"No religion preaches hatred towards others. Biswajit was like our brother. Allah wouldn't have forgiven us if we looked the other way thinking that the family follows some other religion," Haji Abdul Khalek, who took the lead in arranging the last rites told the
Hindustan Times
.
"The common people are not really bothered. Helping a family in distress and chanting some Hindu names can't take away my religion," said Ayesh Ali, a villager who participated in the last rites.
This proves the exemplary brotherhood between the Hindus and Muslims in our country," remarked the
saha-sabhadhipati
of the Malda zilla parishad Gour Chandra Mondal, who went to the crematorium.