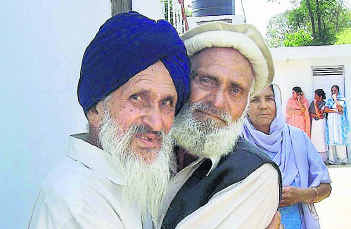 Representational image. Photo credit: Langar Halll
The Sikhs of Joshimath, an important place tor Hindu and Sikh pilgrims spot on the route to the holy Badrinath shrine and the Hemkund Saheb in the Himlayas set a fine example of inter-religious amity on Saturday.
With the local Eidgah ground flooded due to incessant rainfall in Uttarakhand, the Muslims of Joshimath were at a loss as to where to offer their congregational Bakrid prayers. That's when they approached the local Sikhs who immediately offered their spacious gurudwara hall to the Muslims.
"Be it Hindus, Sikhs or Muslims we have a strong bonding in Joshimath. The senior management from the Gurudwara sahib and the Muslim community held a short meeting on Saturday morning and made quick arrangements for the prayers," Buta Singh, manager, Shri Hemkund Sahib Gurudwara, told the
Hindustan Times
on phone.
More than 500 Muslims offered Namaaz in the retiring hall of the gurdwara, he added.
This incidentally is not the first time. On August 20, 2012 too Muslims had been permitted to pray in the same hall.
"Though we keep hearing stories about growing hatred in the society, by Allah's grace we never witnessed such negative things here," Rais Ahmad (50) told the
Hindustan Times
.     
Mohammad Aslam, who sells vegetables in Joshimath, told the
Times of India
, "We are deeply touched. This act by the gurdwara committee displays the true spirit of brotherhood. They saw to it that we were given proper space and time for the namaaz. We are extremely happy. This is something to be emulated by everyone."
Inspector Kumar added, "While a substantial number of Muslims here keep shuttling between Bijnor, Saharanpur, Nazibabad and Moradabad, some of them are permanently based in Chamoli district. Muslims in the hill district are mostly small traders and vegetable sellers." He pointed out that in the absence of a mosque, Muslims had nowhere to go for namaaz after Gandhi Maidan was inundated. "That's when the Sikhs came in."