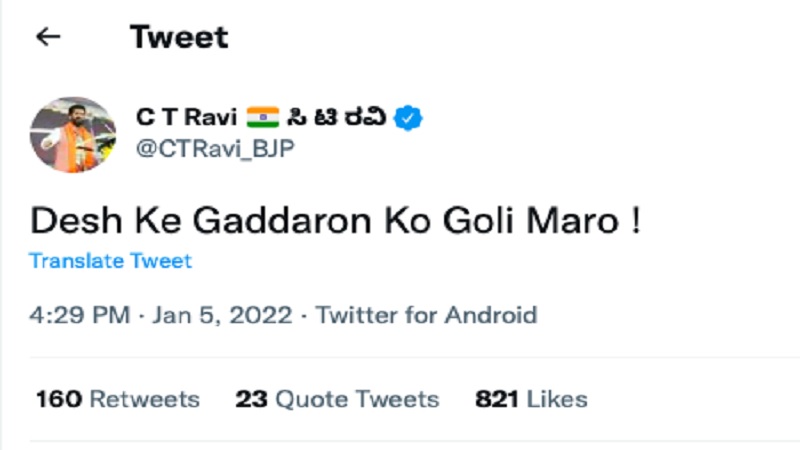 Chikkamagaravalli Thimme Gowda Ravi, better known on social media as CT Ravi has just given a call for violence on Twitter saying, "Desh ke gaddaro ko goli maro!" (shoot the traitors).
Desh Ke Gaddaron Ko Goli Maro !

— C T Ravi ?? ಸಿ ಟಿ ರವಿ (@CTRavi_BJP) January 5, 2022
CT Ravi is a National General Secretary of Bharatiya Janata Party and is four-time legislator from Chikmagalur Constituency of Karnataka. He has been Minister of Tourism of Karnataka (2019–2020), and Minister of Kannada and Culture of Karnataka (2019–2020). With this hate speech, he joins the ranks of his party colleagues who have used the slogan to fuel communal hate amongst the masses.
The slogan was first made famous by his fellow partyman Anurag Thakur and Parvesh Verma in January 2020, who had first used the slogan, "Desh ke gaddaron ko, goli maaro s***on ko" as a virtual war cry against people protesting the Citizenship Amendment Act (CAA). Since then, the hateful slogan has taken a life of its own, often chanted by right-wing mobs. It was used as recently as December 2021 by right-wing groups protesting namaz by Muslims in Gurugram.
Related:
"Shoot the traitors" slogans raised in Gurugram
Hate Speech: The worst words of 2021, we hope do not spill over into 2022
Hate Watch: Communal "shoot the traitors" slogans raised against Christians in Delhi