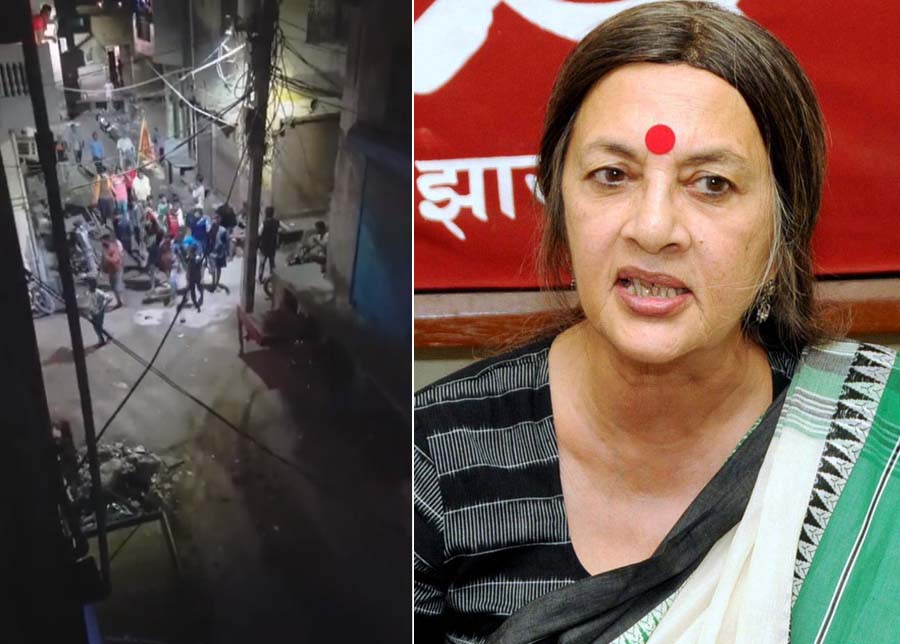 Groups chanting 'Jai Shri Ram, Har Har Mahadev' as war cries, have once again begun roaming after dark in Shiv Vihar, area of North East Delhi. Disturbing videos, filmed by local residents, have been shared by CPI(M) Polit Bureau Member Brinda Karat with the Commissioner of Delhi Police, SN. Srivastava, to draw his urgent attention to these disturbing incidents.
The processions, as seen in the videos include mostly men, some women, and even young children and are heard screaming 'Jai Shri Ram, Har Har Mahadev' aggressively as they walk down the lanes of Shiv Vihar, North East Delhi. As it is a comminaly sensitive area, and is yet to emerge from the aftermath of the anti-Muslim riots that took place here in February 2020, Brinda Karat has requested the police commissioner to take appropriate action against such moves which can have dangerous consequnces if they flare up into communal confrontations.
This is the video
The processions that took place on the night of September 15, do not seem to have any permission, nor do they look well planned to celebrate any religious festival or occasion. The men are carrying a saffron flag and screaming slogans loudly, as residents look on quietly from their doorsteps. Some walk away on seeing the men at the end of the lane.

This is the text of Brinda Karat's letter:
Shri S.N.Srivastava,
Namaskar. This is to draw your attention to some disturbing incidents in Shiv Vihar which could have harmful consequences. Groups of young men have taken to roaming around in groups after dark shouting slogans like Jai Shri Ram, Har Har Mahadev and so on. This is not connected to any religious function. You are aware that this was the area where minority communities were attacked, homes burnt and families were forced to take shelter in relief camps. It is only now that they are returning to their homes, many of which are still not repaired. In such a situation for such processions to be organised without police permission are objectionable and need to be stopped forthwith.
I have also spoken to Addl CP Shri Alok Kumar about this and sent him the video images, which I also enclose here. They are of happenings on Tuesday Sept 15. You will appreciate that those who have informed me of this may not like to approach the police directly as they are afraid of repercussions.
Confidence building measures are an immediate requirement in the area, for which a first step would be to ensure such processions are stopped.
I hope you will take appropriate action.
Your sincerely,
Brinda Karat
According to a report in The Hindu, in these riot-affected areas of Shiv Vihar, which has a large number of Muslim residents, such processions of men shoutig 'jai sree ram' amd other religious slogans, carrying saffron flags "has become a common sight in the past few days."
The Hindu quotes a resident, Neha Fareen, saying that "for the past 15-20 days, groups of boys chant Jai Shree Ram especially on Tuesdays near Madina Masjid. This happens during the evening Namaz as if they want to provoke and intimidate people".
Locals reached out to the policemen, who patrol near a school in the area. The officers said 'why are you bothered… let them'," she told TH, adding that the police were then informed on the emergency number after a team reached the spot.
Related:
Dialed 100 repeatedly, got no answer: Delhi riot survivor
North-East Delhi Riots: Minorities Commission investigations reveal role of Delhi Police, politicians
The ruling is surprising and disappointing: Brinda Karat on Hate Speech Case