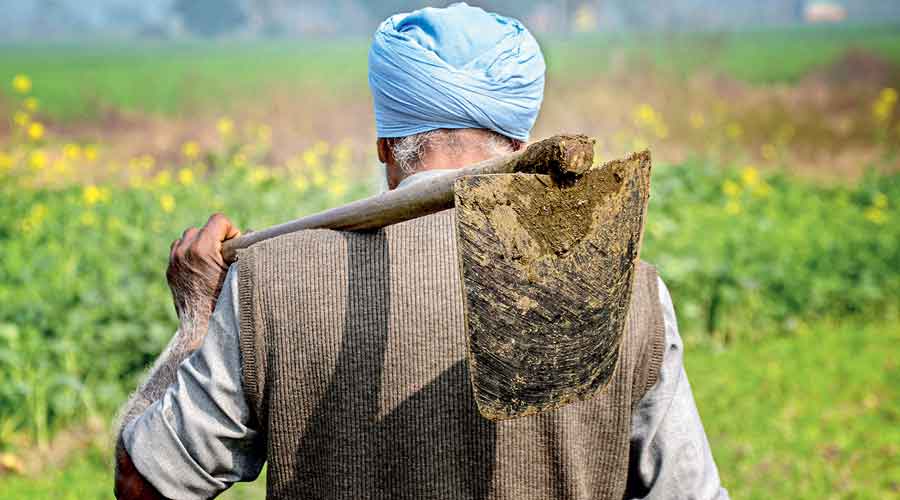 Image: PTI
Budget allocation for Agriculture and Allied Activities reduced to 3.8 percent of the total budget in 2022, from 4.3 percent of the total budget in 2021. This is a source of anguish for farmers and farmers' organisations across India. The umbrella body Samyukta Kisan Morcha (SKM) went so far as to call it a central government move to punish farmers for the success of the farmers' struggle.
The Budget announced by Finance Minister Nirmala Sitharaman on February 1, 2022, left many key public welfare related sectors wanting in terms of funds. Despite claims that the Budget "seeks to lay the foundation and give a blueprint to steer the economy over the Amrit Kaal of the next 25 years – from India at 75 to India at 100", sectors like healthcare, farming and even pharmaceutical industry complained of severe dearth of required funds.
Calling the Centre a "callous government" even economist Santosh Mehrotra expressed his impression of the Budget saying, "The Government of India ignored agriculture. As it ignored health. They ignored much else. It is a mid-term budget. Next year they will be more careful… Most careful in 2024."
According to Mehrotra, the annual budget is supposed to guide the country and relevant departments on the priorities of government policy in the absence of a five-year plan. It is with this same perspective that farmer unions like the Jai Kisan Andolan (JKA) among others have condemned the shortcomings of the budget.
Failures in budget
Other than the reduced budgetary allocation, the allocation for rural development was also reduced from 5.59 percent to 5.23 percent. Members pointed out that the government's contribution to the Agriculture Investment Fund reduced from ₹900 crores last year to ₹500 crores this year. The much-celebrated Fund has spent only ₹2,400 crores out of its ₹ 1,00,000 crores so far.
JKA Founder Yogendra Yadav said, "With this anti-farmer budget, the Union government has yet again betrayed farmers. It has conveniently forgotten about doubling farmers income, while making alarming cuts to the budgetary allocation for agriculture and related schemes."
Similarly, the allocation for PM ASHA scheme was reduced from ₹ 400 crores to only ₹ 1 crore for this year. PSS and MIS schemes allocation, meant for ensuring Minimum Support Price (MSP) for crop, reduced from ₹ 3,595 crore last year to ₹ 1,500 crore.
In terms of government assistance to cooperatives, Farmer Producer Organizations allocations went down from ₹ 700 Cr to ₹ 500 Cr. In the last fiscal year, farmers also received a ₹ 700 crore allocation to avert stubble burning. The same was scrapped this year. Further, the money of Kisan Samman Nidhi was decreased by 15 percent due to inflation but the budget did not address this.
Amidst all this, unions also raged against the government's continued silence on the demand for making MSP a legal right.
Decreased allocation for MSP
Last year ₹ 2.87 lakh cr were spent on procurement of 1,286 lakh tonnes of food grains at MSP. This year, the expenditure was reduced to ₹ 2.37 lakh cr and procurement was decreased to 1,208 lakh tonnes.
Accordingly, the SKM pointed out that the government has not formed a committee for MSP, even after 50 days of its written promise. It questioned why the Budget speech mentioned only procurement for paddy and wheat from 1.63 crore farmers – about 10 percent of all farmers – when farmers had asked for MSP for all crops.
"While the Finance Minister proudly declared that the procurement of wheat and paddy in 2021-22 "will cover 1,208 lakh metric tonnes of wheat and paddy from 163 lakh farmers, and 2.37 lakh crore direct payment of MSP value to their accounts," these figures are a serious reduction compared to 2020-21, when 1286 lakh metric tonnes were procured from 197 lakh farmers, and ₹2.48 lakh crores were paid to the farmers," said SKM Darshan Pal.
He also pointed out that the number of farmer beneficiaries in 2021-22 has fallen by 17 percent and the quantity procured has fallen by 7 percent from 2020-21.
Further, JKA Vice President Deepak Lamba condemned the government for slashing procurement of millets and discouraging millet cultivation while announcing Millet Mission in the International Year of Millet.
Meanwhile, the All India Kisan Sabha said the allocation for procurement to the Food Corporation of India (FCI) and under decentralised procurement Scheme has actually been reduced by 28 percent. This along with inflation will lead to a significant decline in procurement in 2022-23.
"Allocation of funds for fertiliser subsidy has been reduced by 25 percent. Coming as it does when fertiliser prices are shooting up, this is going to have an adverse impact on productivity," said AIKS General Secretary Hannan Mollah.
The SKM also spoke about the allocation for the Price Support Scheme-Market Intervention Scheme at ₹1500 cr this year, whereas the actual expenditure last year was ₹3,596 cr.
"These amounts are paltry compared to anywhere between ₹50,000 to 75,000 crores which is the estimated shortfall between MSP and the actual price obtained by the farmers in the markets nationwide," said Darshan Pal.
Shocked responses to MGNREGS funds
Another point of contention for farmers was the allocations for MGNREGS. The actual expenditure in 2020-21 was ₹1,11,169 crores, the revised estimate in 2021-22 was ₹98,000 crores while the budget allocation for 2022-23 has been reduced to ₹73,000 crores, whereas it should have been further strengthened.
According to the AIKS, around ₹2.64 lakh cr including arrear clearances of about ₹ 21,000 cr is required to ensure 100 days per household under MGNREGA.
"Clearly, the poor agricultural labourers are not a priority for the BJP Government. The Union Budget will only widen inequalities, increase poverty, unemployment and hunger," said AIKS President Ashok Dhawale.
Mehrotra said that notified MGNREGA wage rates increased by 4 percent between FY 2020-21 and FY 2021-22. However, actual wages remained lower than the notified rates in most states till December 31, 2021. This means that around 91 lakh households that demanded work had not yet received it until the last day of 2021.
What happened to doubling incomes?
Since February 2016, farmers have been waiting for doubled incomes after every six years. However, Sitharaman did not mention this promise during Tuesday's budget speech, much to farmer's ire. As per the Doubling of Farmers' Income report, the farm household income for 2015-16 was ₹8,059. The government promised to double this in real terms, taking inflation into account i.e., ₹21,146 in 2022.
Yet, the NSSO 77th Round showed that in 2018-19, the average farm household income was only ₹10,218. Referring to the growth rate of GVA in agriculture for next 3 years, the 2022 income is still below ₹12,000 per month.
Another concern voiced by farmers is that most of the important schemes have proved to be disappointing. For example, the AIKS said the allocation for Pradhan Mantri Fasal Bima Yojana was ₹ 16,000 cr in the last Budget but was reduced to ₹ 15,500 cr this year. Many states including Gujarat, West Bengal, Telangana, Andhra Pradesh and Tamil Nadu withdraw from this scheme.
Likewise, the allocation for PM-KISAN is 9 percent lesser than what was originally announced at its inception in 2019. The PM-KISAN scheme was declared to begin with 12 cr farmers and expand coverage to 15 cr farmers. Even after 3 years, it has only reached 11 cr farmers with an allocation of ₹68,000 cr.
Another scheme, PM-Krishi Sinchai Yojana, had an allocation of ₹ 4,000 cr in 2021-22 but had an expenditure of only ₹ 2,000 crores. This year, it has been subsumed under an expanded umbrella of Rashtriya Krishi Vikas Yojana (RKVY). The scheme itself had an allocation of ₹ 3,712 cr last year out of which only ₹ 2,000 cr were spent.
As for crop husbandry allocation, it was cut by ₹ 26,000 crores (18 percent) while allocation for food storage and warehousing was reduced by ₹ 84,000 crores (28 percent).
"On the whole, this Budget has shown that the Government does not care about the welfare of farmers despite the jumla of adding 'Farmers Welfare' to the name of its Ministry. It is as if the government, smarting under its defeat on the three anti farmer laws, is out to take revenge on the farmer community," said the SKM.
Denouncing the "anti-farmer" budget, it called upon farmers to prepare for another massive struggle.
Related:
Farmers protest resume on Vishwasghat Diwas
Farmers still facing charges from last Republic Day parade
Sign the RODA Act and curb farmer suicides: SKM to Rajasthan Governor
Lakhimpur Kheri killings: SIT files chargesheet against farmers!