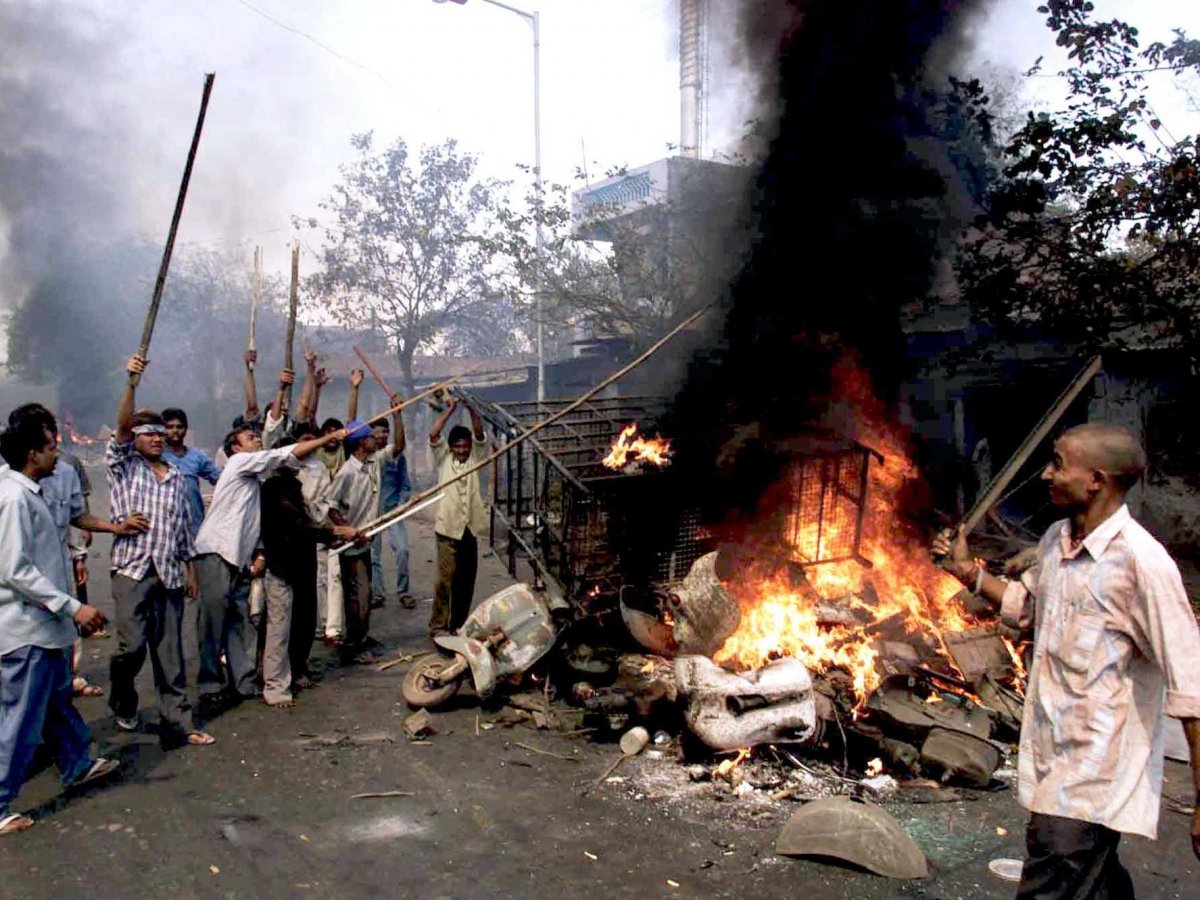 Questions for the Special Investigation Team
Criminal behaviour of kar sevaks at Rudauli near Faizabad

A detailed study of the Gujarat state intelligence and police documentation now before the Nanavati-Shah Commission through the affidavits of RB Sreekumar and Raahul Sharma reveals fairly high levels of communal mobilisation of members of sangh parivar outfits throughout February 2002. Field officers of the State Intelligence Bureau (SIB) submitted reports of such activity which were however ignored by the state government. Around mid-February 2002 there were two separate reports from the Gujarat SIB stating that Haresh Bhatt, Bajrang Dal leader (and former BJP MLA from Godhra), and Prahlad J. Patel, president of the Bajrang Dal, Mehsana, were among the group of kar sevaks who had gone to Ayodhya for the Ayodhya Maha Yagna.

On February 22, 2002 the Gujarat intelligence department received a fax message (of the same date) from the UP state intelligence department, informing them of the criminal behaviour of kar sevaks travelling on the Sabarmati Express S-6 special bogie. This is in all likelihood the same bogie that caught fire a few days later. The message from the UP intelligence department states that when some local people tried to enter the bogie at the Rudauli station near Faizabad the kar sevaks attacked them with trishuls and daggers and injured some of them. An FIR was also registered for the crime. Communalism Combat, in its 'Genocide – Gujarat 2002' issue of March-April 2002, had carried a report by Jan Morcha, Faizabad, (February 25, 2002) which had also reported these events. In fact, two days before the Godhra train fire the editors of Communalism Combat had issued a nationwide alert, sent out to the media and also to the president and chief justice of India, on the possible fallout of this sort of behaviour by the kar sevaks from Gujarat.

Now, seven years later, some curious, even sinister, connections can be drawn. All these linkages, the behaviour of kar sevaks and the build-up to the Godhra train fire and its aftermath, ought to find a place in the new investigation ordered by the Supreme Court on April 27, 2009.

Haresh Bhatt, who had gone to Faizabad, was one of the many persons who were caught off guard by Tehelka's sting 'Operation Kalank', telecast on October 25, 2007. From reports received, it appears that the train bogie containing those kar sevaks who had misbehaved at Rudauli was the same one that returned on February 27 and was unfortunately burnt. Following revelations that Haresh Bhatt and Prahlad Patel also went to Ayodhya, and were integral parts of the plot to build up an arsenal in Gujarat prior to February 27, it is conceivable that they too were in the bogie that caught fire.

Tehelka's conversation with Bhatt raises serious questions for the authorities and investigating agencies about the sinister accumulation of arms and ammunition by Bajrang Dal and VHP men all over Gujarat. During the same sting operation Tehelka also spoke to the then VHP district convener from Sabarkantha, Dhawal Patel. He too provides startling details about the stockpiling of ammunition and bombs. Why were sangh parivar members stocking up on ammunition prior to February 27, 2002? As part of its investigation into the wider conspiracy, the SIT will be required to probe this dangerous amassment of weapons as well.
Arms distribution before the execution of mass crimes
From Tehelka's 'Operation Kalank':
Haresh Bhatt, the then BJP MLA from Godhra, to Tehelka:
Bhatt says a well-planned conspiracy was hatched to import large quantities of ammunition from outside Gujarat and also to manufacture weapons within the state. He names one Rohitbhai (VHP treasurer) as being a core member of the planning team. He says the plan to import arms, swords and other ammunition into Gujarat from Punjab and elsewhere was a long-standing one and that he brought swords and countrymade guns into Gujarat and distributed them all over.
He says that a large number of bombs, including diesel bombs and pipe bombs, were manufactured at his factory while rocket launchers were manufactured both at his factory and elsewhere. These rocket launchers, with stands, were made using thick pipes and filled with gunpowder and then sealed and blast using locally made '598 bombs'. The weapons were then distributed across Gujarat. Haresh Bhatt also said he previously owned a firecracker factory in Ahmedabad, one that was fully operational on February 27, 2002!
Questions raised:
a) Who were the conspirators involved?
b) When and where did they meet?
c) Did this meeting take place well before February 27, 2002, when the Godhra arson took place, and if so, what was the real intent, the motive?
d) When did Haresh Bhatt order two truckload consignments (of swords) from Punjab?
e) When did Bhatt order the consignment of desi guns from UP and MP?
f) How long does it take for a loaded truck to travel between Punjab and Gujarat?
g) How long does it take for a loaded truck to travel between UP and Gujarat?
h) Who are the manufacturers and suppliers of swords (in Punjab) and countrymade guns (in UP and MP)?
i) When did they receive the orders for consignment and when did they deliver these? Most importantly, who paid for them?
j) The consignment truck(s) must have passed through many states – Punjab, Haryana, UP, MP and Rajasthan. How was easy passage for the arms arranged?
k) When did the consignments actually arrive in Gujarat and where in Gujarat did they arrive?
l) Were these consignments delivered to locations other than Godhra? Did these destinations include Ahmedabad, for instance? (In the post-Godhra violence, Ahmedabad and Panchmahal district were the worst affected in terms of loss of life while Sabarkantha was the worst affected in terms of loss of property.)
These revelations suggest the existence of a well-organised and structured arms and ammunition network within Gujarat that has been in operation since well before the violence in 2002 and perhaps thereafter
m) If the consignments were ordered well before February 27, 2002, will this fact not have some bearing on the much touted Godhra conspiracy theory?
n) If the consignments arrived in Godhra, which is a hub of truck owners, hundreds of trucks could be available at short notice to supply consignments all over Gujarat. It is now well known that the genocidal carnage that Modi presided over spread to 19 of Gujarat's 25 districts within hours of the news of the Godhra train burning.
o) What is the identity of the vehicles used for the supply of these arms and to whom did they belong?
p) To whom, and at which location/s, were these arms and ammunitions supplied?
q) Who were the officials, police, octroi department and others, who allowed these consignments safe passage?
More questions:
a) Who were/are the workers at Bhatt's firecracker factory?
b) What were the products manufactured?
c) Was the factory operational on February 27 and 28?
d) Where, apart from Haresh Bhatt's factory, were the rocket launchers manufactured?
Observations: These findings would then have to be corroborated with forensic reports of the Godhra train burning and mass burnings of women, men and children in many of Gujarat's districts following the Godhra fire.
Apart from the revelations about arms consignments being ordered by prominent members of the sangh parivar, other aspects relating to the use of explosive materials in the systematic attacks on minorities bear consideration.
This writer and many others recovered a whitish powder from various sites of the genocidal carnage in Gujarat (some of it in unopened bags bearing labels stating that it was manufactured at Laxmi Industrial Estate, Hyderabad). It is thought possible that this powder enabled complete, to the bone, incineration of flesh (of those who were killed and/or burnt alive) at Gulberg Society, Naroda Gaon and Patiya, Vatwa and elsewhere. Were any traces of such a powder found on the burnt coach of the Sabarmati Express? This is especially relevant in view of the fact that serious questions have been raised about the train burning and the manner in which the fire spread (see Communalism Combat, 'Genocide's Aftermath – Part II', July 2007).
Besides, in Naroda Gaon and Patiya, for weeks before the attack on minorities there was a gas cylinder shortage. However, from the morning of February 28, 2002 onwards, gas cylinders were used by the dozen, by assailants in Naroda Gaon and Patiya, Gulberg Society and other areas of Ahmedabad. In the first attack at Naroda Patiya, at the Noorani Masjid, gas cylinders were placed inside the mosque and then ignited to explode.
Stockpiling arms in Sabarkantha
Dhawal Jayantilal Patel, the then VHP zilla sanyojak (district convener), Sabarkantha, to Tehelka:
Patel says that he is a registered holder and supplier of dynamite used in quarrying in the district. He also said that he along with some others had been trained to make bombs. They made desi bombs that were then distributed and used in various areas.
Questions raised:
a) What was the quantity of dynamite stock as noted in the stock register maintained on Dhawal Patel's premises on and before February 27, 2002?
b) How much stock did Patel receive?
c) From which government depot did he get the supply on requisition?
d) Did he acquire the stock from any other states?
e) What is the identity of the vehicles used for the supply of dynamite and to whom did they belong?
f) Where was the stock supplied to?
g) To whom was it delivered and in which village, town or city?
h) Who were the police and other officers responsible for allowing the consignment safe passage?
Anil Patel, the VHP's vibhag pramukh (departmental chief) in Sabarkantha, spoke to Tehelka about bombs destined for Ahmedabad being smuggled in from quarries owned by VHP workers in Sabarkantha. This suggests the existence of a well-organised and structured arms and ammunition network within Gujarat that has been in operation since well before the violence in 2002 and perhaps thereafter.
Anil Patel also explains how sections of the Gujarat police, for example, ND Solanki, the then SP, Sabarkantha, were full-fledged supporters of the VHP. He adds that Solanki gave him full support and even enabled the quick release of a "co-minister", Arvind Soni (a VHP leader). Patel also refers to a fax message sent by "this IB officer, Sreekumar …to the Ahmedabad police commissioner, saying the Sabarkantha VHP had supplied weapons to Ahmedabad. The matter was inquired into, our block minister was arrested. The inspector who came for the inquiry was associated with the Sangh."
Patel's revelations to Tehelka show the levels of complicity between the Gujarat police and outfits of the sangh parivar that are the fraternal organisations of the ruling BJP. This will be the most significant challenge for the SIT under Dr Raghavan. Will it be able to ensure that investigations are carried out by men of impeccable integrity?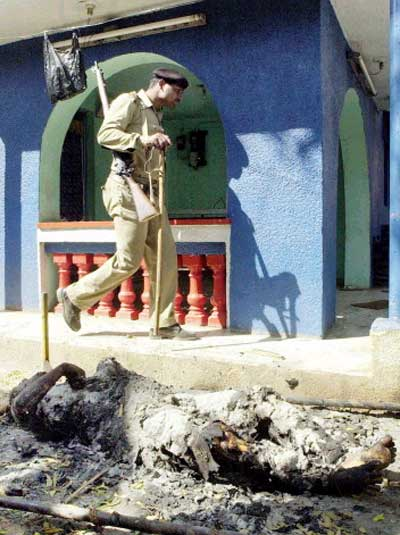 Other startling revelations from the sting operation
Babu Bajrangi, Bajrang Dal leader, Naroda, Ahmedabad, to Tehelka:
Bajrangi (prime accused in the Naroda Patiya massacre) says he was present in Godhra at the time of the train fire and vowed to kill four times as many people in Patiya as the kar sevaks who died in Godhra.
Bajrangi boasts among other things of being the first to launch an attack in Naroda Patiya, of organising the use of bombs, ramming a diesel tanker into a mosque and setting it ablaze, slitting open the womb of a pregnant woman (the Kauser Bano case) and bribing witnesses and forcing them to flee.
Questions raised:
a) Bajrangi has admitted to calling the then home minister, Gordhan Zadaphiya. This can easily be corroborated with call records of the outgoing calls on his mobile phone.
b) He claims that Chief Minister Modi told the (police) commissioner to provide safe passage to Bajrangi and even arranged for his four-and-a-half-month stay at the Gujarat Bhavan in Mount Abu (Rajasthan) not long after the massacre, when he had still not been granted bail and was on the run from the police.
c) What was the room number of the room at Gujarat Bhavan that Bajrangi occupied?
d) Where there any others with him in Mount Abu?
e) Are there any relevant entries in the Gujarat Bhavan guest register?
f) Who provided the expenses for his stay in Mount Abu?
g) Bajrangi's interview also indicts the Gujarat courts. These are extremely serious allegations that warrant investigation. He talks of how Judge Akshay Mehta had granted bail, to him and other accused, without even looking at the case files. He first says that when Dholakia and other judges simply refused to grant bail, Modi had the bench changed. This was done three times before the matter was heard by a more sympathetic judge – Akshay Mehta – which enabled him to get bail. Four and a half months after the Naroda massacre Bajrangi was a free man. He roams scot-free today.
Ramesh Dave, the then VHP zilla mantri (leader), Kalupur, Ahmedabad, to Tehelka:
Dave says that he took DCP (SK) Gadhvi to the terrace of a locked house (in Kalupur) after Gadhvi told him that there were several Muslims who had taken shelter nearby and he wanted to "set them straight". Once on the terrace, Gadhvi started firing and before they knew it, he had killed five persons (Muslims). Dave also claims that "all the policemen helped us, they all did. One shouldn't say it, but they even gave us cartridges."
Questions raised:
a) Did Gadhvi shoot a service revolver – if so, the victims could not have been more than 20 feet away.
b) Did he shoot a .303 rifle – if so, the bullet would go through the victim, making a hole, and could be recovered later from the scene of the crime.
c) If the shots were fired from a revolver, the bullets should have struck the victims either in the head or the chest.
d) Five dead bodies must bear near identical injuries/bullet wounds.
e) Did the doctor performing the post-mortem examinations recover any bullets from the bodies of the victims?
This is a small but critical aspect of the detailed and independent investigation that is now expected of the Special Investigation Team. Given the deep-rooted communalisation of the Gujarat state police apparatus, which will undoubtedly be drawn in by the SIT to assist in its own investigations, the task ahead will prove an enormous challenge.
Archived from Communalism Combat, May 2009 Year 15 No.140, Cover Story 5