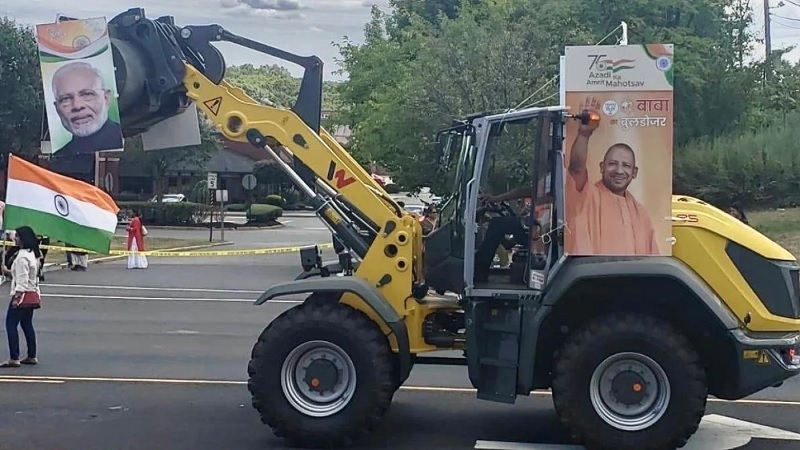 Image Courtesy:middleeasteye.net
On August 30, 2022, the Indian Business Association, a New Jersey based group that had organized an India Day celebration, offered a written apology to the mayors of Edison and Woodbridge, for including a bulldozer in the India Day Parade. The shocking inclusion of a yellow bullodozer with the image of Uttar Pradesh Chief Minister Yogi Adityanath on a poster saying "Baba ka Bulldozer" had sent ripples among the local Indian American community as well as the huge community of Muslims of South Asian descent who live in this area.
In the letter addressed to Mayor Sam Joshi of Edison, and Mayor John E. McCormac of Woodbridge, the IBA offered "sincere apologies" for certain aspects of the parade that not only reflected poorly on the organization, but more importantly, "offended Indian American minority groups, especially Muslims".
IBA president Chandrakant Patel, accepted that the parade should have been about celebrating Indian heritage and diversity, but, "Unfortunately there was a bulldozer among the floats in the parade, which is a divisive image that did not reflect our mission. It was seen quite negatively by many who are deeply impacted and insulted by certain activities that have been happening in India."
The entire letter may be read here: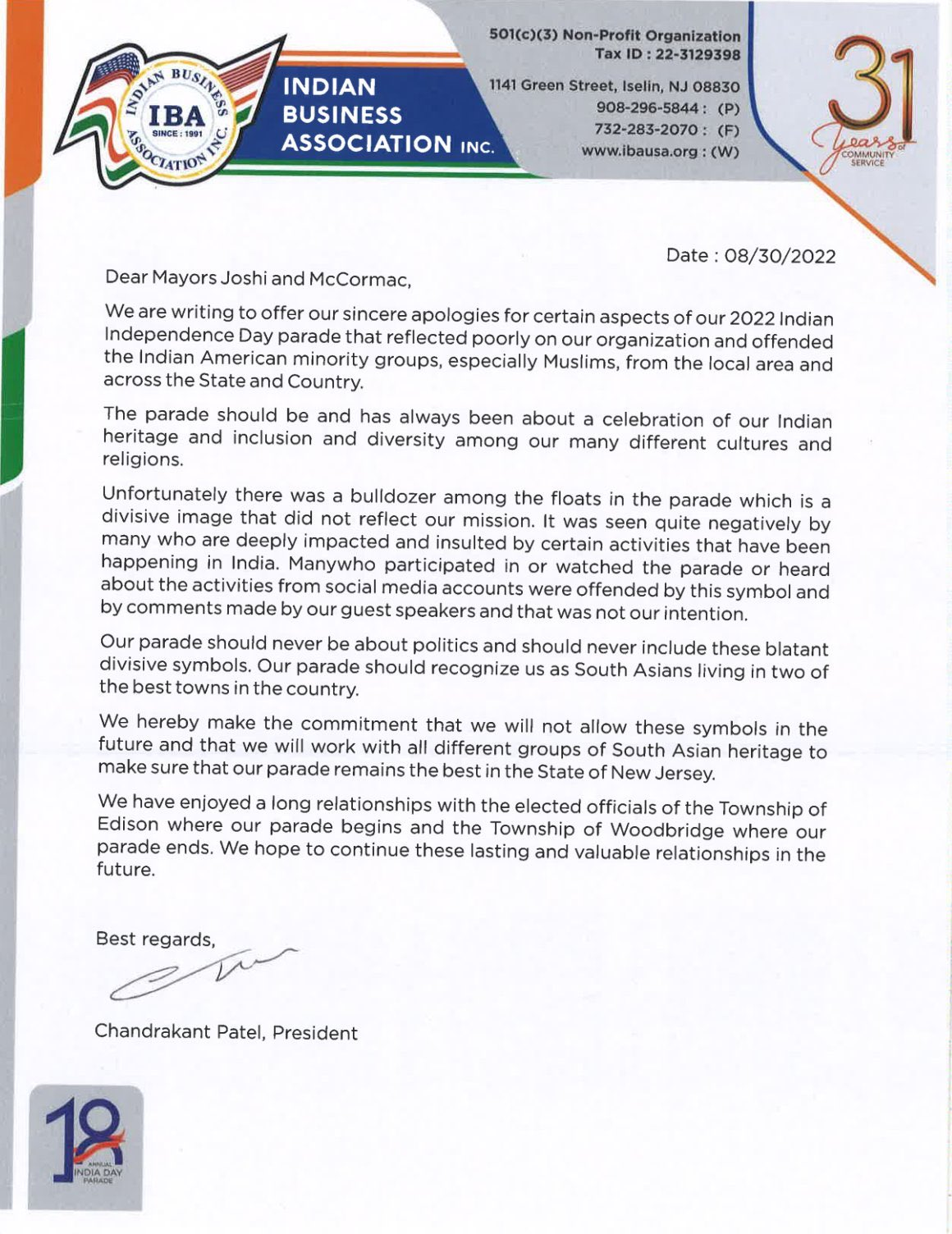 Readers would recall that bulldozers have been pressed into service to demolish homes of protesters, dissenters and suspected rioters in at least three Indian states – the Adityanath led Uttar Pradesh, as well as Madhya Pradesh and Assam. They were also used to demolish the huts of alleged rioters in Jahangirpuri in New Delhi.
The ancestral home of Parveen Fatima, the wife of activist Javed Mohammed who was accused of masterminding the violence June 10 protests against Nupur Sharma's Islamophobic and offensive words about Prophet Mohammed, was demolished by the Prayagraj Development Authority (PDA).
Madhya Pradesh Home Minister Narottam Mishra had justified the demolition of 16 houses and 29 shops in five areas across Khargone, just a day after communal clashes erupted during a Ram Navami procession. Mishra issued a warning, saying, "Jis ghar se pathar aaye hain, us ghar ko hi patharon kaa dher banaenge (We will turn the houses from where the stones were pelted to a heap of rubble)." Mishra squarely blamed Muslims for the attack and attempted to justify the retaliatory demolitions that took place without following due process of the law.
In Assam, shortly after coming to power, Chief Minister Himanta Biswa Sarma authorized a series of demolition drives starting July 2021, to clear land "occupied by encroachers" so that it may be given to indigenous youth for farming and fishing. Two such drives took place in Dhalpur in Darrang district, a region that is home to hundreds of families who migrated here from other flood-prone regions of Assam. The eastern Indian state has been facing river erosion for decades, and often entire villages are washed away when the mighty Brahmaputra either overflows or changes course during the monsoon. Their homes and agricultural lands submerged, these people had no other option to move to safer regions within the state. In fact, most of the families evicted during the drives in August and September had been living there for 40-50 years.
Related:
Bulldozer Injustice: Homes of alleged June 10 protesters to be demolished in UP?
Evolution of Bulldozer Injustice
Jahangirpuri Demolition: SC to take "serious view of demolitions after Mayor was informed of order"
Madhya Pradesh's Home Minister blames Muslims for Ram Navami day violence, justifies mass demolitions
Lives in the Rubble at Kathputli Colony
NOIDA Shanties where Zohrabi Lived Pulled Down, Amidst Heavy Rain
Has Bombay healed?