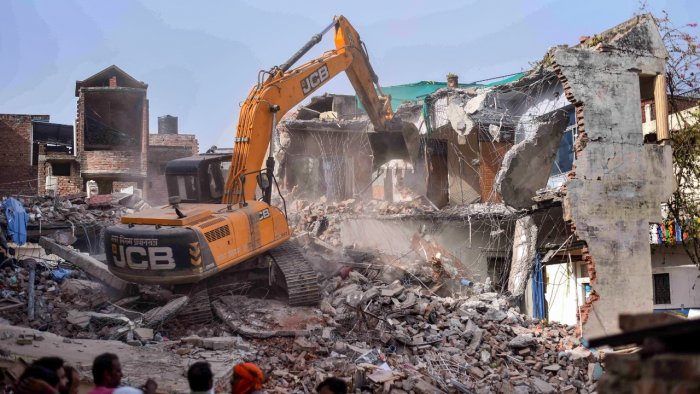 Image: PTI
This weekend saw yet another example of the Adityanath regime's excesses in Uttar Pradesh when the family home of Afreen Fatima was torn down in Allahabad, just a day after her family members were illegally detained by the Allahabd police.
Fatima was part of the nationwide protests against the Citizenship Amendment Act (CAA), and the official reason given for demolishing her home is that it was allegedly an illegal construction, a claim rejected by the young activist.
Speaking to Al Jazeera she said, "We have been paying taxes for 20 years, during which time we got no intimation from the development authority about our house being illegal. If it was illegal, why were they accepting our tax money?"
SabrangIndia had reported earlier on how police had illegally detained her father Javed Mohammed, mother Parveen Fatima and younger sister Sumaiya Fatima on Friday. Afreen Fatima's father is a Welfare Party of India leader, and police accused him of planning to carry out violent protests in wake of Bharatiya Janata Party (BJP) leader Nupur Sharma's objectionable comments about Prophet Mohammed.
The first time the police took away her father at 8:50 P.M. At midnight, the police again came to take away mother Parveen Fatima and the younger daughter Sumaiya Fatima, who is only 19 years old. Both times, the police failed to produce either an arrest warrant or inform the rest of the family about the detainee's whereabouts.
Later at 2:30 A.M, the police came to detain Afreen and her sister-in-law. However, the two resisted going with the police despite alleged harassment. It was also around this time that Afreen noticed increasing police presence around her house and even JCB bulldozers in the vicinity. The family was also served an eviction notice on Saturday, by the Prayagraj Development Authority asking them to vacate the house by 11 A.M on Sunday.
At that time there were apprehensions about an impending demolition, and the fears came true on Sunday afternoon. Prayagraj Senior Superintendent of Police Ajay Kumar told media persons that illegal weapons and objectionable posters were recovered from the house during the demolition. "After the violence of June 10, we took 68 people into custody, of which four are minors. 23 more miscreants were identified using CCTV footage," said Kumar, calling Javed Mohammed the mastermind behind the violence. "We searched his house during the demolition during which we found illegal arms and objectionable posters. We have seized a .12 bore pistol and one .315 bore pistol, as well as several cartridges," he further said.
Where is the due process?
At present litigations pertaining to the contentious subject of retaliatory demolitions are pending before The Allahabad High Court, the Madhya Pradesh High Court (after the Khargone incident) and even the Supreme Court.
Former Allahabad High Court Chief Justice Govind Mathur told Indian Express, "This is totally illegal. Even if you assume for a moment that the construction was illegal, which by the way is how crores of Indians live, it is impermissible that you demolish a house on a Sunday when the residents are in custody. It is not a technical issue but a question of rule of law." This is also noteworthy because it was Justice Mathur who had taken suo motu cognisance of the Uttar Pradesh government's decision to "name and shame" CAA protesters by hanging banners with their pictures and names in March 2020.
Uttar Pradesh Chief Minister Yogi Adityanath has taken pride in his "crackdown on crime" in his state for which he has been given the moniker "Bulldozer Baba".
Samajwadi Party chief Akhilesh Yadav responded to the illegal demolition saying, "How is this justice if the situation is worsening across the country and we are receiving international criticism? Peaceful protesters are being punished without due process of the law with bulldozers. This is permitted neither by religion, nor by the law or the Constitution."
ये कहाँ का इंसाफ़ है कि जिसकी वजह से देश में हालात बिगड़े और दुनिया भर में सख़्त प्रतिक्रिया हुई वो सुरक्षा के घेरे में हैं और शांतिपूर्ण प्रदर्शनकारियों को बिना वैधानिक जाँच पड़ताल बुलडोज़र से सज़ा दी जा रही है।

इसकी अनुमति न हमारी संस्कृति देती है, न धर्म, न विधान, न संविधान। pic.twitter.com/DwnSfNXCnf

— Akhilesh Yadav (@yadavakhilesh) June 12, 2022
Meanwhile protests continued in different parts of the country against Nupur Sharma's comments. Even though the BJP removed her from primary membership of the party after inexplicable dubbing the party spokesperson as a "fringe element", minority groups have been taking to the streets in Uttar Pradesh, Jharkhand, Jammu and Kashmir and West Bengal.
In Jharkhand, the Ranchi police have registered as many as 25 First Information Reports (FIR) against hundreds of protesters after violence broke out over the weekend. Two people were killed and over two dozen injured in this violence. Internet services were suspended for over 30 hours. Over 3,500 security personnel were deployed at sensitive spots. Ranchi Senior Superintendent of Police Surendra Kumar Jha defended the police firing and told The Telegraph, "Firing is the last resort. We followed all norms before resorting to firing, as the crowd was aggressive and uncontrollable." Though he declined to comment further citing that the matter was under investigation. Meanwhile India Today reported that one man named Absar was shot, at least six times!
Violence was also reported from Howrah, Murshidabad and South 24 Parganas in West Bengal where protesters allegedly went on a rampage on Saturday, engaging in clashes with the police, destruction of property and arson.
On Friday, a curfew was declared in Bhadarwah and Kishtwar in Jammu and Kashmir after authorities received reports of an alleged impending outbreak of violence; internet services were also suspended.
Meanwhile Maulanas in Uttar Pradesh have appealed for peace. The Times of India quoted Maulana Tauqeer Raza Khan from the Dargah-e-Ala-Hazrat in Breilly as saying, "Even if they instigate you, let us not get violent. Our fight is not with our Hindu brothers or even with the police."
Niaz Ahmed Farooqui, national secretary of Jamiat-Ulema-i-Hind also appealed to Muslims to not fall for "fake messages and calls for violence" and told TOI, "We are a peace-loving people. We will never call for things like bandh or violence. We want to show our anger towards certain people, but not at the cost of peace."
However, Kashi Dharma Parishad, a group of prominent seers under Mahant Balak Das of Patalpuri Math commented on the alleged threats issued to Nupur Sharma by a section of Islamic hardliners saying, "Such acts of jihadis are not acceptable and will not be tolerated."
The Parishad reportedly passed a 16-point resolution that will be shared with various spiritual leaders of the community. According to TOI their demands include a complete lockdown of mosques from where stone peting allegedly took place, jail time for people insulting Hindu deities, confiscation of properties of Maulanas who are allegedly spreading hate on television, installation of CCTVs in mosques and recording of speeches of Maulanas, and imposition of the National Security Act in cases of provocative statements.
Related:
Anti-CAA Muslim activist Afreen Fatima's family members illegally detained!
Spontaneous pan-India protests against Nupur Sharma