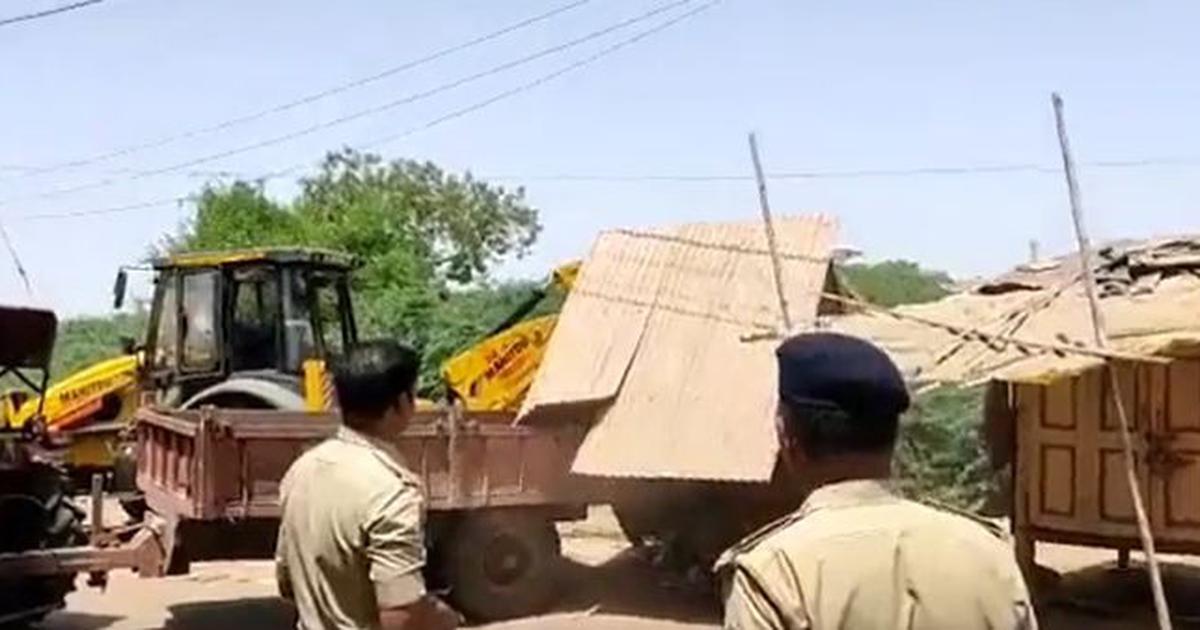 Image: Himanshi via Twitter
In an utter disregard for due process of law, statutory and constitutional protection, the Anand district administration used bulldozers to destroy structures owned by people allegedly involved in communal clashes during Ram Navami, reported the Wire. The only thing ironical was that this time around, Gujarat followed the footsteps of Uttar Pradesh and Madhya Pradesh in this regard.
Though the definition of who 'instigated' the violence as Ram Navmi processions trawled through district after district — with offensive music being blasted at high volumes on loudspeakers– is still up for rational evaluation and investigation, a partisan and trigger happy police has already pinned selective blame, taken law into their own hands and destroyed homes and property.
SabrangIndia had previously reported about the bulldozing incidents carried out in BJP ruled Uttar Pradesh and Madhya Pradesh, where UP CM Yogi Adityanath often addressed as 'Bulldozer Baba' and now MP CM Shivraj Singh Chaouhan is being called 'Bulldozer Mama'.
Anand district collector M Y Daxini told TOI, "We have issued orders to remove all "illegal encroachments". The miscreants had used the bushes and thick vegetation to attack the procession. The encroachments are being removed from government land based on government records. These are those encroachments that had come up on government land and against which notices were already issued in the past". The moot question is who cast the first stone, whether it was the procession-ists armed with weapons who were the agent provocateur's or others. Most importantly what law and which procedure authorised a police to take law into their own hands and summarily demolish homes of one community alone, all Muslims, without observing the basic procedures required under law (serving notice etc).
Sharply criticising the drive as unconstitutional and a violation of human rights, Congress MLAs Gyasuddin Shaikh and Imran Khedawala clearly said that the demolition drive was launched by the collector without following due process of law. Opposition MLAs, in a joint statement issued here, said the owners of these properties should be served notices first and given a chance to furnish documents and proof about the legality of construction, reported media.
On April 10, on the occasion of Ramanavami, Gujarat's Himmatnagar town in Sabarkantha district and Khambat town of Anand district had reported incidents of communal violence. According to Indian Express, a person in Khambat was found dead after incidents of stone pelting and arson. After a Ram Navami procession, there was, reportedly some confrontation, forcing the police to resort to lathi-charge and tear-gassing. Speaking to IE, Deputy Superintendent of Police Abhishek Gupta had said that the deceased was an unidentified person around 60 years of age. It was further reported that four people had been detained in the said case. It still is open to public examination, however, on what basis have arrests been made.
Similarly, several persons in Himmatnagar, including four policemen, were injured, and shops and vehicles were set on fire. Here, the clashes began around noon shortly after a vehicle procession began. The motorcycles and four-wheelers reached Chhaparia – a region dominated by minority community folk – from where incidents of communal violence were reported until 3 PM. Unfortunately, the attacks didn't stop there because another rally arrived at the same area around 4PM. This one was led by the Sangh Parivar outfit Vishwa Hindu Parishad (VHP) that started another bout of stone-pelting among the two communities. The situation in both towns reached a point where Home Minister Harsh Sanghavi called an emergency meeting with senior police officials late at night, said Indian Express. Incidents of communal confrontation were also reported from Bardoli in Surat, and from Vadodara.
This year, the Ramanavmi and Hunamuman Jayanti processions have fallen in the holy month of Ramzan and it is clear that supremacist hindutvwadi who enjoy high level political patronage in these states are on an aggressive path set to confrontative provocation.
Related:
Madhya Pradesh's Home Minister blames Muslims for Ram Navami day violence, justifies mass demolitions
On whose orders did MP police demolish a Muslim daily wager's home?
Communal confrontations mar Ram Navami celebrations in five states