There is a rumour circulating which is best dispelled as soon as possible in the interests of factual knowledge (which is rather shy and rarely seen these days. Sometimes you see its shadow slip past, from the corner of your eye). So, no, absolutely not, the word fascism does not come from faeces.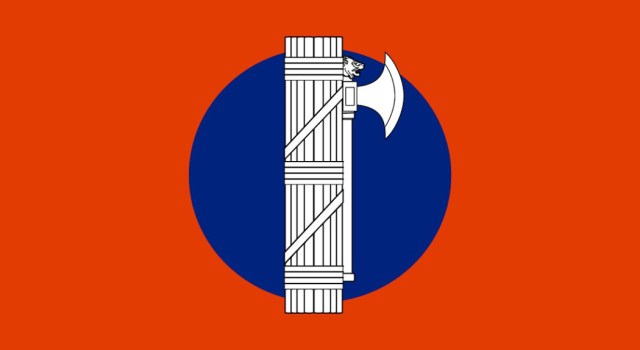 Stylized image of fasces
It might as well have, but no. Really it doesn't. The Vedic goddess vac (she who personifies speech) is not renowned for a sense of humour.
What the word fascism does come from is the aforementioned "bundle of sticks tied to an axe" or fasces, that the bodyguard of the Roman magistrate carried in ancient Rome, as a symbol of his authority. Then Mussolini came along and resurrected the thing as a reminder of ancient pride (although, not much pride for the minion carrying the symbol of another's authority) and unity (sticks tied together are harder to break than sticks on their own).
Hence fascism. Hence the extreme allergy to being called fascist among Sanghis and the BJP because, really – Italy? Italy as the source of a name for their government? How fair is that, mitron?
Also because sticks they know well, this regime. Single sticks have heft, and come down nicely on soft skulls. Sticks tied together – clumsy, just unwieldy and pointless. Distribute them among well trained mobs, one per Sanghi – yeh hui na baat.
Altogether, the Sanghis are bewildered and enraged by all this talk of fascism. They hate Italians, and they understand that fascism is a term of abuse. And they are having none of it. Especially as the hundreds of thousands of urban naxals that have now emerged into the light of day hurl the term about freely.
The five people arrested recently apparently claim they are anti-fascist. They have attended meetings about the thing. They might know some people who might know some other people who form fronts to "fight fascism" and who rejoice that "campaigns in support of the marginalised people are now visible in some states", as a highly perturbed government prosecutor Ujjwala Pawar told the Pune City Court. Those people known to people known to them, write sinister letters to one another, signing off with revealing pseudonyms such as 'Com M', and spelling out elaborate plots to assassinate the person holding the highest elected office in the land. Also known as Pradhan Sevak (of the Sangh), and more importantly, as the newest friend of Chacha Chaudhary, beloved of children – practically Chacha Modi, really. Also as the inventor of the Modi jacket. (For someone who hates Nehru so much…)
Of course the other fascist parties are jealous of all this importance given to the BJP. Shiv Sena has been reported to be "sarcastic" in its sullen refutation of any such plot.

The plot to assassinate them (Modi and Fadnavis) seems mysterious and the story of a horror film
said an editorial in Sena mouthpiece, the Marathi Saamna. The editorial scoffs at the idea that an underground organization would spell out an assassination plot with its precise method ("Rajiv Gandhi style"), in a written letter.
More sarcasm is to follow. The editorial then says that Modi and Fadnavis should be provided with elaborate security cover so that they can live even if "lakhs of people die" (in Naxalite attacks), even though already Modi's security cover is "as strong as Mossad" and Fadnavis has "converted the state Secretariat into a fortress".
My goodness. So much sarcasm.
(There have been assassination plots against Modi before. Each one has won him an election).
But this anti-fascism business gets murkier and murkier. Tamil Nadu BJP chief Tamilisai, on a flight to Thoothukudi from Chennai, told the press that she noted "a young and seemingly innocent girl" in seat number 8 (this number must have some ominous relevance, we will know after further investigations by our conscientious police forces). Upon alighting, Tamilisai continued in her heart rending account, this girl (named Lois Sofia, an Indian woman studying in Canada)

suddenly shouted 'down with fascist BJP government'. When I turned to her, she repeated it.
Now, as Tamilisai correctly pointed out, a person using the word 'fascist' cannot be an innocent person.

No innocent girl will use that word. I questioned her. She replied that she has the right to freedom of expression. She shouted that slogan and used the word 'fascist', raising her fist and all. I thought I shouldn't ignore a terrorist, so I filed a petition.
Used that word fascist, raised her fist and everything. And questioned "her" (Tamilisai's) government:

I told them I cannot ignore it if my government is questioned in such a way, Tamilisai said.
It's the government of the BJP, to protect as they would their own mother. Who dares criticize my mother?
And of course, the BJP chief's suspicions of Lois's lack of innocence turned out to be right.

In the evening, I got reports that all those people who were behind the Sterlite protests (in Tuticorin) have come to support her at the police station. I also have information that she is connected to some groups in Canada
A-ha.
Anti-Sterlite, anti-fascist, anti-BJP.
And those groups in Canada, what about those, eh?
Unnamed 'groups'.
In Canada!
Need one say more?
Actually no. Nothing more needs to be said. All the key words have been operationalized. Lois Sofia is an un-innocent urban naxal terrorist.
(So – I hear you seek a clarification – foreign connections, foreign support and funding, are never okay? Glad you asked. Foreign support IS very okay under very specific circumstances – here is a guide for the perplexed.)
As BJP leader and Union Minister of State for Finance and Shipping Pon Radhakrishnan explained the other day, those opposing various governmental projects are 'terrorists'. He was adamant on this term, refusing the milder term anti-social.

These people are worse than anti-socials. They are against the people and growth…The State government has to take action. They have begun taking action; I am happy,
he said in an apparent response to the State arresting activists opposing the Salem-Chennai green corridor project. He added that the Central government would step in if the State government hesitates in taking such action.
It's so reassuring to see such co-ordinated action across the board by the BJP. Arrests here, arrests there, all the terrorists opposing government projects (and projects of the government's close corporate cronies), behind bars.
After all, the prisons where they will be lodged would all have been redecorated and renovated to Vijay Mallya's exacting standards.
Look, these terrorists broke the Pradhan Sevak's heart when they got the Sterlite plant shut down. The Sterlite project in Thoothukudi had his personal stamp of approval – the Modi government made an interpretation to green regulations in December 2014, which helped Vedanta's plant at Thoothukudi to be built without consulting people of the project-affected area.
Anybody can see the problem with all this 'consulting the people' kind of anti-national, urban naxal nonsense. Look at the tribals across the tribal belt of central India, not even bothering to pick up guns, simply planting stones citing the authority of the Constitution, demanding that gram sabhas be permitted to take decisions regarding their own resources.
I refer to the pathalgadi movement, driven by what Nandini Sundar calls 'constitutional messianism', the immediate impetus for which were amendments proposed by the current BJP government of Jharkhand, to two key legislations that protect tribal rights to their land – Chhotanagpur Tenancy Act and Santhal Pargana Tenancy Act. The legislation was passed, but aroused such widespread opposition that it had to be withdrawn. Subsequently, the same effect was cleverly achieved by the BJP government by the passing of amendments to another legislation in 2017, that is, the Land Acquisition Act, 2013. The amendments enable the acquisition of tribal land for 'development', reduces the scope for social impact assessment and reduces the powers of the gram sabha to merely giving 'advice'. This legislation received the assent of the Governor this year, in 2018. What is more, the copy of the Amendment Bill, which finally got the assent of the President, has been kept out of public circulation by the government, and what can be viewed is only the Draft Bill.
Of course the people do not know what is best for the government.
Why should they be consulted? Any demand for consultation is nothing short of sedition.
I think of the lower ranks of the police puzzling over books by Marx and Mao and Ambedkar found in scholars' homes during police raids (time that could be more profitably spent raiding Hindu terrorist organizations like Sanatan Sanstha, which claims a section of police officers is involved with them). I imagine non-English speaking constables being confused by terms like Anti-Fascist Front. Then I imagine all this 'evidence', these papers and books, reaching the desks of IPS officers, who have studied in the top universities of the country, who know very well that they themselves have read such books, that these cases are quite simply what a certain Congress MP would call a 'farrago of lies', and I ask myself, what are these top police officials thinking? Is there not one voice from among them to speak up publicly against this kind of ridiculous, shameful attack on democratic rights that has come to characterize police action? How many young Muslim boys languish in jails on such bizarre and cooked up evidence?
It seems that after case after case lodged against AAP MLAs fell to the ground in courts, top police brass in Delhi called a meeting and "directed DCPs to conduct a thorough investigation before approaching the courts".
Thorough investigation before arrests and courts. Now, there's an idea.
Whatever fascism may have been in Italy in its time, the term now refers to authoritarian governments that brook no voice of opposition to their pro-corporate and anti-poor agenda; control the media through carrots and sticks; invoke the Nation and produce internal enemies to justify terrible repression, and are resolutely anti-intellectual and anti-universities as these produce critical thinking.
All these features can be identified in the RSS-directed BJP regime. A poisonous cocktail of virulent anti-Dalit Hindutva and predatory capitalism, breaking up India into pockets of hate and expropriation – BJP-RSS is the real tukde tukde gang.
To dissent is to hold an opinion at variance with 'officially' or 'commonly held' views. In India the two are different. The 'official' view of the state is one thing. But I don't believe the 'commonly held' view on anything in India conforms to the RSS's masculinist, North Indian hegemonic, savarna, Other-hating ideology. (Even other Hindutvavadi outfits like the Shiv Sena disagree with its Brahminical vegetarian mode of functioning.)
The shadowy, malevolent RSS has never dared to contest an election precisely because it knows very well that the people of India do not tolerate its views. Its mode of functioning therefore involves two principles – one, the creation and spreading of a network of lies. Two, violent intimidation and production of 'riots' and lynch 'mobs' – both words suggesting spontaneity, when what is involved, is meticulous planning. We can see these in operation everywhere today, now that the RSS has the backing of the state. The point is that it is the RSS that dissents from commonly held views on how we choose to live in this landmass that we call India.
As for dissent from official views – it is the very spirit, the life breath of democracy. Dissent to official ideology cannot be treated as merely an indulgent permission by the state to let off steam so that the pressure cooker can continue cooking the people! Dissent can and will eventually reshape the very ingredients and vessels and form of fuel used in the cooking process; not to mention transforming notions of who will do the actual work involved in cooking.
So yes, the BJP government is fascist and will be spectacularly defeated in 2019. Hence the desperation. Watch out for more violence, more arrests, the uncovering of more assassination plots, a war maybe.
And keep a sharp eye on those EVMs. They are fussy creatures, affected by heat waves, charmed by lotuses, and when they malfunction, it is always in one particular way.
Moreoever, they are independent young things, with a mind of their own, and tend to go missing. Manoranjan Roy filed RTI applications over a year to the two PSUs that manufacture EVMs, as well as to the Election Commission, and found huge discrepancies in the numbers manufactured and those received by the EC, at times ranging from several thousands to lakhs of EVMs, raising questions on "where the excess number of EVMs are going, and what is being done with them."
VVPAT paper trail machines are malfunctioning too, and also are not being manufactured fast enough to meet the deadline of the 2019 elections. The government, with a kindly pat on the EC's shoulder, has recommended it buy them from the private sector (mera dost hai, jaldi deliver kara dega). Quite insistent the government was. The Law Ministry sent three letters, between July and September 2016, seeking EC's views on the suggestion, as Indian Express learnt through an RTI. The Express story adds:

Documents show this suggestion had its origins in a meeting held in the Prime Minister's Office (PMO) on July 11, 2016.
Nasim Zaidi, the Chief Election Commissioner at the time, firmly turned down the suggestion as it could hurt the credibility of the election process.
Stirring times ahead, fellow urban naxals!
Courtesy: kafila.online