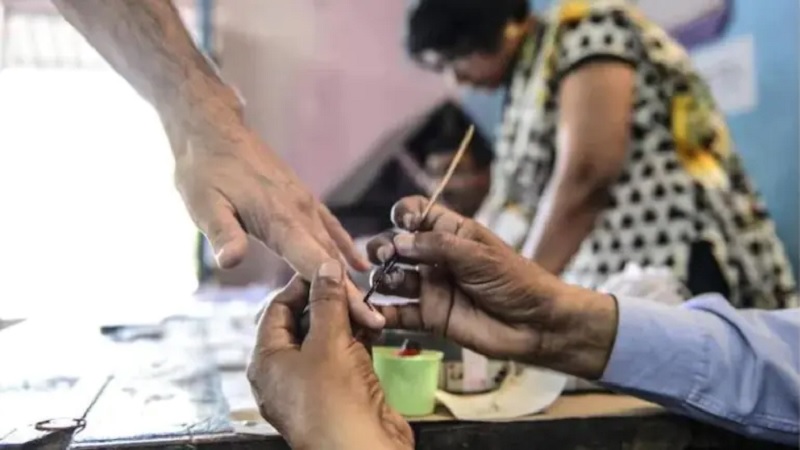 Image Courtesy:indiatoday.in
On Saturday, bypolls were held in three Lok Sabha seats and 29 Assembly constituencies across 13 states and a union territory. Final polling figures are still awaited, but luckily no violence was reported. Though there was some election related drama.
The Lok Sabha seats for which bypolls were held are Khandwa (Madhya Pradesh), Mandi (Himachal Pradesh), and the Union Territory of Dadra and Nagar Haveli. Elections were necessitated after sitting MPs passed away. Over 53 percent polling was recorded in the UT by 4 P.M.
In Assam, polling took place in five constituencies: Bhapanipur, Gossaigaon, Mariani, Tamulpur and Thowra. An average of 51 percent voting was registered in Assam by 5 P.M. Next door in Meghalaya, polling was held in Mawryngkneng, Mawphlang and Rajabal. An average 64 percent polling was recorded across the three constituencies by 3 P.M. In Karnataka Hanagal and Sindgi saw 77 percent and 64 percent polling respectively by 5 P.M.
Meanwhile, in Bihar polling took place in Tarapur and Kusheshwar. While final turnout figures are awaited, they remained under 50 percent till afternoon. In Madhya Pradesh over polling was held in Jobat, Raigaon and Prithvipur assembly constituencies. Meanwhile, Akri, Fatehpur and Jubbal-kotkhai saw polling in Himachal Pradesh. West Bengal saw polling in Dinhata, Gosaba, Khardah and Santipur.
In Rajasthan Dhariawad and Vallabhnagar saw polling. Bye-elections were also held in one seat each in Andhra Pradesh (Badvel), Haryana (Ellenabad), Maharashtra (Deglur), Mizoram (Tuirial) and Telangana (Huzurabad). Allegations of cash for votes were made in Ellenabad.
The counting of votes will be held on November 2.
Related:
Why was Himanta Biswa Sarma let off with just a warning?
Did Himanta Biswa Sarma violate Model Code of Conduct?