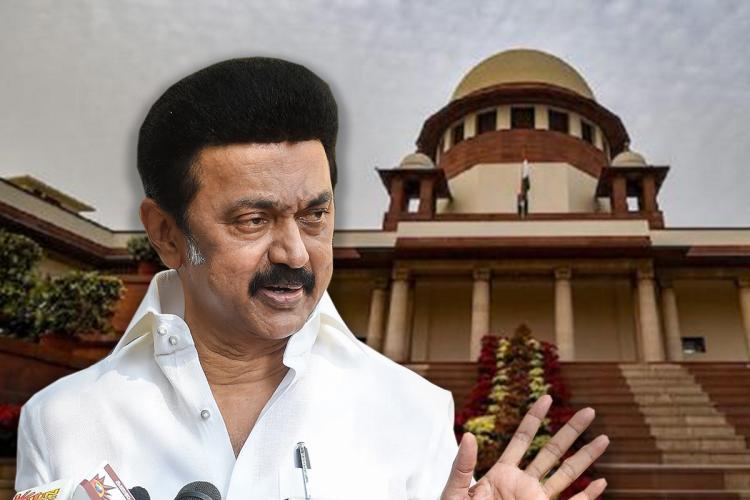 Image: The News Minute
The Dravida Munnetra Kazhagam (DMK) has filed an additional affidavit before the Supreme Court stating that the Citizenship Amendment Act, 2019 (CAA) is discriminatory against Tamil refugees from Sri Lanka. It further states that CAA is arbitrary as it relates to only three countries, that is Pakistan, Afghanistan and Bangladesh and confined to solely only six religions i.e., Hindu, Sikh, Buddhist, Jain, Parsi and Christian community and expressly excludes the Muslim religion. Even while considering religious minorities, it keeps such Tamils of Indian origin who are presently staying in India as refugees after fleeing from Sri Lanka due to persecution, DMK states, as reported by LiveLaw.
The Supreme Court will be hearing the batch of over 200 petitions challenging the CAA on December 6
Persecution of Tamils
Focusing on the history of persecution faced by Tamils In Sri Lanka, the affidavit [filed in Writ Petition (Civil) 1539/2019] states that There are two separate Tamil communities in Sri Lanka – Sri Lankan Tamils and Indian Tamils, though they both are of the same ethnic origin and speak the same language, the Indian Tamils were introduced to Ceylon from South India by a British as bonded labour. The Sinhalese population of Sri Lanka, which is a Buddhist majority has historically considered the Tamils as invaders infringing on Sinhalese territory.
"I humbly submit that the step motherly behaviour of respondent number one towards Tamil refugees has left them living in constant fear of deportation and an uncertain future," states the affidavit. It further states that statelessness has rendered these refugees without employment in organized sectors, with no right to vote or hold property and hordes of other entitlements that are enjoyed by citizens of the country.
"Due to such an ambiguity, they are forced to stay in camps where they are often exploited, having no prospects of security in future. The lack of jobs, access to basic rights and amenities have left these refugees handicapped and destroyed," the affidavit asserts. The DMK further submits that CAA ignores "the reality for several decades that Tamil refugees who have settled in Tamil Nadu are deprived of fundamental rights and other rights due to non-citizenship and due to non-naturalization and the impugned Act does not provide any reasons to exclude them."
For over four decades, nearly 30,000 Indian-origin Tamils have been classified as stateless persons, based on technicalities, reported The Hindu.
There are over 1 lakh Sri Lankan Tamil refugees in India, who, in the eyes of the law are neither citizens nor refugees, thus rendering them stateless. This is a significant humanitarian crisis that they are facing.
According to a report of the Ministry of Home Affairs, more than 3 lakh refugees entered India in different phases between 1983 and 2012 due to the ethnic conflict in the island nation. While 99,469 were repatriated to Sri Lanka till 1995, some refugees left for other countries on their own. After 1995, there was no organised repatriation.
Court's opinion
In October 2022, Justice G R Swaminathan of Madurai bench of Madras High Court made a comment that the Centre may consider including Hindu Tamils of Sri Lanka under the provisions of the CAA (2019). The court was hearing a petition of a 29-year-old woman, S Abirami, born to a Sri Lankan couple in Tamil Nadu's Trichy and seeking Indian citizenship.
Resolution against CAA
In September 2021, the Tamil Nadu government under chief minister, Stalin passed a resolution against CAA 2019 saying that the law betrayed Sri Lankan refugees and usurped the rights of the refugees who wanted to settle down in India. In doing so, it was the 8th state to pass a resolution against CAA, 2019. "Refugees should be treated as only fellow human beings and there must be no discrimination on any grounds, be it religion, race or their country of origin and only this could be the "correct view," Stalin had then said.
CAA 2019 challenged before SC
The Supreme Court bench consisting of then CJI UU Lalit, Justices Ravindra Bhat and Bela M. Trivedi decided to treat the petition filed by the Indian Union Muslim League as the lead matter at the previous hearing of October 31.
"Having noted that there are various matters projecting multiple issues, in our view the resolution to instant controversy can be achieved if 2-3 matters are taken as lead matters and convenience compilations are prepared well in advance, such process will make the conduct of the proceedings easy. We have been apprised that the Writ Petition filed by Indian Union Muslim League has been complete. The petition has been filed by Advocate Pallavi Pratap. We therefore appoint her and Mr. Kanu Agarwal as nodal counsels," the bench said.
The Centre has defended CAA stating that it is a "narrowly tailored legislation" seeking to address the problem which awaited India's attention for several decades. "The CAA does not seek to recognise or seek to provide answers to all or any kind of purported persecution that may be taking place across the world or that may have taken place previously anywhere in the world," the Home Ministry reasoned.
Related:
Is CAA 2019 stealthily making its way into our lives?
Controversial CAA 2019 challenge in SC on December 6, Centre urges non-interference in its 'legislative competence'